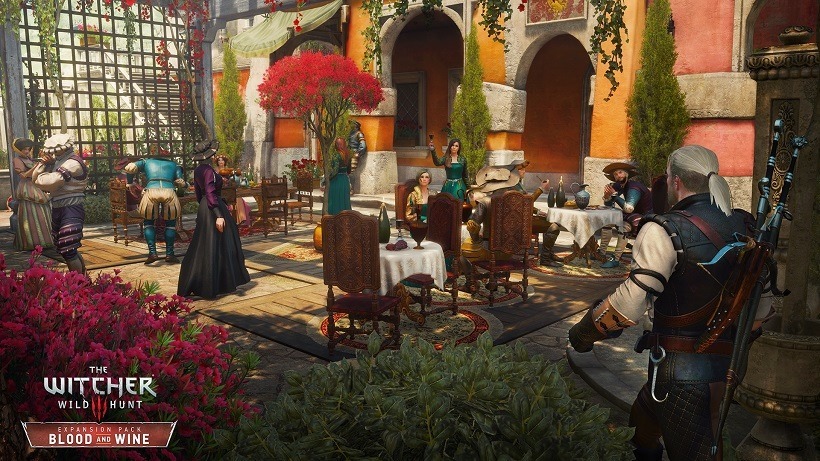 It's hard trying to come up with better introductions for The Witcher 3, because I feel as though by now even those of you who haven't somehow played the best game from last year still know just how darn good it is. CD Projekt Red is wrapping up development on the final Witcher game for a while, with the Blood and Wine expansion releasing next week. It's a bit of a change in direction for the grim RPG, but thankfully it looks just as gorgeous as ever.
CD Projekt Red have already detailed some of the visual changes the expansion will bring to the game, and it's not hard to see some of them in the new batch of screenshots released for Blood and Wine. Foliage in particular looks a little better, although having so many colours burst through the horizon does help somewhat. Blood and Wine is seriously taking colours to heart, with the land of Toussaint being a more cheerful, joyous setting than most before it.
Of course that doesn't mean it can't get dark, and Geralt would be setting himself up for a disappointing conclusion without a good dose of monster hunting. There's not much to show on that front, but one shot in particular shows the white-haired hunter squaring off against a particularly massive beast. It has no name and doesn't look like anything we've encountered before, but it's clear that this will be one of the new boss creatures you may or may not find on your travels. And it looks mighty pissed off.
The expansion is said to feature a hell of a lot of quests, and should be far more expansive than the Hearts of Stone DLC that launched last year. Even with its short length, that expansion was well worth it – so we'll see if Blood and Wine is up to the task soon enough.
Last Updated: May 24, 2016