The announcements for Comic Con Africa are coming thick and fast these days, but South Africans don't have to wait until September to get their geek on. This coming weekend, ICON Comic & Games Convention, South Africa's longest-running geek, gaming and pop culture convention is taking place in Johannesburg – with two major cosplay contests, tabletop gaming (both casual and competitive), the annual geek comedy show, an ever-growing panel schedule and some pretty prestigious international guests in attendance.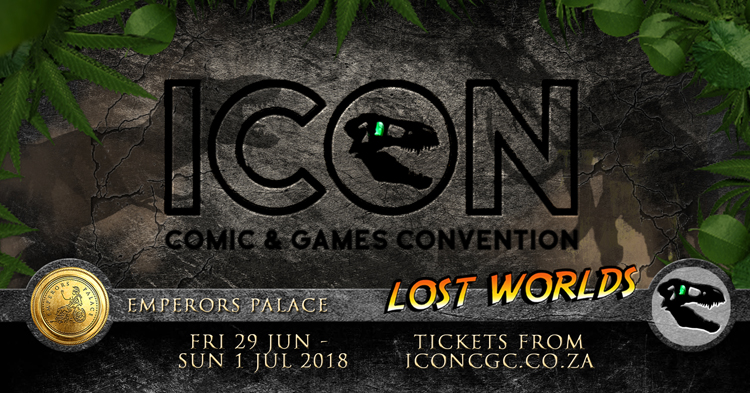 After two years at Gallagher Estate, ICON is moving to Emperors Palace for this year's 3-day event (taking place 29 June – 1 July). Lost Worlds is the theme for 2018, which also marks the 26th anniversary of the convention.
Special guests
Over the past few years, ICON has committed to bringing in celebrities and guests from the various spheres of pop culture, including gaming (electronic and pen-and-paper), comics, cosplay, fantasy literature and more.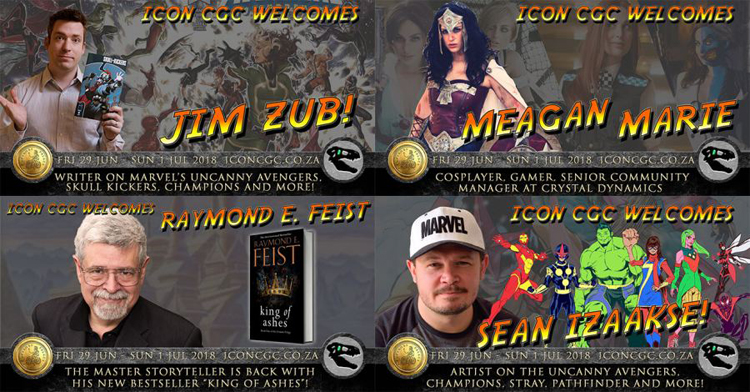 International guests for this year include fantasy novelist Raymond E. Feist, returning to South Africa to promote his new book, and new series kick-off, King of Ashes; Meagan Marie, acclaimed cosplayer and Senior Crystal Dynamics Community Manager, who will be showing some footage from upcoming video game Shadow of the Tomb Raider; and long-time comics writer-artist Jim Zub, joined by South Africa's own Sean Izaakse, to talk about their current Marvel collaboration. A full list of other special guests (including another local comics legend, Jason Masters) and panelists can be found here.
For the record, ICON's celebrity guests will be involved in free signings and panel sessions throughout the weekend.
Oh, and you can catch Feist and Marie on SABC's Expresso breakfast show tomorrow morning – that's Wednesday, 27 June.
Major cosplay contests
ICON 2018 is a big one for cosplay, as the weekend features two high-profile competitions. Saturday is one for the otaku as cosplayers will be bringing their best non-Western creations. In teams of two, they will compete to represent South Africa at the upcoming World Cosplay Summit, held annually in Nagoya, Japan.
Sunday, meanwhile, will see the traditional ICON Cosplay Competition take place. This event is regarded as one of the pinnacles on the local calendar (check out last year's gallery), with excellent prizes to be won. The contest distinguishes between beginner cosplayers, intermediates and masters, and typical categories include Kids, Western Pop Culture, Gaming and Anime/Manga.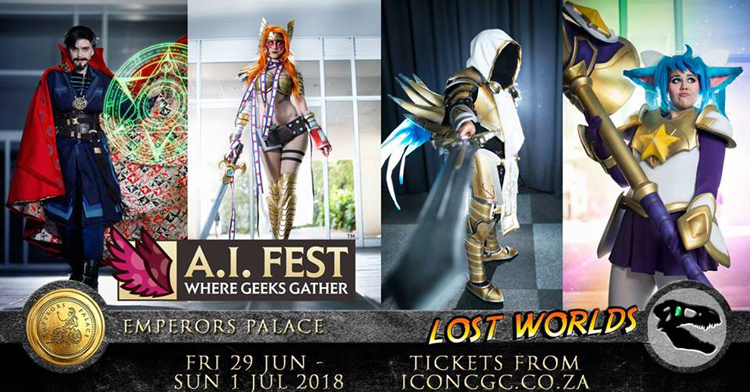 Also happening at ICON 2018
Other events going down at ICON this year are the requisite card game championships for Pokemon TCG and Magic: The Gathering. Expect the usual wargaming and role-playing sessions, as well as board games to borrow and play with friends when you just need a bit of light socialising and time off your feet.
There will also be a Geek of All Trades (GOAT) Team Quiz on the Friday night, and – a long-time ICON tradition – a nerd-centric comedy show on the Saturday evening.
Day passes for ICON 2018 are R120, with a 3-day weekend pass coming in at R250. VIP and Emperors Palace Stay & Play options are also available. Event running times are 9am – 6pm, Friday and Saturday, and 9am – 4pm, Sunday. See you there.
Last Updated: June 26, 2018