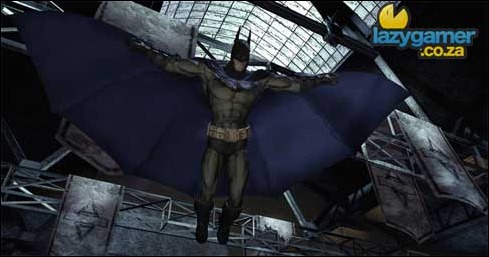 The game, like any, is not without its faults. The boss fights are largely dull, poorly designed and clichéd affairs where scores of nameless thugs are thrown at the player in lieu of any sort of engaging battle. Particularly anticlimactic is the final encounter, which I found to be both dull, and completely out of character for the cerebral, analytical and devious Joker. It seems that the developers tacked in a big boss fight, purely because videogame expectations dictate that games should end with one. While the game has been compared to Bioshock, it's the bathos-filled end boss that draws the largest parallels.
Thankfully, encounters with Scarecrow's nightmarish fear-filled hallucinations make up for, and completely upstage other uninspired supervillain confrontations. The designers also managed to escape the lure of over-stuffing the game with peripheral characters, and while fans may cry about the omission of their favourites, the inclusion of the right characters for the story has made for a better game.
Playing through the game unlocks challenge rooms, where you can hone your combat and predator skills, besting previous times and unlocking performance-based medals in the process. The PS3 version features additional exclusive challenge rooms – available via free DLC – played as The Joker instead of his stealthy nemesis, making it the version to get for owners of multiple consoles.
Batman : Arkham Asylum is, without doubt, the premier super-hero game and one of the best games of 2009. It captures the ideal and spirit of the Dark Knight – and indeed of being a comic book hero – more than anything before it. While ultimately let down by poor boss design, it comes highly recommended not only to fans of The Bat, but to fans of exceptional games.
Scoring
Gameplay: 8.5
Batman Arkham Asylum plays like a beautiful fusion of Metroid and Splinter Cell. It's largely well designed with gameplay elements that make you feel like you ARE Batman. Manages to make in-game collectables fun again.
Presentation: 9.0
Exquisitely detailed, and highly polished. The game has high production values, and thanks to Unreal Engine 3 make for some delicious eye-candy. In-game nods to Batman's rogue gallery will illicit wide grins from fans.
Sound: 9.0
Superlative voice acting from Batman Veterans, in particular Mark Hamill, coupled with a cinematic orchestral score make for an engaging, cinematic experience.
Value: 8.5
Undoubtedly the best comic book hero game available. Replay is extended through external challenge rooms and in-game collectibles.
————

Overall: 8.7
Batman : Arkham Asylum is a must-have title, whether you're a fan of Batman or just a fan of good games.
Last Updated: September 7, 2009