When the original Chronicles of Riddick: Escape from Butcher Bay was released in 2004 on the first Xbox and then later on PC, gamers worldwide were wowed at not only the fact that a fantastic licensed game had finally been released, but also by how incredible the game was, regardless of the movie license that was used.
Fans of the original shone with glee when Starbreeze studios announced that they were busy remaking the game for the Xbox 360, but then months later the deal got better. Starbreeze were obviously worried that a simple remake would not draw enough sales, especially because so many gamers had already played the original, that they decided to create a sequel as well as add multiplayer to give the offer a lot more appeal.
Sounds like a bargain doesn't it? Is it actually more of a lucky packet with cheap plastic toys inside or is this two-for-one special really all that and a bag of chips?
Find out in our review, after the jump.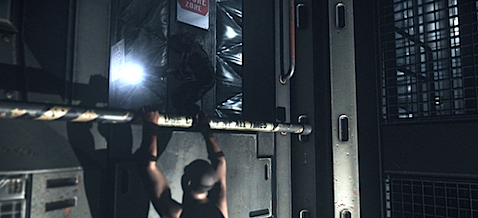 For those of you who have never played the Escape from Butcher Bay, let me give you a quick rundown of what the game has to offer.
The Riddick series is difficult to put into only one genre, as Escape from Butcher Bay was one of the first FPS's to mix in a few different elements from different genres and properly implement them into one game.
Riddick is foremost a first person action-stealth game, with light RPG elements integrated into it. The way that you interact with other characters in the game has become a lot more commonplace in todays line-up of games, but when it was released five years ago, it really set the pace and added onto that which Half Life had already shaped out of the FPS genre.
Escape from Butcher Bay is arguably the best game to ever have a movie license attached to it, and it gave hope to gamers by showing them that it could be done, and done well.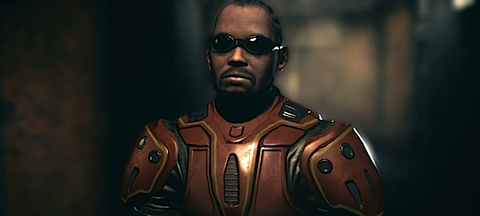 As expected, the graphics have been heavily upgraded to take advantage of the newer and more powerful hardware of the Xbox 360. There are a few telltale clues that the graphics were updated, instead of created fresh, as there are a lots of jaggies noticeable on vertical lines, some moments of low framerate as well as a some 3D models that just don't look as high poly as they should these days. These problems are small however, and with those aside, you are left with what is still a gorgeous looking game by todays standards and better than a lot of other titles that have been created solely for use on the Xbox 360.
Vin Diesel's likeness really does add to the game in so many ways. Having him perfectly modeled as the Riddick that we all know from the movies is obviously so much better than having some completely different looking bloke doing the role. More importantly, his voice work is magnificent and helps to bring through the full force of the cold-hearted killer that is Richard Riddick. Escape from Butcher Bay also features some great voice work from Xzibit and Ron Perlman as well, which adds even more shine to the title.
It needs to be noted that there is quite a large difference between Escape from Butcher Bay and Assault on Dark Athena, so if you have already played the first game, then here is where your decision to purchase or not will be made.
Escape from Butcher Bay, as I have already mention, is a fantastic gaming experience that is worth another playthrough, especially now that five years have passed and will take you approximately twelve hours to finish.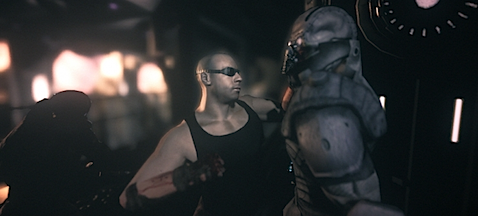 While Assault on Dark Athena is a sequel, it must be noted that it was added as somewhat of an afterthought. Basically, it is the opportunity to get even more game time out of the great Riddick stealth/action gameplay. What it lacks is the story, personal feeling and charm of Butcher Bay and instead leaves you with more of a dedicated stealth/shooter with clear goals to get through.
So it isn't necessarily a bad game in any way, but it does not keep up with it's older brother in terms of depth, so if you are looking to buy the game only for Assault on Dark Athena, you may find that it wasn't what you had hoped for. It is also shorter than Escape from Butcher Bay but still took me a very respectable nine hours or so to finish it on medium difficulty, although I must add that at least an hour and a bit of that time was dedicated to a few frustrating bits with a boss, or getting lost as you backtrack through levels trying to find your objectives. While that does all sound a touch negative, it's still a pretty solid experience and anyone who enjoys the core gameplay of Riddick will no doubt still enjoy it.
While most of the standard multiplayer modes have been added into the mix, the one that I really had my eye on was the one called "Pitch Black". Basically one player gets to be Riddick and the others play as Mercenaries, Kill Riddick and then you get to be Riddick.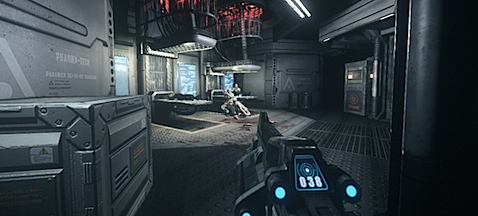 The major problem with the multiplayer is that even on it's opening weekend, I struggled to find even a handful of games that were running. If you and a couple of friends are looking for something new to play then this could work out for you, but if you are looking for a new multiplayer game that you can play whenever you feel like or against international opponents, I suggest you look elsewhere.
The real gem in this pack really is the remake of Escape from Butcher Bay. Worthy of a second playthrough and now looking better than ever, it is nearly a crime to miss out on this game if you have not yet played it through. Assault on Dark Athena will not necessarily blow your mind but it is still a respectable title in it's own right and still better than a lot of the other trash available on the shelves these days, but I also honestly don't see the multiplayer taking off locally at all.
Fans of the the first game will find joy in the remake as well as the sequel, but if you are one of the gamers out there who have not yet had the pleasure of playing through Escape from Butcher Bay then I highly recommend that you pick this title up because you will not be disappointed.
[P.S – Look out for a character with a South African accent near the end of the game]
Scoring
Gameplay: 9.0
A solid blend of action and stealth, with half a teaspoon of roleplaying elements.
Presentation: 8.5
The updated graphics are gorgeous to look at and character animations are smooth and realistic, but a few little issues here and there pull it down, but only a slight bit.
Sound: 8.5
Decent use of sound, but the voice work is fantastic, especially when it comes to Vin Diesel.
Value: 9.5
With over 20 hours of gameplay from the two games as well as the option of multiplayer, and the first being the shining gem that it is, you will definitely get your moneys worth if you pick this up.
————-
Overall: 9.0
A great two-for-one going at the price of a single game, great value especially for those who have never had the chance to play the original.
Last Updated: April 28, 2009