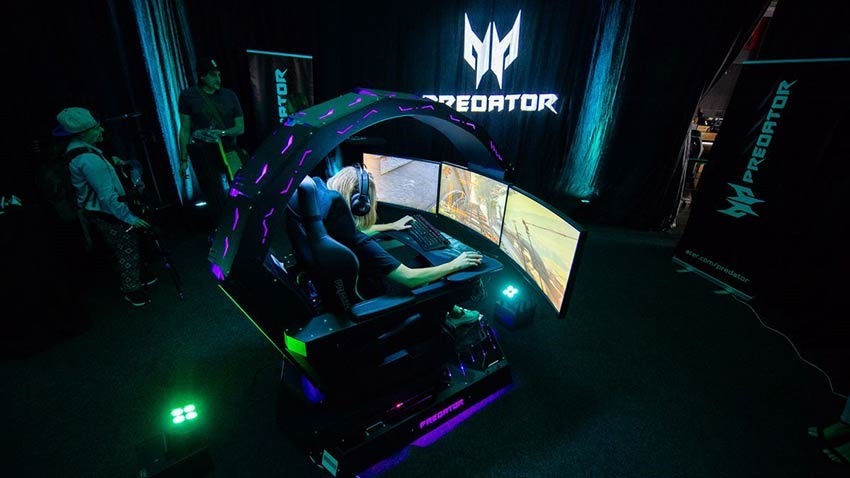 What do you get if you're a gamer who has just a little too much money? Well, you could listen to Darryn's advice and build yourself the ultimate in console gaming rigs but I find that taking Darryn's advice usually ends up with somebody in a bathtub full of ice wondering why there are lesions in their back. In less extreme cases, it ends up with you having a bewildered look as you're staring at your screen, mouth agape, wondering "What in the hell did I just watch?"
If you have that same level of sense, but an unburdened, overflowing bank account, then the only other real option is Acer's Predator Thronos gaming Chair. Well, we say chair, but it's really a futuristic pod you sit in to forget the outside world exists. The 180KG hulking mechanised frame supports a trio of 27-inch monitors for the closest thing to wraparound gaming you'll get. The seat is adjustable, able to recline up to 140 degrees. While it doesn't move during gaming, the seat itself does use game audio for rumble.
"Our Predator Thronos is a dream come true for every gamer;" said Belinda Marais, Marketing Manager at Acer in a quote I shamelessly just copied from the press release. "The games' sounds are transferred to the back of the player to immerse them deeper in play and haptic feedback is provided to the user through sound vibrations rumbling throughout the chair which allows gamers to really 'feel' the game."
We wrote about the thing before when it was revealed at IFA last year, but it's now available to buy locally, directly through Acer's online shop. At least, that's what the press release says, but I can't find it on the site so don't whip out that credit card just yet, eager beaver!
Here are some pictures of Garth from SA Gamer in the Thronos, partially to show off the chair, and partially because I love Garth from SA Gamer.
There's no real pricing available, though Acer says it'll cost around R250 000, depending on the configuration – but honestly, if you're spending a quarter of a million rand on a chair, you may as well go the whole hog and fit the accompanying PC with a pair of RTX 2080Tis. You're worth it.
It's comfortable, it's nice, it's extremely ostentatious – but it's hardly life changing – and I struggle to really comprehend who this is for. The number of games that use triple-screen setups properly just doesn't make this thing seem worthwhile.
Last Updated: March 8, 2019