As South Africans we have the unenviable position of being the most technologically developed marketplace in Africa, and yet are geographically isolated from the consumer PC tech world. Overseas, people have access to a stupefying level of tech gadgetry and niche PC items. Browse the likes of Performance PCs and MDPC-X you'll get an idea of the scope and depth on offer in these stores for the PC modder and tech head. Usually rAge is the only time we get a live-action glimpse of the kind of beautiful PCs we witness on the net.
Getting that sort of niche stock on hand all year round is just not on the agenda for local suppliers as the local modding and PC enthusiast community is far too small to make it financially feasible. This passion for creating uniquely beautiful PCs manifest itself in local modders' ordering—at great cost–specialist components from overseas vendors, including custom cables from the likes of MDPC-X. Most would balk at going to those extremes, but imagine how much this Fallout 4 mod would have suffered had EnigmaModding not sourced those blue and yellow MDPC-X cables to give it that extra Fallout flair? It's radioactive, radioactive!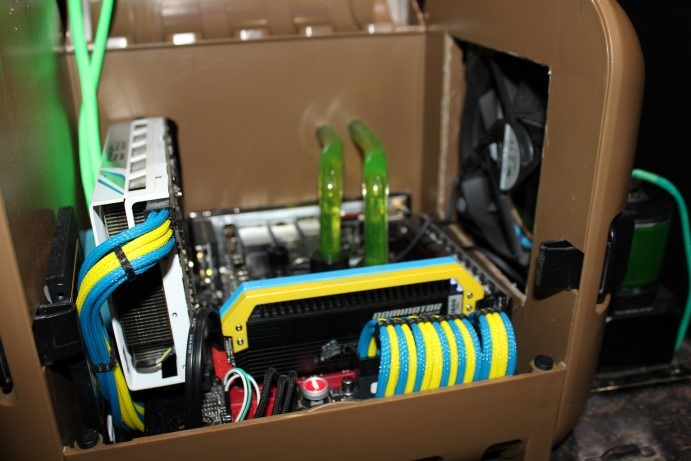 However, one local modder took that same passion and funnelled it into a business venture. Local modder Garret Fraser started Beyond Customs a couple of months ago, and it's geared to supply the local (and international) market with not only MDPC-X products, but also custom sleeved cables for a variety of supported power supplies.
For many you, might be wondering what cable sleeving/modding exactly is. Well, it's simply swopping out the stock (probably black plastic) cable "Jacket" covering the copper wiring in your PSU cables, for something different. It could be a different colour or different textured jacket, or you might simply need a longer cable to reach a socket on your GPU or motherboard.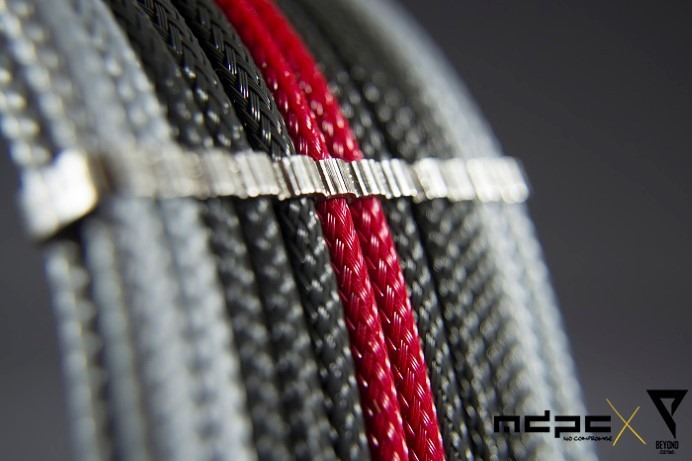 It's not often that you get a little slice of that enthusiast market pie appearing on our local shores, so I jumped at the chance to chat to Garret about his new venture and what its origins are:
I am a regular geek. I live in Pretoria and love a good braai. I spend most of my time in my man-cave working on making custom sleeving on order while keeping up to date with international trends on YouTube channels relating to modding and tech news. I am very detail orientated and a perfectionist according to people who have met me. I have always liked to take things apart and see how they work and what makes them special. My father was my biggest role-model and I worked with him in the garage on projects. When I first started getting into PCs I remember magazines were a popular source of information. I remember picking up a few CPU magazines at CNA and they had a modding section in them and I just remember smiling to myself. I knew then this is what I wanted to be doing.
We all have an origin story and for Beyond Customs, its beginnings are borne from a modder simply trying to mod while encountering the stifling lack of many frustrations.
I started playing around with my own gaming PC and often ended up obsessing over small details about it well into the morning hours and realized I have quite a passion for modding. I tried different products and played around with ideas. To my wife's annoyance, I also spent hours researching ways to achieve looks that I wanted and drawing up plans. We drove around on several occasions to shops and factories looking  for parts.

Since it is still a new market in South Africa, I struggled to get parts, like sleeving. But sometimes I found what I was looking for at companies catering for other markets, such as piping for water cooling. At first it stared with offering a service for cable combs for a few guys on a local PC forum called Carbonite and then it progressed into making custom cables. At the time I was using Paracord for around a year and I was not 100% satisfied with it so I tried numerous other types of sleeving until I found MDPC-X and got into contact with Nills from MDPC-X. I was intent on bringing the product here as it was a huge gap in the local market so I contacted him and he was open to the suggestion. He had seen some of the work I had done on social media and he decided to give Beyond Customs a chance.
Now unlike a store simply importing reams and reams of MDPC-X cabling to simply re-sell to the local marketplace, Beyond Customs take it a step further. Not only are they the only official MDPC-X supplier in Africa, they also create custom cables for your specific PSU. Beyond Customs caters to the big five brands of PSUs currently in South Africa (Corsair, Seasonic, Antec, EVGA and Cooler Master), and although only modular PSUs can get fully modular cables, there are custom cable extenders to use on regular or semi-modular PSUs as well as sleeved SATA and Ethernet cables. I never thought a SATA cable could look so sexy.
Pretty cool, but also pretty niche. The South African PC marketplace is not exactly conducive to catering for all the needs of the PC market, often aggregating towards middle of the road products that suppliers know will sell consistently. It's the reason introducing any sort of niche brand into the South Africa market is difficult—they just get crushed from a value and numbers perspective following the "chicken and the egg" paradigm. So in this vein I asked Garret about the challenges and future of starting Beyond Customs in South Africa:
I cannot really say that it's a challenge to wake up in the morning and love what you do. As for bringing custom cables into the South African market, I think the biggest challenge is knowledge. Custom cables are still relatively new in SA but I hope that it will gain popularity. Because it's a new thing it's important to inform people on what custom cables are about and what purpose they are for. Most of my custom work is local but my clients are from all over the world and it's starting to outweigh the local market.

This is a niche business so people from all over the world want the service and are prepared to get it from anywhere around the world. I wouldn't like to be a huge company but would like to be the go-to-guy for custom cables and modding supplies. I'd like to keep it small and personal so I can offer the best service and product possible. It's a fast evolving business and people are always coming up with new and creative ideas. I try to stay on top of that market. There will be new things coming from Beyond Customs soon.
Of course a niche market is always going to attract a small, but consistent crowd of enthusiasts. To stay true to that ideal Garret does not want to venture too far on side of success and become too big to compromise the quality and service he wants to offer. However, to begin closing the knowledge gap in the local market to consider custom sleeving in their PCs, Beyond Customs partnered up with local store Rebel Tech to offer the service on select modular PSUs. You can see his work appearing on demo PCs and the like at rAge, and I imagine his cables will find their way into a few more pre-built systems on offer in stores.
I have partnered with Rebel Tech, Rune is great guy and shares the passion in giving back to the community and sharing knowledge on modding and all things that are customised.
After witnessing some of Garret's work in the ASUS build I reviewed a few weeks ago, I can very much attest to the quality and workmanship of the cables he produces. Now I wont ignore the real question of value or reason; modular power supplies are expensive, and modular custom cables are going to be expensive as well. That being said, you can go the full DIY route as Beyond Customs stock everything you need to make your own cables, from 16 AWG wires to crimping tools.
It's an enthusiast endeavour, and no doubt expensive. However, it's also a way to look at PC gaming as more than just graphics or frame-rates, but about people turning a box of technology into something that they've put a little bit of themselves into. As it says on the site "Why hide your cables when you can show them off?" Beyond Customs can make that sort of creative expression accessible to everyone; not only for modders. Also, it just makes a PC look right.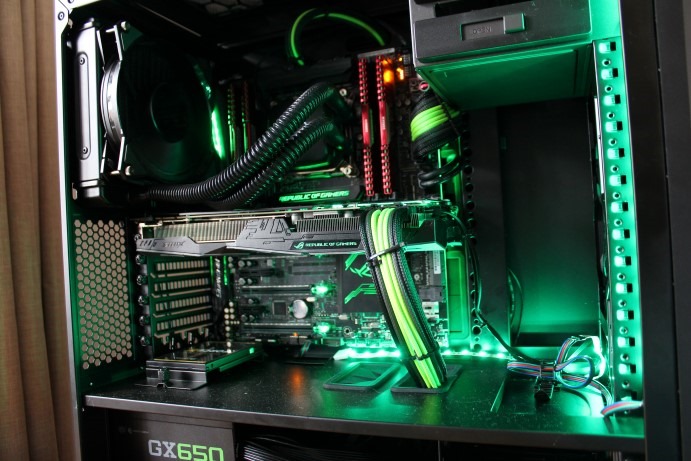 If you want to make your PC look just a little bit sexier, Beyond Customs has kindly offered up a 10% discount code! Use the code "lazygamer'' when ordering from Beyond Customs and you'll get 10% off your order. Code is valid from the 19th October 2016-26th October 2016.
Last Updated: October 19, 2016