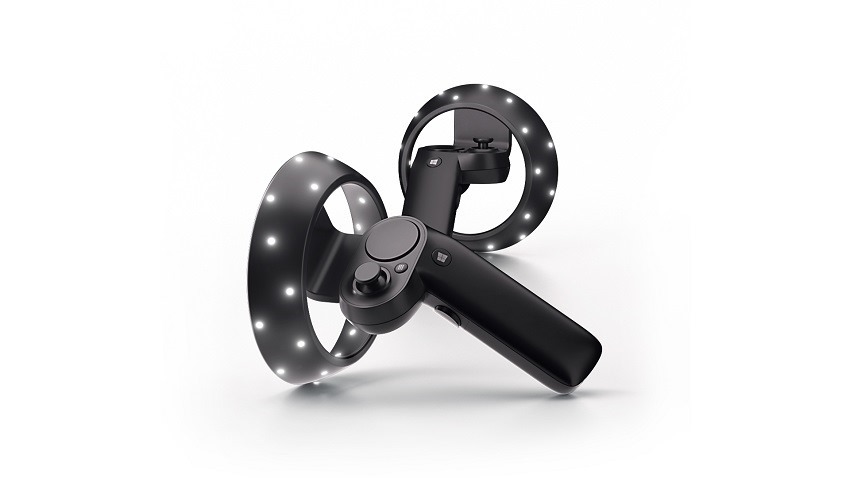 Microsoft has been slow with their own push into VR and mixed reality, revealing devices like Hololens and even their own line of VR headsets in the past. While solely enterprise focused, for now, Microsoft is clearly understanding the use cases for these devices. They need to be relatively cheap and easy to set up, which bleeds into their now revealed mixed reality motion controllers. No cameras, no wires. Just your headset and the controllers, and you're ready to go.
Visually, the Windows Mixed Reality controllers look a lot like a mash-up between Oculus' Touch and HTC's Vive controllers. They feature a circular touchpad and analogue stick, with shoulder buttons resting near your palm and a windows home button just to the side. Like both the Vive and Touch, the controllers use a ring of LEDs for tracking. The Vive has this ring placed horizontally, but these (much like the Touch) put them vertically over the users hand.
This makes sense when you consider how the controllers are tracked. The Vive uses two lightroom cameras to create a space for users to move within, with each camera tracking both the headset and controllers. For Windows Mixed Reality, that's all augmented into the headset itself. Microsoft is making it so that their headsets are the focal point for your motion controller tracking, allowing you to turn any space into a literal VR space.
It's a promising but limited premise. For full tracking to work, the headset would need to be able to detect the controllers when not in view – something which external cameras manage with ease. But it's an all-in-one idea that really has permeated through Microsoft's products up until this point. Hololens, if you remember, has all its processing done on the unit itself. No external PC required.
There's no price on the controllers yet, but Acer's Windows VR bundle comes with the headset and controllers for just $399. It's all for business at this point, but I'd be shocked if hardware like this doesn't find itself on stage with Xbox Scorpio in just a few weeks time.
Last Updated: May 12, 2017