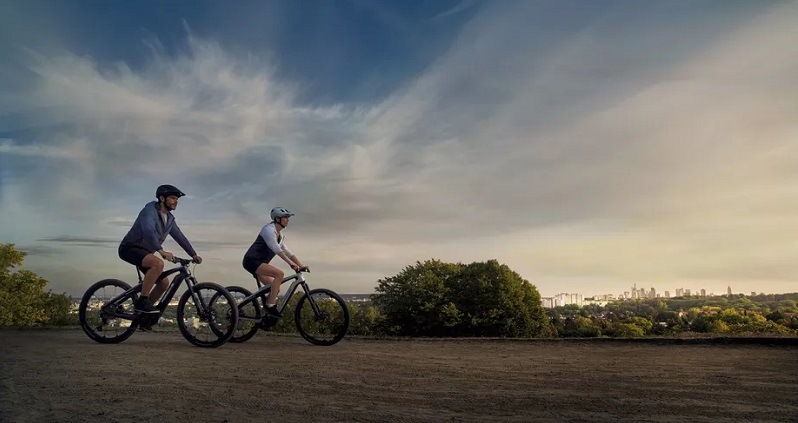 Porsche is one of the most iconic brands in the car industry. Thanks to many years of making iconic sports cars, the German manufacturer has developed an impressive reputation that for producing petrol head porn. The brand has been changing over the years though and no longer focuses purely on sports cars, instead making ridiculous amounts of money with its over-priced SUV models instead.
As much as that probably puts a look of disgust on the faces of many Porsche fanatics, diversifying is a strategy that is bringing great financial rewards for the company. Porsche plans to diversify even further as the company has announced (via The Verge) that it will start selling full-suspension e-bikes now too.
Porsche will be making two models of their new e-bike, the Sport and the Cross. The Sport is a road bike intended for everyday use, with a full-suspension carbon fibre frame, integrated front and rear lights, Shimano mid-drive motor. Whereas the Cross – as the name suggests, is intended for off-roading adventures and will feature a Shimano mid-drive, carbon fibre frame, and full suspension, in addition to Magura-MT Trail heat resistant hydraulic disc brakes.
As for speed, both bikes will provide up to 25 km/h of pedal-assisted support, which seems slow for a sporting car brand like Porsche but is actually the limit of what is legally allowed for e-bikes in the EU. Wimps. Both bikes are also relatively light with the Sport weighing 21kg and the Cross a little heavier at 22kg. Not bad for electric bikes.
The bikes might be light-weight, but one thing that is very hefty – and in keeping with the Porsche brand – is the price. The Cross will set you back a massive $8,549 (around R129 000) while the Sport will cause even more of a dent to any person's wallet with a massive price tag of $10,700 (R161 000). Needless to say, those prices are not for the faint-hearted. Though if you've ever wanted to own a Porsche and just aren't made of money, then this might be the best opportunity you will ever get.
Porsche is not the only brand that has decided to take the step into making its own electric bikes with Jeep, Hummer, GM and even Harley Davidson all going in that direction. It's clearly the next big market for these companies to step into and perhaps a sign of the times with electric transport becoming a key thing now. Even if it feels like the loss of an iconic sports car brand. Porsche is planning on releasing these new bikes to most markets in the third quarter of this year, although I suspect it may still be a while before they release them here.
Last Updated: March 8, 2021