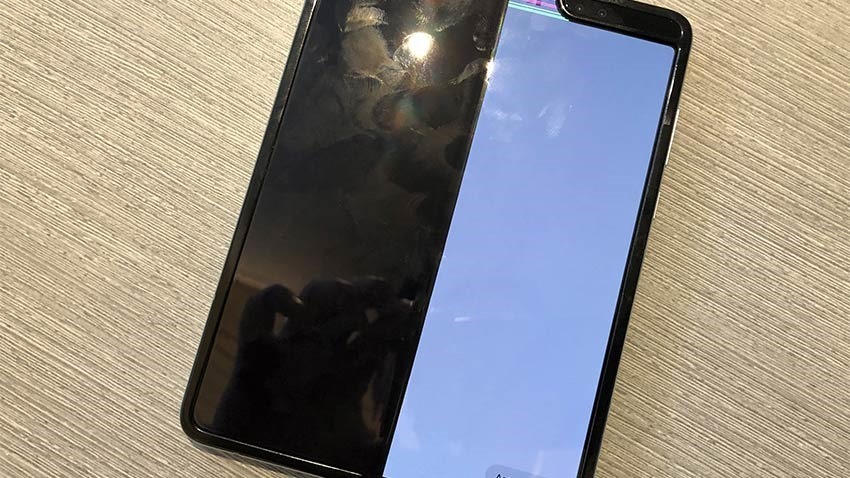 In February this year, Samsung unveiled its new foldable flagship, the creatively named Galaxy Fold. it's effectively two regular phones duct-taped together with a magical hinge between them. That's a little reductive of course because the Galaxy Fold is a marvel of engineering. It's a hybrid between a phone and a tablet with a 7.3-inch "Infinity Flex" display on the inside, but if you fold it in half you have a phone with a 4.6-inch screen.
It's been so popular that it's sold out on Samsung's site, and they're unable to meet demand before its April 26 launch. It's not yet available to the general public, but it is in the hands of a number of reviewers, media types and influencers. And it seems many of the $2000 handsets are breaking.
Reviewers from a number of tech sites have said that their review units have broken, both as a result of user error and device defect. The Verge's Dieter Bohn says a bit of debris managed to get stuck under the fold's display, pressing up against the thing and eventually breaking it. It appears to have wormed its way in through the foldable hinge.
The hinge is a bit of a weak spot, as CNBC's Steve Kovach reports that his Fold broke along the inside crease – after a single day's use.
Then there are the user error problems. The Galaxy fold's main screen includes a protective plastic layer on it that looks like the sort of factory-fitted, removable plastic screen protectors you find on most new phones. It isn't – it's a permanent layer that's meant to stay there. The review units made no mention of this, so a number of reviewers peeled it off, damaging the phones.
This is unacceptable for a phone that costs as much as a small second-hand car. Samsung is aware of these issues and has released a statement saying that they'll "thoroughly inspect" the Folds before shipping.
"A limited number of early Galaxy Fold samples were provided to media for review. We have received a few reports regarding the main display on the samples provided. We will thoroughly inspect these units in person to determine the cause of the matter.

Separately, a few reviewers reported having removed the top layer of the display causing damage to the screen. The main display on the Galaxy Fold features a top protective layer, which is part of the display structure designed to protect the screen from unintended scratches. Removing the protective layer or adding adhesives to the main display may cause damage. We will ensure this information is clearly delivered to our customers."
In March, Huawei boss Richard Yu said that the design of Samsung's Fold was "not good."
"I feel having two screens, a front screen and a back screen, makes the phone too heavy," Yu told Business Insider, speaking about the Galaxy Fold. "We had several solutions, but we canceled them. We had three projects simultaneously. We had something even better than that, killed by me."

"It was bad," he added.
He may be right.
Last Updated: April 18, 2019