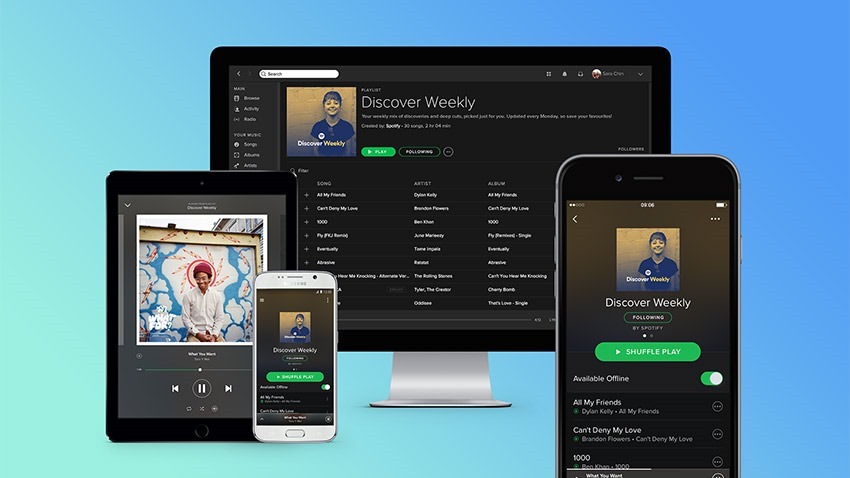 Earlier this year, Spotify upgrade its free service to allow those without the cash to have a little more freedom within the music-streaming app. Free users were given a little more option in terms of discoverability, along with more song skips.
Now, the company is rolling out a few changes to make things better for its paid, premium customers. Rolling our tight now, the update for premium users includes better search functions, streamlined navigation and endless Artist Radio.
"We've refined the navigation to help people quickly find what they're looking for. Subscribers can get great recommendations on Home, discover something new with Search, and access favorite songs, artists, playlists, and podcasts in Your Library."
The personalised search functions will let users search for "artists, albums, podcasts, and more," with the system's algorithms recommending new music based on those searches.
While premium users already have access to Artist radio, it's being expanded to be endless, using those same magical algorithms to tune the station to your tastes.
"If a subscriber wants a great playlist based on one of their favorite musicians or songs, they can simply search for it and start listening to one of the brand-new Artist Radio playlists. These offer an endless listening stream personalized to the listener's own musical tastes. They're updated regularly to keep things fresh—and what's more, they're even downloadable and available to play while offline."
The update is rolling out for iOS and Android users right now. Of course, if there's one thing many south African Spotify users want to know more about, it's the local implementation of the Spotify Family Plan. That allows up to five people within the same household to have their own subscriptions for a reduced cost –  and is the one thing keeping many people from jumping to Spotify from services that include a similar structure, like Google Play Music, Apple Music and Deezer.
Unfortunately, we have no news on that front – though we have regularly poked both Spotify and their local PR for information.
Last Updated: October 19, 2018