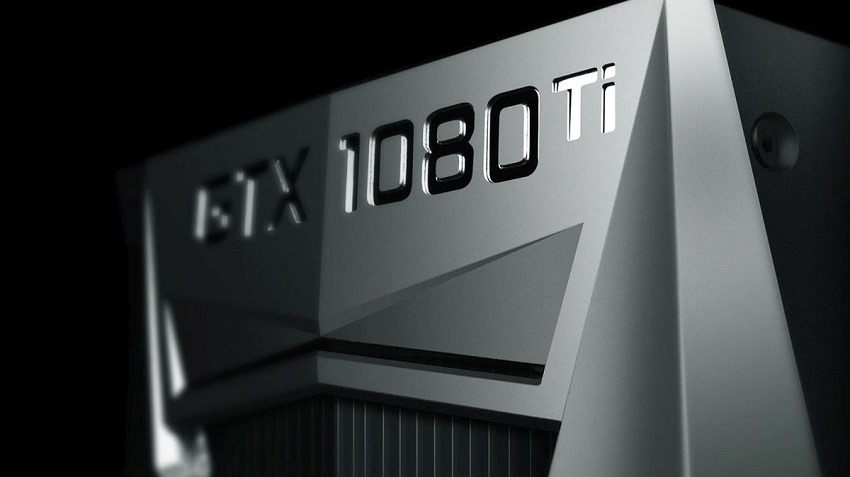 The GTX 1080 Ti will represent the pinnacle of Nvidia's Pascal architecture, and it's out a little later this week to make room for Volta in the future. It's poised to be a colossal card, with Nvidia touting better than Titan X performance in a card that costs nearly half as much. Suffice to say, it's the real deal – but you might be surprised to see that all of that takes place under the hood. Above, the GTX 1080 Ti is no different to other Founder Cards. For better or worse.
That's almost true, and at least aesthetically there's little to differentiate the card when comparing it with a previous Founder's Edition GTX 1080. The cooling shroud looks the same, it bears the same angular design and even thickness is only marginally different. The GTX 1080 Ti does, however, omit the option of a DVI port at the back. And although the cooling might look the same, Nvidia is promising that their latest card will run both cooler and quieter. Check it out.
Underneath, it's an entirely different story. The GTX 1080 Ti packs 11GB of newer GDDR5 memory, which allows the whole configuration to run faster than the 12GB on the Titan X with 484GB/s bandwidth. It's also a far cry from the 8GB on the GTX 1080, which will certain push your 4K experiences to a new level. The rest is almost identical to the Titan X, with the same GP 102 GPU, and only six render units less than the current table topping card on the price lists.
But that's what makes the GTX 1080 Ti so enticing. In promising so much performance geared even more towards gaming output, it's a card that certainly represents the upper echelon of enthusiast gaming configurations. We'll be putting it through its paces this week.
Last Updated: March 8, 2017