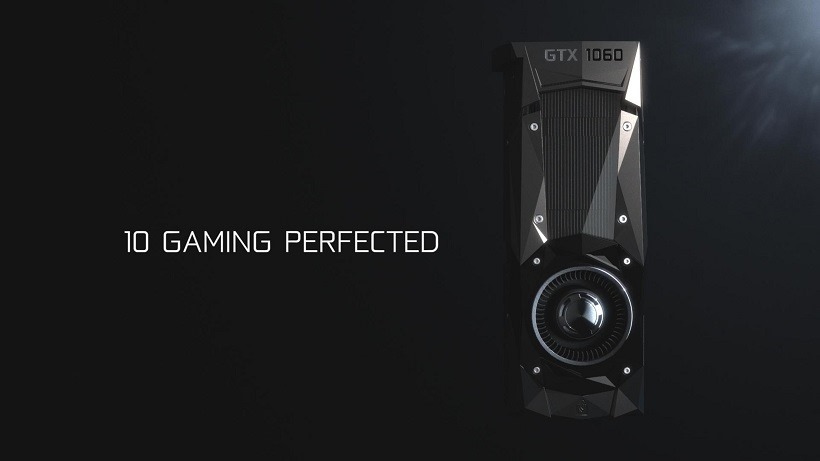 The GTX 1060 is just under a week away from launch, and Nvidia is setting their sights directly on AMD with their first mid-range Pascal card. The launch was supposedly moved forward to better compete with the RX 480, while simultaneously promising a lot more power for just $30 more at a recommended retail price of $250. Nvidia's Founder's Edition will be an Nvidia Store exclusive this time (and pricier at $299), but we managed to get our hands on one for review.
But before we're allowed to share any of that (the embargo lifts on July 19), we decided to take a closer look at the cut down card. Cut down is a bit unfair in this respect, with the GTX 1060 actually being built on a completely new chip (the GP106), as opposed to the GTX 1080 and 1070 (on the GP104). Clock speeds are still right up there with the likes of the GTX 1070, albeit with 2GB less GDDR5 memory and a slightly tweaked cooler. Check out the card in all its glory below.
If you're still not up to speed with the GTX 1060, you can check out the full specifications below:
CUDA Cores: 1280
Core Clock: 1506MHz
Boost Clock: 1708MHz
VRAM: 6GB GDDR5
Memory Clock: 8Gbps
Memory Bus Width: 192-bit
Memory Bandwidth: 192 GB/s
TDP: 120W
Transistors: 4.4b
Manufacturing process: TSMC 16nm FinFet
Power connector: 1x 6-pin PCIe
The GTX 1060 is expected to be available here on July 19 as well, with Nvidia revealing that the local RRP will be around R4699. That leaves the RX 480 in a precarious position locally, considering that the cheapest one comes in at around a few hundred Rands more. That'll be a massive problem if Nvidia's claims of the GTX 1060 being more powerful than the GTX 980 turn out to be true, with the RX 480 having around the same performance figures as that of of the GTX 970.
Look out for our review on July 19.
Last Updated: July 13, 2016