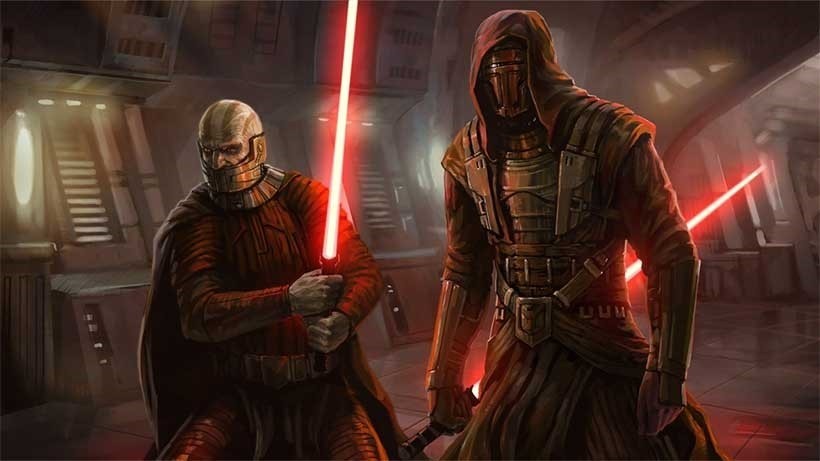 Back in April at Star Wars Celebration, Lucasfilm President Kathleen Kennedy set geek hearts around the world aflutter when she confirmed rumours that they were "developing something" around Star Wars: Knights of the Old Republic, the widely beloved video game-turned-multimedia franchise spinoff set thousands of years before the events of the original movies. Things appeared to be in the very, very early stages of development though as the studio boss went on to explain that "Right now, I have no idea where things might fall."
Well, it would appear that things may have fallen right where fans have wanted as according to a new report from Buzzfeed, writer/producer Laeta Kalogridis is penning a script based on the popular Star Wars property. In fact, Buzzfeed reports that three independent sources close to the production have informed them that Kalogridis is actually almost done with the script for what is intended to be a trilogy of films. Although the timelines do potentially line up, whether or not this is the trilogy that Game of Thrones' David Benioff and D.B. Weiss is working on for 2022 is unclear. This may be a separate thing entirely, just like the other trilogy from The Last Jedi's Rian Johnson also in the works.
Based on the recent negative fallout surrounding Benioff and Weiss' handling of the last two seasons of Game of Thrones, this being separate from their efforts is much better prospect. Especially since Kalogridis is a very good catch (and a long overdue change of pace from the usual white guy lineup for Star Wars creators).
Kalogridis first made her name as the showrunner for cult cancelled comic book TV series adaptation, Birds of Prey, and for co-scripting Timur Bekmambetov's brilliant Russian fantasy flick Night Watch. She hit straight to the big time then as she co-produced Avatar with James Cameron, and also penned/produced Shutter Island, Terminator GeniSys, and last year's Alita: Battle Angel.
Her biggest gig over the last few years though was as the showrunner on Altered Carbon, Netflix's rather brilliant big-budget adaptation of Richard Morgan's beloved sci-fi novel series. In this and her previous work, Kalogridis has shown all the right creative skills and the ability to reinterpret other's beloved works to the screen in exciting ways, which should get Knights of the Old Republic fans pretty excited. Now let's just hope she finds a way to work loveable droid HK-47 into the mix.
Last Updated: May 24, 2019