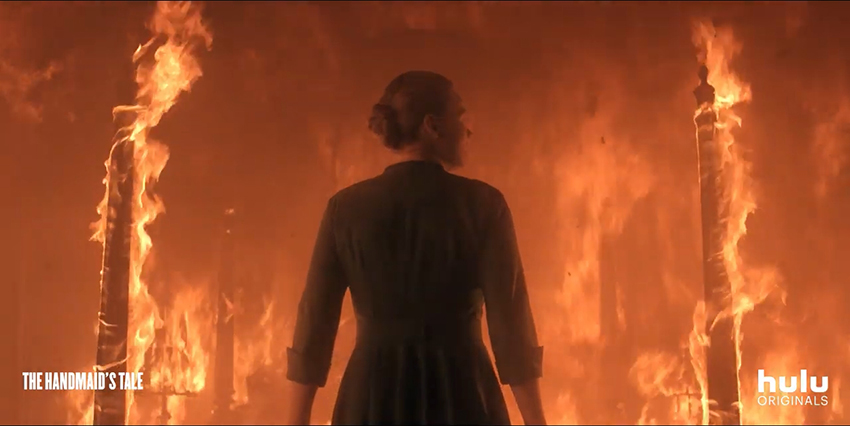 When the nominations for the Golden Globes were announced at the end of last year, much was made about the snubs for certain surefire female-led productions. As the most high-profile project, A Star is Born led the charge for efforts that somehow were not recognized as much by the Hollywood Foreign Press Association, followed by productions like Widows, Mary Poppins Returns, and Hereditary. Because of all the pomp those films brought, they seemed to steal the snub limelight which is why, over on the TV side of things, not much fuss was made about the fact that second season of The Handmaid's Tale was almost left out in the cold. Well, we're making a fuss now.
Although lead Elisabeth Moss and co-star Yvonne Strahovski earned nods, not a single other aspect of Hulu's critically acclaimed dystopian drama got any attention. And based on just how good – and by good, I mean gut-clenchingly harrowing and absolutely terrifying – the show's sophomore season was, that's just mindboggling. Well, the HFPA have another chance to fix their oversight as the third season of The Handmaid's tale is on the way soon. And we got our first look at it last night with a Superbowl trailer showing how Moss' Offred/June deals with having given up her chance at freedom as she smuggled her one daughter out of Gilead so that she could save her other child.
That's not all she's doing though, as showrunner Bruce Miller told Vanity Fair last year that the upcoming season will see June sparking a rebellion. As the showrunner put it, "Blessed be the fight". Check out the trailer below!
The Handmaid's Tale season 3 will debut on Hulu on… well, actually we don't know. Whenever it happens, expect quite the wake up call.
Last Updated: February 4, 2019