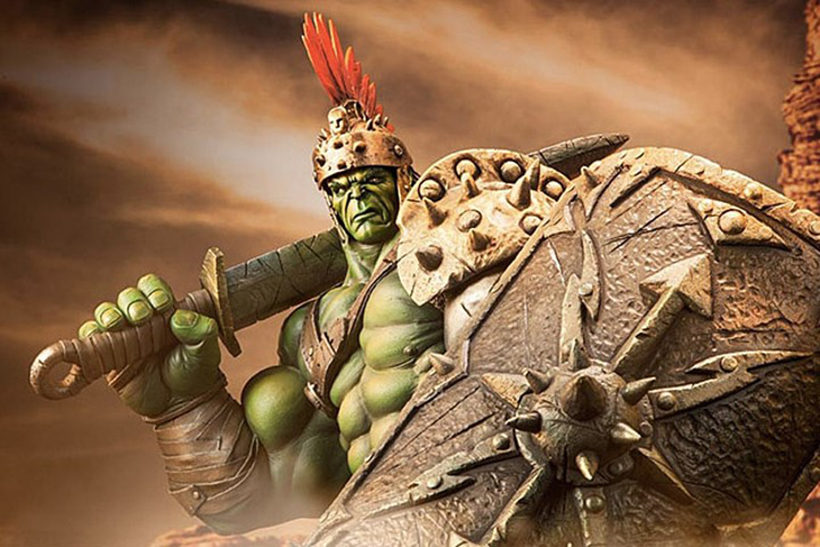 Looks like the rumours were true: Thor: Ragnarok will indeed be including parts of the famed "Planet Hulk" storyline. The 2008 comic book story arc from writer Greg Pak and artist Carlo Pagulayan and Aaron Lopresti saw Hulk stranded on an alien planet where he became a gladiator in an arena and eventually led an uprising to take over the world (well, there's a LOT more to it, but for brevity's sake, let's go with that).
We knew that the upcoming third Thor movie would see Chris Hemsworth's thunder god going on some kind of cosmic adventure that would see him running into Mark Ruffalo's Hulk, last seen launching himself into the atmosphere on a quinjet. Recent speculation was that by the time Thor found the jade giant, he would be fighting in a gladiatorial arena on a "distant planet", a la Planet Hulk. And some props from the movie shown off on the Comic-Con convention floor seems to confirm this (via CBR).
Some detail shots of the Gladiator #Hulk Armor. #MarvelSDCC pic.twitter.com/oqaBflGAo7

— Ryan Penagos (@AgentM) July 23, 2016
Yep, that's definitely the type of gladiator armour that Hulk wore. Looks like the years of fans calling for an adaptation of Planet Hulk may finally be over. Now let's just hope they go full tilt with this and actually set up the incredibly World War Hulk as the next Avengers movie. Who knows, maybe we'll even find out some more info during Marvel's Hall H panel later tonight.
Thor: Ragnarok is directed by Taika Waititi and also stars Tom Hiddleston, Idris Elba, Jeff Goldblum, Cate Blanchett, Karl Urban and Anthony Hopkins. It is scheduled for release on November 3, 2017.
Last Updated: January 4, 2017