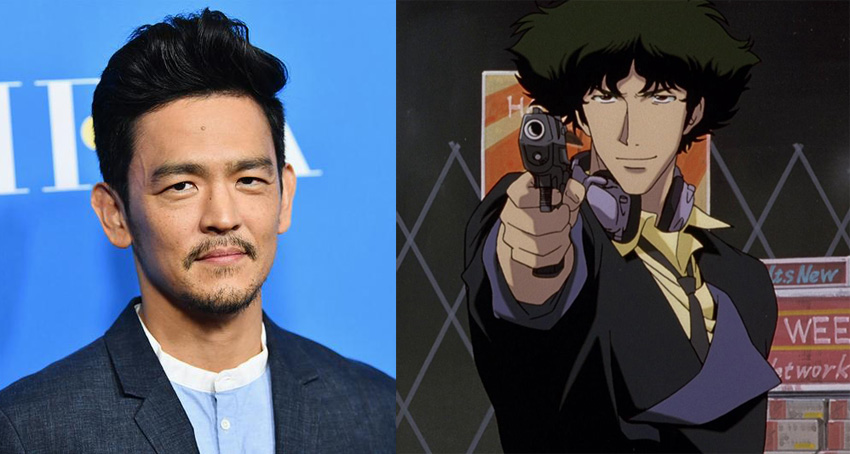 A live-action adaptation of acclaimed anime Cowboy Bebop had been stuck in development hell for years in Hollywood before Netflix finally pulled the trigger to announce their own production back in 2018. With popular actor John Cho set to lead the cast as easy-going intergalactic bounty hunter Spike Spiegel, even reluctant longtime fans were intrigued to see just how creator Shinichiro Watanabe's jazzy sci-fi adventure anime series will adapt to live-action on the small screen. Those fans are going to have to wait longer than anticipated though.
Just over a week into filming in New Zealand and production has needed to be halted after Cho suffered a severe knee injury while shooting, according to a report from Deadline. The exact conditions of the injury are unclear, but it's described as "a freak accident that happened on the last take of a routine and well-rehearsed scene." The injury was bad enough that Cho was flown to Los Angeles for surgery and will require rehabilitation. The result is that the entire production has been put on hold for 7 to 9 months.
As Deadline explains, with production still so early on the show's 10-episode first season, there was the possibility of Netflix just recasting the role of Spike with another actor. Cho's likeability went a long way to convincing many doubting fans of the viability of a live-action adaptation though. And according to Deadline's sources, Netflix is "fully committed" to keeping him in the role. The streaming giant is reportedly willing to wait until past mid-2020 to resume production. With how many years fans have already waited, this extra bit should be nothing.
Cowboy Bebop ran for 26 episodes from 1998 to 1999 and with its cool characters, superb animation, and jazzy soundtrack is widely considered one of the greatest anime series of all time. It was also one of a small handful of instrumental titles that helped popularize anime in the west. The show was directed by Watanabe and penned by Keiko Nobumoto, and is described as the "jazz-inspired, genre-bending story of Spike Spiegel (Cho), an impossibly cool "cowboy" (bounty hunter) with a deadly smile, a wry wit and style to spare, and his ragtag crew of bounty hunters on the run from their pasts as they hunt down the solar system's most dangerous criminals. They'll even save the world — for the right price."
Last Updated: October 21, 2019