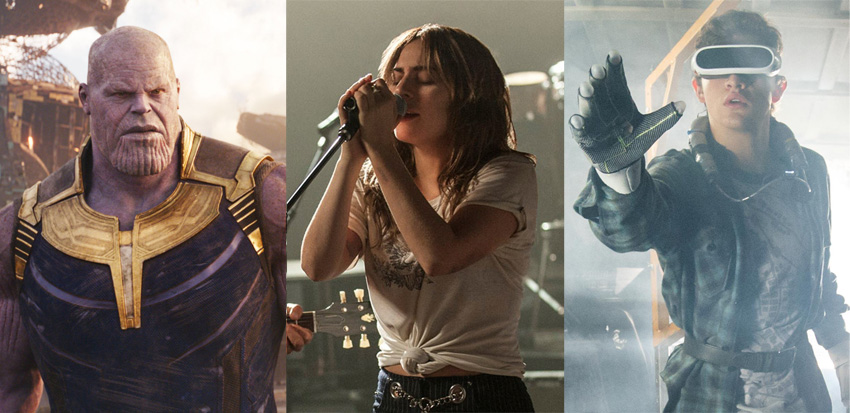 2018 has been quite a year for movies. Not only did we once again see Hollywood studios make more money than ever, but it also saw the release of some exceptional movies that could easily become future classics. No year is perfect though and it just wouldn't be memorable if there weren't some turds amongst the diamonds on offer. So exactly what were the year's highlights and lowlights?
Well, with awards season approaching and Hollywood waiting for us to provide our expert details before they announce their nominations for Oscars, it's only fair that we weigh in on what was our personal best and worst films of the year. Thankfully we're all a diverse bunch of people with a decent mix of taste which means that between us you should get a good variety. Below are the views and opinions from our entertainment writers on their personal highlights and lowlights from 2018:
Craig
Best Movie: Avengers: Infinity War
In a year which saw some remarkable films like Black Panther, A Star is Born, BlackKklansman, First Man or Mission Impossible: Fallout released its difficult to choose a clear favourite. Add to the fact that many of the awards-worthy films of last year only graced our screens this year, then you can add the likes of The Darkest Hour and I, Tonya to that list of excellence as well.
In the end though, I would have to go with a choice that was not only the most successful, but perhaps most ambitious film of the year. I always feared that Marvel would not be able to put all of their big MCU heroes together in one massive movie and make it work, but yet somehow they did in Avengers: Infinity War. While it may not be a perfect movie, it was able to supremely balance its story in giving fans of all the different movies something to get excited about, while still remaining focused on Marvel's greatest ever villain, Thanos.
It must also go down as the most heart-wrenching film of the year as it kept you on the edge of yours seats wondering about the fate of your favourite heroes, with Marvel not holding any punches with who lived and who died and delivering one of the most shocking endings ever in a superhero movie. Just for the sheer boldness to do what they did and still pull it off in a way that keeps fans excited for the future, it's my best movie of 2018.
Worst Movie: The Flay/A Wrinkle in Time
Ever heard of The Flay? No? Good – keep it that way. Terrible indie movies aside though there were many big name clankers that came out as well this year. And for me, Disney wins it again, this time with A Wrinkle in Time, which like everything else the studio touches was looking to be one of the biggest films of the year, but somehow the studio got it so hopelessly wrong. While you can't fault the exceptional visual effects, the movie suffered from a shoddy, imagination-less story, terrible dialogue, a dull and boring climax and acting that just isn't worthy of its superb cast and you got the feeling that this Ava DuVernay film is just a waste of talent. There may have been worse films in 2018, but nothing that floundered and disappointed as much as this movie did.
Honorable Mentions: Unassuming and completely under the radar, A Quiet Place is a movie that was probably not on most people's watch-list at the start of the year. However, it ended up taking the movie world by storm thanks to its incredible premise, drawing you into its story so much that you wanted to keep quiet yourself just in case the strange alien creature might hear you and put the onscreen characters at risk. It's a truly immersive experience and one that definitely deserves high praise and set up John Krasinski as a filmmaker to watch in the future.
Noelle
I think 2018 was a pretty solid year at the movies. A lot of stuff fit into the "just alright" bracket but a batch of pleasantly entertaining but flawed films is always better than a deluge of turkeys.
Best Movie: A Star is Born
This is a tough one, but seeing as I always prioritise movies that make me feel something, I'm going to go with the year's massive tearjerker. Rehashing a story that has been told on the big screen several times already, A Star is Born had no right to be as good as it is. But the surprisingly effective combination of Lady Gaga and writer-director-producer-star Bradley Cooper resulted in a sincere musical drama that is potent in every department. You really can't escape the feels.
Honourable mention: Spider-Man: Into the Spider-Verse is hands-down the best animated film of the year, but it is also easily one of the best overall movies of 2018. I have severe Spider-Man fatigue, but Into the Spider-Verse blasted that tiredness into another dimension. It's visually inventive, heartfelt, thrilling, and brilliantly soundtracked. The most fun you could have at the cinema this year.
Worst Movie: Jurassic World: Fallen Kingdom
This was far easier than picking my Best Of. I wasn't a fan of Jurassic World but I could acknowledge how the franchise-reviving sequel embraced its ridiculousness in consistently more over the top ways. Its 2018 follow-up, however, was terrible. Completely devoid of any sense of fun, as well as the credible science that underpinned Spielberg's original (and Crichton's book), Jurassic World: Fallen Kingdom felt brain-achingly stupid from start to finish. Insulted on a cerebral level, I found myself continually muttering, "That's not how that works; that's not how any of this works!" Plus, Fallen Kingdom receives extra demerit points for completely misleading marketing. Jurassic Park is now at Terminator and Alien levels of franchise disgrace.
Dishonourable mentions: Hereditary. This wasn't because the surprise hit horror movie was inherently bad – it was exceptionally well-acted and it definitely got under my skin. Months after watching, the film has stayed with me. However, Hereditary certainly was not the genre's Second Coming as many people claimed, so it's getting a shoutout for being very overrated.
Trevor
Best movie: Avengers: Infinity War.
This was the culmination of a decade's worth of Marvel movies, and boy did it pay off with some titanic action and drama. I've always said that the MCU movies are, while without a doubt fun and entertaining to watch, too shallow and consequence-less for me to regard as actual good movies. However this time around for one brief, shining moment in this PG universe our heroes have been well and truly beaten, major characters have been snapped out of existence – not just incidental side characters (remember the Warriors Three? I thought not!), and the villain has retired with the satisfaction of a job done well. And what a villain Thanos turned out to be thanks to Josh Brolin's masterful performance in the role.
Of course I know it's all going to be undone and nearly everyone will live happily ever after except for one or two heroes who'll get a teary goodbye scene, but that doesn't change how I felt when I walked out of the cinema on the day I watched it, which was thoroughly wowed by what I'd just watched.
Honourable mentions: I've stuck to mostly escapist fare this year so I've missed critically-acclaimed movies like A Star is Born and A Quiet Place, but movies like Deadpool 2, Ant-Man and the Wasp, Mission Impossible: Fallout, and Ready Player One also deserve a nod for the solid enjoyment they've provided this year.
Worst movie: Peppermint. 
I haven't watched many movies this year and as I said above, it's been mostly escapist fare to boot so I've been quite picky with my choices and avoided a bunch of what I suspected would be stinkers. I also prefer to think of this category as "most disappointing" rather than "worst" because sometimes, thanks to squandered potential, a disappointing movie is even worse than a bad movie – and that's certainly the case with those below.
Despite my low expectations going in, Peppermint disappointed me more than I thought possible because it reminded me of just how good former Alias-star Jennifer Garner is at action. This could've easily been her John Wick moment thanks to her cool performance and the excellent action beats, but that only served to highlight just how terrible everything else was in this movie. The supporting cast was incredibly poor and lacked the slightest hint of charisma, the main villain was both horribly clichéd and completely miscast, the plot and dialogue were stereotypical drivel, and the plot twist at the end was… well it was there, I guess.
Dishonourable mentions: The same as above goes for Logan Marshall-Green led B-grade sci-fi action movie Upgrade really. Cool concept, some great action, decent lead performance, everything else was terrible. And then we have Hotel Artemis. How do you mess up a badass movie dripping with style and a cast that includes the likes of Jodie Foster, Dave Bautista, Sterling K. Brown, Sofia Boutella, and Jeff Goldblum? With a lacklustre plot and script, that's how.
Kervyn
Best Movie: A Star is Born
As has been widely documented on this site and other corners of the internet, I am a serious geek. My preferred flavours of geekery being movies, comic books, and sci-fi/fantasy novels. So then in a year when so many fantastic movies on offer ticked all 3 those boxes, it may come as a surprise to many – it certainly did to me – that my best movie of the year was the exact opposite of all of that. Bradley Cooper and Lady Gaga's A Star is Born is a masterpiece of emotional filmmaking, made even more impressive with this being Cooper's first time behind the camera as director and pop diva Gaga's first leading role in a feature film. Not that you would notice any of that inexperience as you're swept up in this gut-wrenching tale of love and ambition. It's fantastically acted by the entire cast, masterfully directed with a harsh intimacy, and boasts a soundtrack second to none. Hell, I still can't listen to Shallow without getting all choked up!
Honourable mention: Oh hey, look! Spider-Man: Into the Spider-Verse is exactly like one of those bits of geekery I was talking about earlier that combines movies, comics, and sci-fi! The best Spider-Man movie ever made is a marvel (pun fully intended) of unique animation design, infectiously likeable characters, self-aware laughs, and storytelling heart. AND THAT POST-CREDITS SCENE! Also, the fact that so few people saw the brilliantly gonzo genre-bending WWII zombie flick Overlord is a crime against humanity. If you, in any way, like fun, then watch it as soon as you can!
Worst Movie: The Meg
This was actually a tough one. Thanks to some changes in my personal life, my movie watching dropped off considerably this year, so I was very picky about avoiding films that I suspected would be terrible. There was one "bad" film I actively sought out though… and hot damn was it disappointing! HOW DO YOU MAKE A MOVIE ABOUT JASON STATHAM FIGHTING A GIANT SHARK BORING?! The Meg did just that though as it took its potential so-cheesy-bad-its-good premise and played everything so seriously that it left me glum.
Dishonourable Mentions: There were actually a few on the disappointing list. The Cloverfield Paradox is a giant collection of WTF and wasted talent. The Predator is a confused and aggravating mess of unfunny jokes and just plain bad ideas. How It Ends is a solid post-apocalyptic potboiler that has one of the most frustrating endings I've seen in ages. Mile 22 boasted a lead in Mark Wahlberg's James Silva that's about as likeable as a wart. Actually, I take that back. Warts are better.
Nick
Wow, this has been one crazy year in the movie industry. A lot of damage that has taken place over the decades has surfaced and that carries with it impacts across the board. Perhaps Hollywood is changing for the better for it? Time will tell.
Best Movie: Annihilation
Science Fiction, ahhh haaaa! Yes, I am a science fiction lover, like, really. It's a platform that allows for so much extrapolation of ideas found in our world and that leads to near limitless stories.  is based on the same named book by Jeff VanderMeer. However, it is not a direct copy, loads has changed. In fact, so much was changed that I hated the movie based on the trailers. So I was pleasantly surprised to see that the Alex Garland-directed movie was an entity on its own, and a pretty freaky one at that! Looking at mortality and evolution, the movie touched on some awesome concepts I can't go into without spoilers raining down on you. It's on Netflix, so go give it a watch. The cast, headed by the always very able Natalie Portman, was damn fine too.
Honourable mentions: A Quiet Place, my now-favourite horror/thriller with super performances by writer-director John Krasinski and Emily Blunt; Ready Player One, a movie that ticked all the nostalgia boxes; Ant-Man and the Wasp, and of course Avengers: Infinity War.
Worst Movie: Cam
I was really looking forward to a movie about our online lives and how they are now defining the younger generation and what that means to our identity. Sadly what we get is a self-obsessed film designed for masochistic narcissists. I could not care two hoots about the lead character and how she has had her online sex channel stolen and taken over. No, this is not a movie about your online life, just a portion of it that most of you won't be able to relate to. The most laughable thing about this movie is the antagonist. I am still thinking 'you wot?' at how the writers could drop something in and then walk away like nothing happened. I am sure the younger generation will love this movie, but the poor acting, inconsequential knock-on effects and utterly daft antagonist get my thumbs down on this one.
Dishonourable mentions: I am still wondering how you can have a sterling actor like David Tennant in a ludicrous and utterly stupid movie like The Bad Samaritan. It's worth watching, just so you can exercise your eyeball rolls. The Cloverfield Paradox could have been great. It could have been like the awesome Cloverfield, or the even better 22 Cloverfield Lane, but it wasn't. It's stupid dressed up to look pretty, inconsistent science fiction without the science.
Sam
 I have spent the majority of 2018 going on about how we use nostalgia in our media. Obviously, it is just another element that Hollywood utilizes to get butts in seats, but it is also an important storytelling tool that can be central to an audience's reaction to a piece of media. Both of my best and worst picks for this year have been informed by how their makers make use of your warm feelings to get to enjoy their products.
Best movie: Bumblebee
I am not going to lie, I had an intense emotional reaction to Bumblebee. It very much has problems, like its continuity and plot. But not only is it a high-quality example of nostalgia playing a very big part in your movie-going experience (a topic which I love to talk about), but it also marks a turning point for the Transformers franchise in what kind of stories can be told on the silver screen. A great deal of people go and see these movies every time there is a new one, and every time we have been presented with an incomprehensible mess. Travis Knight's directing and the Spielbergian execution of the material resulted in a fun and heartwarming ride that I believe is a must-see.
Worst movie: Ready Player One
I approached Ready Player One with the hope that Steven Spielberg was going to turn Earnest Cline's terrible book into a visual effects thrill ride, even if the characters and actual story would still suffer for it. It turned out to be a disappointment both ways, as not only did the characters remain unlikeable and ill-conceived, but the nostalgia fest amounted to a greatest hits montage that amounted to no warm callbacks to one's childhood. It is a film that takes a treasure trove of imaginative ideas and possibilities and does absolutely nothing imaginative with them. Not to mention that you have to squint your eyes to get a glimpse at any of your favourite characters.
There you have it. Our best and worst picks of the year. Of course, tastes are subjective so just like we disagreed on some choices, you will more than likely do the same. So sound off below so that we can hear what you loved and hated at the cinema in 2018!
Last Updated: December 20, 2018