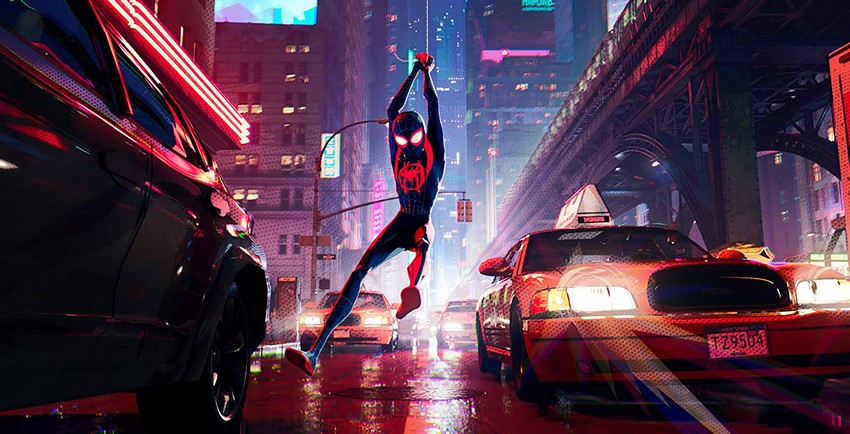 Spider-Man is having quite the 2018. As we get to that part of the year where everybody and their Aunt May starts making "Best of" lists, you can be damned sure that Sony's Spider-Man game on PS4 will be popping up on many of them in the video game industry. But it would seem that ol' Webhead's name will probably be swinging to the top of  Best of 2018 lists for a totally different entertainment medium as well. That's according to just about anybody that has been fortunate enough to have seen Spider-Man: Into the Spider-Verse!
Reviews for Sony's upcoming animated feature film – which focuses on the "Ultimate Comics" version of Spider-Man, Miles Morales, as well as various Spider-characters from throughout the multiverse – will only be dropping tomorrow, but the social media embargo dropped in the early hours of this morning. Subsequent reactions on Twitter from the US press who watched the film already,have been most universally ecstatic with some declaring this one the best films of the year. Hell, some even say it is the best of 2018, while others go so far as to call it the best Spider-Man movie ever, and one of the greatest comic book films whether live-action or animated
Praise is being heaped on the film's heavily comic book-inspired art style, the great characters (including Spider-Man Noir voiced by none other than Nicolas Cage), fantastic-looking setpieces, and witty but heartfelt writing. While the trio of Bob Persichetti, Peter Ramsey, and Rodney Rothman are directing, it was the manic genius duo of Phil Lord and Chris Miller (of LEGO Movie, 21 Jump Street, Clone High, and Cloudy With a Chance of Meatballs fame) who produced and developed this idea, and apparently you can feel their fingerprints all over this, which is a very good thing based on their past efforts.
Check out all the lofty praise below.
Can finally talk about Into the #Spiderverse. I'm obsessed. It didnt feel like anything else. All the animation styles coming together was insane. Miles is EVERYTHING. Humor. Heart. Vulnerability. Courage.
The hero we need.

"Anyone can wear the mask. You could wear the mask." pic.twitter.com/0ZY4UkTysP

— Dani Fernandez (@msdanifernandez) November 27, 2018
#SpiderVerse is terrific, ambitious & super fresh. Eye-popping next-level animation. Lord & Miller fingerprints are ALL over it; hilarious, irreverent, meta, hip and somehow still has heart and captures the essence of #SpiderMan his existential burden and struggle with heroism.

— Rodrigo Perez — The Playlist ??? (@YrOnlyHope) November 28, 2018
Spider-man: Into The Spider-Verse is not only the best animated feature and best comic book movie this year, but one of the best movies of 2018 period. I don't think another movie does a better job of bringing a comic book to life on the big screen. pic.twitter.com/EeDzaaoBqD

— Peter Sciretta (@slashfilm) November 28, 2018
I can finally talk about this: #SpiderVerse is hands down the best Spider-Man movie ever made, and it's one of the best comic-book films, live action or animated, of all time. pic.twitter.com/hzO0ZCdagk

— mikey's WRITING BROKEBACK MOUNTAIN BUT BLACK & FEM (@Mikey_Talks) November 20, 2018
Spider-Man: Into the #SpiderVerse is hilarious, emotional and just so damn entertaining. Who knew that in a year when both Disney and Pixar release quality films that Spider-Verse would top them to become the best animated film of the year. It's that good.

— Mark Pacis (@PacManNR7) November 28, 2018
Not only is SPIDER-MAN: INTO THE SPIDER-VERSE a great Spider-Man movie, but I think it's the BEST Spider-Man movie. A super inventive & visually stunning action-adventure about a kid learning to be a hero from a man who forgot how to be one. It is outstanding!#IntoTheSpiderVerse pic.twitter.com/vKe96y2wkH

— Erik Davis (@ErikDavis) November 28, 2018
Into the #SpiderVerse somehow expands the character's mythos and distills his spirit down to its essence all at once. I can't wait to see it 20 more times. pic.twitter.com/gkNOF7MprK

— Matt Singer (@mattsinger) November 28, 2018
#SpiderVerse is hands down the best animated movie of the year, possibly even the best superhero movie of the year, which is not an accolade I give lightly with Infinity War in the running. It's SO stylish and SO beautiful and SO funny. The entire thing is incredibly special.

— Meg Downey (@rustypolished) November 28, 2018
Spider-Man: Into the Spider-Verse is so incredibly good I'm uncomfortable using the kind of hyperbolic adjectives and comparisons I'm considering as I immediately exit the theater. But yeah, it's AMAZING. pic.twitter.com/Lm7yU4O8pd

— Germain Lussier (@GermainLussier) November 28, 2018
Spider-Man: Into the Spider-verse  features the voices of Shameik Moore as Miles Morales, Jake Johnson as Peter Parker, Hailee Steinfeld as Spider-Gwen, John Mulaney as Spider-Ham, Nicolas Cage as Spider-Man Noir, Liev Schrieber as the Kingpin, Mahershala Ali as Miles' Uncle Aaron, Brian Tyree Henry as Miles' father Jefferson, Luna Lauren Velez as Miles' mother Rio, and Lily Tomlin as Aunt May. It is scheduled for release on 14 December.
Last Updated: November 28, 2018