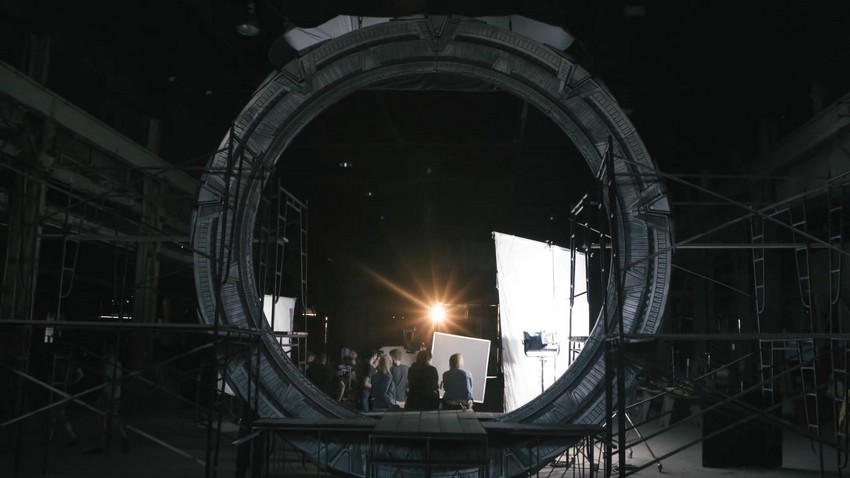 Last week we heard the very unexpected news that Quentin Tarantino is making an R-rated Star Trek movie, and this coming Friday obviously sees the release of Star Wars: The Last Jedi which may just be the best film in the entire franchise, according to some folks who have seen it. Not content to just let the two major Star-related sci-fi franchises hog all the limelight though, Stargate also had some news to share. Unfortunately, while it's nowhere near as big as its more blockbuster peers, it's still pretty cool for fans like myself.
A couple days ago, Stargate: Origins, the upcoming digital prequel series, wrapped its production and to celebrate they've released a brand new behind the scenes video which shows "an in-depth look at some of the stunning real-life locations where filming took place, meeting new faces and set pieces along the way. From sweeping dunes to rocky cliffs, these locations proved challenging to shoot in, but as we think you'll all agree, the end result was 100% worth it!"
Stargate: Origins follows on from the opening scene of Roland Emmerich's original 1994 movie, which showed the first Stargate being uncovered in Egypt in 1928 by Professor Paul Langford (Connor Trinneer plays the role here), and will be set a few years later as it focuses on Langford's daughter Catherine. The adventurous Catherine is no stranger to fans as she was the founder of the Stargate Program and featured many times in key episodes of long-running spinoff TV series Stargate SG1.
That series was set in modern times though, when Catherine was already an old lady, whereas Origins' WWII era setting will see the character brought to life by 21-year old Australian actress Ellie Gall. It's said that her younger version of Catherine will embark "on an unexpected adventure to unlock the mystery of what lies beyond the Stargate in order to save the Earth from darkness," though we still have no idea just what that darkness is or how Catherine can unlock any Stargate mysteries seeing as she really only gets Daniel Jackson to do that in the 90s.
However this is going to work, I'm just pumped to have more Stargate on our screens again after a rather sad hiatus. And by "screens", I'm actually more than likely referring to computer screens, as the show's ten 10-minute episodes (so essentially one 100-minute movie) will be debuting on MGM's Stargate Command, the brand new digital streaming platform for all things Stargate. Though it's yet to be confirmed officially, it's believed that MGM is gauging the reception of Origins to see if a full Stargate franchise revival is viable again. Yes. Yes, it freaking is, MGM!
Originally, we heard that Stargate: Origins was releasing "later this year", but seeing as the year is almost done and they still need to do post-production, I would hazard a guess that it would be out sometime in the next few months. Stargate Command has indicated that they will be making a few more announcements in the next couple of weeks.
Last Updated: December 12, 2017