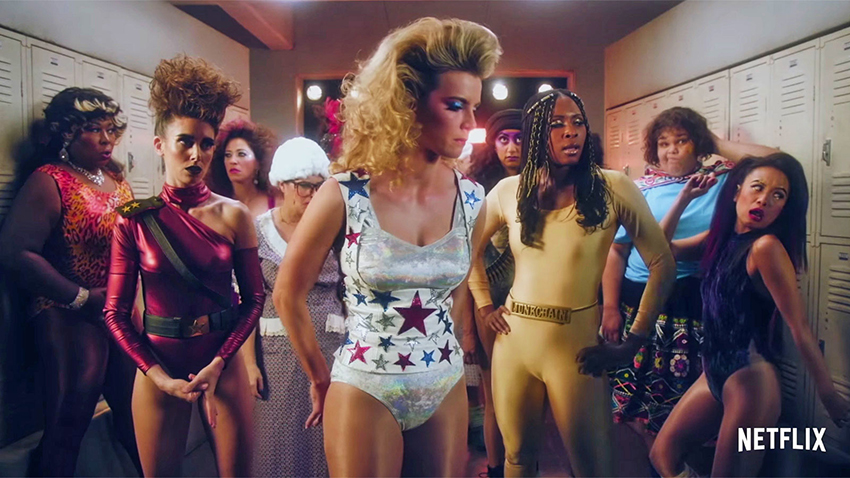 Following on from that maniacally catchy announcement trailer for the upcoming second season of GLOW, Netflix has now released the first full trailer for the critically acclaimed sorta-based on truth 1980s-set women's wrestling drama. And we definitely are getting drama as Alison Brie's Ruth "Zoya the Destroya" Wilder, Betty Gilpin's Debbie "Liberty Belle" Eagan, and the rest of the colourful crew have their hands full with divorces, fame, crazy fans, show cancellations, costumes that smell like racism and much more!
It's time for the Gorgeous Ladies of Wrestling to glow big or glow home as their ragtag wrestling outfit has now drawn some attention – some of it the wrong type of attention. Based on the new trailer, series creators Liz Flahive and Carly Mensch are still not shying away from tackling issues that actually made some of the real-life Gorgeous Ladies of Wrestling stand out as offensive and exploitative. Much like the first season, it also appears that they've struck a nice balance between these serious points of discussion and some of the cartoonish absurdity that came with the territory. Check it out below.
GLOW season two will also see the return of favourites like Marc Maron as manager Sam Sylvia, Chris Lowell as sponsor Sebastian "Bash" Howard, Sydelle Noel as Cherry "Junkchain" Bang, Britney Young as Carmen "Machu Picchu" Wade, Kia Stevens as Tammé "The Welfare Queen" Dawson, and Gayle Rankin as Sheila "the She Wolf" among others. And all of the ladies will be getting up to some big action as Gilpin teased to Variety earlier in the year that "We're doing way bigger moves this season, I in particular do a huge amount of wrestling in season 2 and my joints and muscles and ligaments are squeaking and singing like an old, old woman."
Exec producer Mensch continued by saying getting a second season was the perfect escalate things "I think we were holding back a lot in season 1, but we kind of knew we had more exciting things planned. It's kind of like we were holding cards behind our back and now we get to play them, which feels great." In other words, expect some flashier stunts and more complex wrestling matches – on top of the actual character drama, that is – when the 10-episode second season of GLOW debuts on Netflix on Friday, 29 June.
Last Updated: June 12, 2018