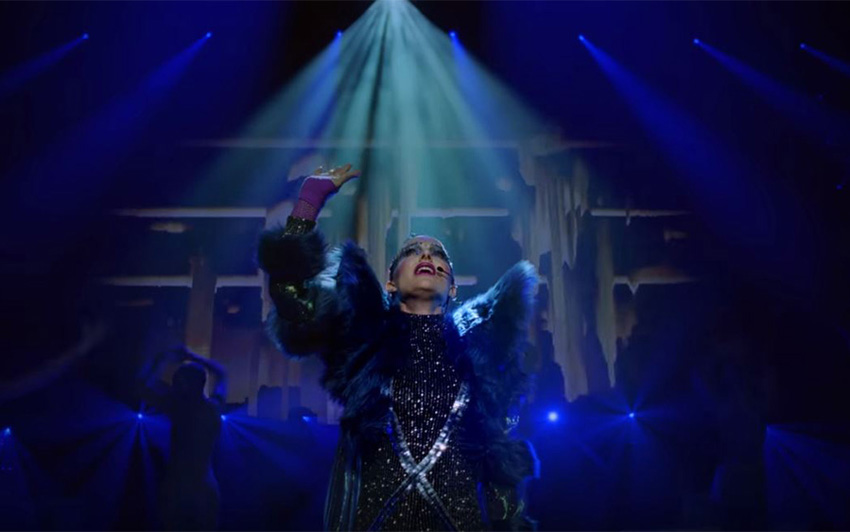 The last few times Natalie Portman got all musical on the mic, it was to reveal that she's actually not a very nice person despite the image popular actress has. And now she's doing it again, but this time there's no Seth Meyers to slap and she's not shouting at a tiny young Queen Amidala cosplayer to "suck her d–k". Instead, what there is, is a whole lot of Oscar buzz for Portman's portrayal of a former teen viral pop star stuck in a downward spiral in the twilight of her career in upcoming drama Vox Lux.
Writer/director Brady Corbett's film has been drawing plenty of film festival buzz ahead of its general release and a brand new trailer is sure to add to that as we also get hear Portman performing "Wrapped Up", one of the many original songs written for the film by pop diva Sia. With A Star is Born still fresh in the minds (and broken hearts) of millions around the world with its incredibly emotional original music, Vox Lux could just offer that next burst of powerhouse musical drama to audiences.
Of course, there's more to the movie than just pop belters though, as the ambitious drama is actually set in two different eras: The first sees Raffey Cassidy as the teenage version of Portman's Celeste, who shoots to unexpected viral fame after performing a song with her sister Eleanor (Stacy Martin) about a violent tragedy that befell them. The later era follows Portman as the grown-up Celeste as she tries to shelter her own teenage daughter (also played by Raffey Cassidy) when another act of shocking violence derails her life and career. Jude Law provides the link between the young and old Celeste as he plays her manager across both eras. Check it out below.
Vox Lux also stars Jennifer Ehle and is narrated by Willem Dafoe. It is scheduled for release on 7 December while the full original motion picture soundtrack composed by Sia and Scott Walker will be released a week later.
Last Updated: November 29, 2018