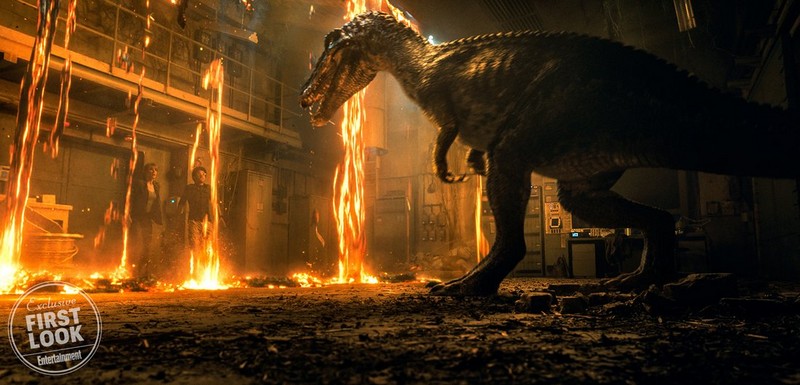 As reported on earlier in the week, we're getting the first full trailer for Jurassic World: Fallen Kingdom tomorrow (Well, I hope we are – those pesky digital moustaches take time!). This was confirmed by a very brief 15-second teaser that just showed Chris Pratt's Owen Grady and Bryce Dallas Howard's Claire Dearing doing some running away – in sensible shoes this time, instead of high heels, I might add – from what appears to be an erupting volcano. And that was actually the sum total of our knowledge of this sequel to the 2015 box office record-breaking franchise revival.
But now, leading up to the trailer, the curtain has been pulled back a bit to reveal exactly what Owen and Claire are getting up to here, and it's simple: Saving the dinosaurs from fiery extinction. No biggie. Dallas Howard revealed these first plot details to EW, explaining that Fallen Kingdom takes place a few years after Jurassic World and that the public theme park on Isla Nublar has been completely overrun by the dinos, but the giant reptiles are put in danger when the volcano on the island unexpectedly becomes active:
Claire's founded an organization, Dinosaur Protection Group, and they're finding a way to get these dinosaurs off the island. She reaches out to Owen Grady to let him know this is happening.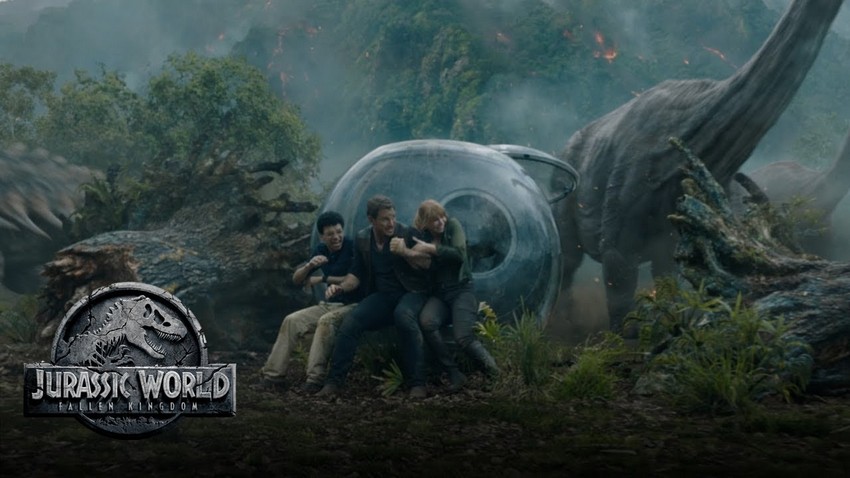 It's been revealed that franchise newcomers Daniella Pineda and Justice Smith (who can be seen in the pics above) will be playing members of this Dinosaur Protection Group. Oh and if you noticed the "reaches out" part in the quote above, then you're probably wondering what happened to the romantic relationship between Owen and Claire that seemed set at the end of the previous film. Seems things between them may have been just as unstable as the volcano they're now trying to outrun.
When you see them at the beginning of this story, you get caught up as to what's going on. But it's not what you would necessarily expect.
This whole volcano bit is indeed an unexpected direction to take the narrative, especially since Jurassic movies have generally been all about surviving the dinosaurs, not trying to make sure they survive. Jurassic World director/co-writer Colin Trevorrow – who may have stepped down from the director's chair but still wrote and produced this sequel- planted the seeds in that film about the military application of genetically modified dinosaurs. It's previously been reported that that story angle was being tossed out to do something else instead, and I guess that's now been confirmed. It will definitely put a unique spin on the traditional Jurassic movie model though, which is a good thing seeing as Jurassic World drew criticism for borrowing so many ideas from Steven Spielberg's original 1993 Jurassic Park.
One good thing being borrowed from those original films is Jeff Goldblum who will be reprising his role as fan-favourite Dr Ian Malcolm. And it appears that not even an established director like JA Bayona is beyond getting a little starstruck about the veteran actor.
I had to overcome the impact of being in front of Ian Malcolm. After so many years, Jeff Goldblum was in front of a camera again talking about dinosaurs!
Along with details, we also got that new shot from the film above, showing that saving dinosaurs may not be such an easy job when they view you as a nice appetizer. That's a Baryonyx, by the way, a ten-foot long dinosaur that was originally teased in Jurassic Park thanks to a diagram showing its enclosure, and also seen briefly in a reflection in Jurassic World, but which is finally making its proper debut here. And yes, it is indeed a nasty piece of work, with one of its signature traits being that it actually ate other dinosaurs. Yum.
As for that first full trailer tomorrow, I had my own hairy theories as to why its original release date from last week was delayed. A hilarious new promo featuring Pratt, Dallas Howard and Youtube personality Zach King may actually explain it though. Turns out uploading trailers is a lot more dangerous than we were led to believe.
I'm totally getting fired. ? w/ @prattprattpratt @brycedhoward @aaronsanimals & @thesupercole Trailer Thursday #ad @JurassicWorld #fallenkingdom #moredinosaurs #bestjobever pic.twitter.com/hHHbD0LLGQ

— Zach King (@FinalCutKing) December 5, 2017
Jurassic World: Fallen Kingdom is set for release on 22 June 2018.
Last Updated: December 6, 2017