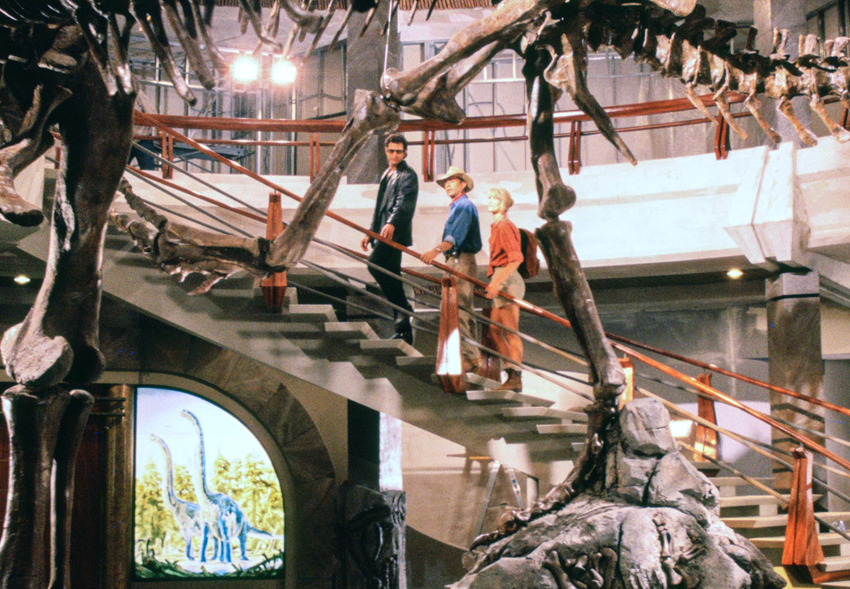 Have you watched the Battle at Big Rock yet? You really should as the Jurassic World short film released as a surprise by director Colin Trevorrow just over a week ago is damn good and a fantastic gap-bridger between Jurassic World: The Fallen Kingdom and the upcoming, still-untitled Jurassic World 3. If watching that little of dinosaur action awesomeness is somehow not enough to get you hyped for the new movie though (are you completely dead inside?!), then how about you try this big news on for size: Laura Dern, Sam Neill, and Jeff Goldblum will all be reprising their roles for Jurassic World 3.
The news was revealed by Trevorrow himself at a screening for Jurassic World hosted by Collider in Hollywood a day ago. During a Q&A after the screening had completed, Trevorrow was asked by a fan if any of the original Jurassic Park cast would be making an appearance in Jurassic World 3, and the filmmaker shocked the audience by bringing out Dern, who had been waiting in the wings. She then revealed that her Jurassic Park compatriots Neill and Goldblum would also be joining her.
Dern played the role of Dr. Ellie Satler in Steven Spielberg's original Jurassic Park in 1993, across from Neill's fellow palaeontologist Alan Grant and Goldblum's mathematician Ian Malcolm. Goldblum and Neill would each return to respectively lead the two sequels, but Dern would only have a small cameo in Jurassic Park 3. With Jurassic World in 2015, Trevorrow introduced a brand new cast led by Chris Pratt and Bryce Dallas Howard, and besides for a tiny background cameo in Jurassic World: The Fallen Kingdom for Goldblum, the original trio had not been seen since.
As Dern and Trevorrow confirmed in their revelation, the appearances of the old guard in Jurassic World 3 won't be cameos though. These will be "major roles", and they will be "in the whole movie". Just how they will factor into the story is still unknown as we don't know much about the plot of the upcoming movie other than it's set a year after the events of Fallen Kingdom which ended with a large number of cloned dinosaurs being released into the wider world. Battle of Big Rock gave us our first glimpse of this new status quo with dinosaurs roaming through human populations.
Trevorrow is directing and co-scripting Jurassic World 3 with Emily Carmichael (Pacific Rim Uprising), and the film is set to release on 11 June 2021.
Last Updated: September 26, 2019