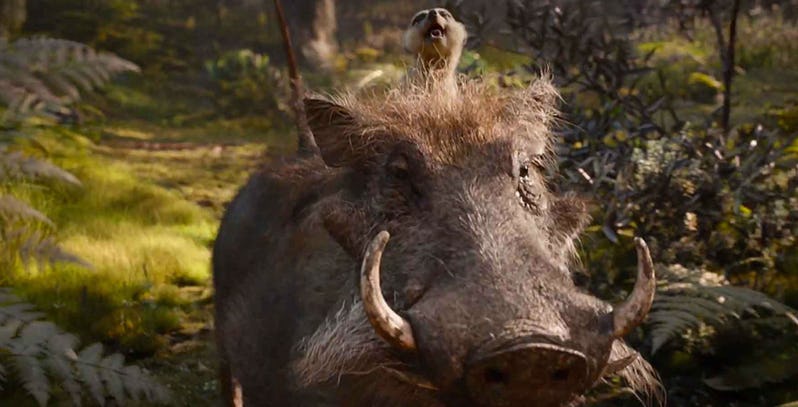 We're just a couple of weeks away from Disney's live-action remake of The Lion King and I can't wait for it. Yes, while we have already had so many great movies released this past year up to the point where it's almost impossible to keep up with all of them, everything about The Lion King looks exceptional and likely to make this movie to stand out from the rest of the pack.
My favourite characters from the original movie were always Timon and Pumbaa, a duo that brought the laughter into the film and the catchy Hakuna Matata song, the motto that I still try and run my life after in this world of constant bad news. We haven't seen much footage of the pair as the trailers released for the movie so far have firmly focused on the story of Simba and have only given passing glances of what Timon and Pumbaa look like.
Thanks to a new tweet from Seth Rogen, we've finally got an idea of how the two characters look and move around. These scenes are reminiscent of the original movie, but it's also clear that director Jon Favreau is doing his own thing as the scenes remain different enough, even if the line of dialogue feels like it was pulled directly from the original animated film.
As a huge fan of the pairing of Nathan Lane and Ernie Sabella as the voices of these beloved characters, these scenes take a bit of getting used to for me. Billy Eichner and Seth Rogen are definitely very different actors and that comes across in how this dialogue sounds in my head, making me see the characters in a different light. It doesn't take away from my excitement for The Lion King and if the remake can keep these two characters as loud and as fun as they were in the original movie, they should still be a blast to see in action.
Last Updated: July 8, 2019