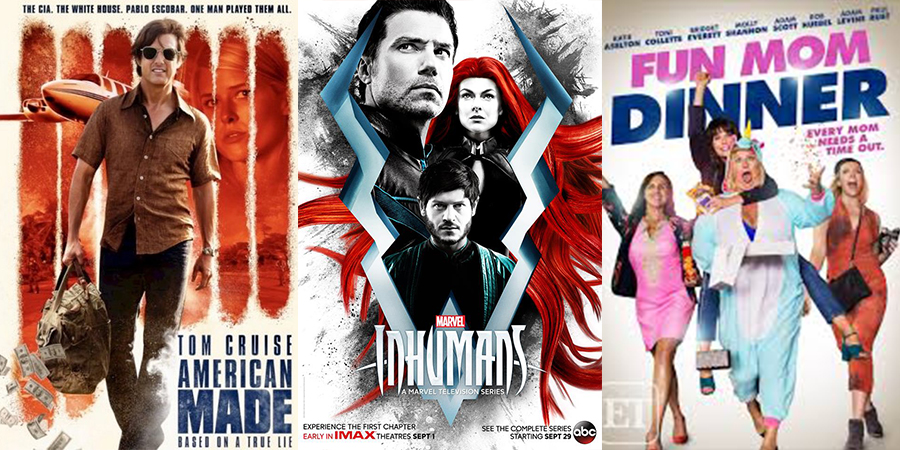 This week, Marvel's Inhumans hits the big screen for a limited time, while Tom Cruise is back on fine form. We've also got entertainment for those that enjoy raunchy comedies, rom-coms and mindless action flicks (with an emphasis on mindless).
American Made
Age Restriction: 16 D L S
Barry Seal, a TWA pilot, is recruited by the CIA to provide reconnaissance on the burgeoning communist threat in Central America and soon finds himself in charge of one of the biggest covert CIA operations in the history of the United States that spawned the birth of the Medellin cartel and eventually almost brought down the Reagan White House with the Iran Contra scandal.
While not particularly deep or heartfelt, American Made has plenty of panache. It's an entertaining, sardonic popcorn flick, with a great performance by Tom Cruise and loads of period-appropriate visual gags.
Critical Hit: 7.5/10
Rotten Tomatoes: 87%
Metacritic: 63
Book at Nu Metro or Ster Kinekor (2D)
Marvel's Inhumans
Age Restriction: 7-9 PG
Marvel's Inhumans, a new Marvel Television Series, explores the never-before-told epic adventure of the royal family including Black Bolt, the enigmatic, commanding King of the Inhumans, with a voice so powerful that the slightest whisper can destroy a city. After the Royal Family of Inhumans is splintered by a military coup, they barely escape to Hawaii where they are greeted with surprising interactions with the lush world and humanity around them. Now they must find a way to reunite with each other and return to their home before their way of life is destroyed forever.
Opening for a limited time in IMAX theatres before its full television release later this month, Marvel's Inhumans obviously doesn't have any reviews yet. From what we've seen so far, with the unimpressive trailer and even worse SDCC footage, I don't have any high hopes. We all agree the CGI looks cheap and IMAX will do nothing but highlight those flaws.
Rotten Tomatoes: TBD
Metacritic: TBD
Book at Ster Kinekor (IMAX)
Fun Mom Dinner
Age Restriction: 16 L
Four moms, whose only common ground is their kids' preschool class, decide to get together for a harmless "fun mom dinner." The night begins as a disaster, but the combination of alcohol, karaoke, and a cute bartender, leads to an unforgettable night where these seemingly different women realize they have more in common than motherhood and men.
Fun Mom Dinner has jinxed itself by placing "Fun" right there in the title. There are certainly moms, and there is a dinner, but by all accounts the "fun" is in short supply. The talented cast can't save this movie from following the same tired clichés as its predecessors. Fun Mom Dinner is contrived and formulaic, with very few scattered laughs.
Rotten Tomatoes: 33%
Metacritic: 46
Book at Nu Metro or Ster Kinekor (2D)
First Kill
Age Restriction: 16 L V
In order to reconnect with his son Danny (Ty Shelton), big shot Wall Street broker Will (Hayden Christensen) takes his family on a hunting trip to the cabin where he grew up. While out hunting with Danny, the trip takes a deadly turn when they stumble upon several robbers and witness the murder of one of the criminals. After becoming entangled in a bank heist gone bad that results in the kidnapping of Danny, Will is forced to help the kidnappers evade the police chief (Bruce Willis) and recover the stolen loot in exchange for his son's life.
Dull, uninspired and downright messy, First Kill barely qualifies as mindless entertainment. Even those who enjoy just switching off and watching the action will have a hard time here, as the plot twists are glaringly obvious and the actors are just there to cash a cheque.
Rotten Tomatoes: 9%
Metacritic: 39
Book at Nu Metro or Ster Kinekor (2D)
The Bounce Back
Age Restriction: 10-12 PG L S
Dating guru Matthew Taylor (Shemar Moore) falls for celebrity therapist Kristin Peralta (Nadine Velazquez) while he does a book tour to promote his best-selling self-help guide. In time, their relationship forces him to confront his issues stemming from a prior breakup.
While there aren't many reviews out for The Bounce Back, the ones I can find say it has enough laughs to keep you engaged and entertained. It's predictable but likeable, and while that statement might be damning for some movies, this middle-of-the-road romcom shouldn't entirely be a waste of time.
Rotten Tomatoes: 67%
Metacritic: TBD
Book at Nu Metro or Ster Kinekor (2D)
Sleight
Age Restriction: 16 L V
A young street magician (Jacob Latimore) is left to care for his little sister after their parents' passing and turns to illegal activities to keep a roof over their heads. When he gets in too deep, his sister is kidnapped and he is forced to use his magic and brilliant mind to save her.
Sleight hinges mostly on Jacob Latimore's performance, which is as subtle and powerful as a real magic trick. The rest of the film may have some flaws, but the fine story-telling pays off in the end.
Rotten Tomatoes: 72%
Metacritic: 62
Book at Ster Kinekor (limited release)
Thomas and Friends: Journey Beyond Sodor
Age Restriction: TBC
Thomas leaves Sodor, discovering epic adventure & experimental engines. When lost Thomas gets stuck working at the Steelworks, his friends, old and new, help save the day!
I don't know how much you expect me to write about a Thomas the Tank Engine movie. It's for kids, and it will probably suck for adults. That's pretty much it.
Rotten Tomatoes: TBD
Book at Ster Kinekor (2D)
For more information about the age restrictions, click here.
Last Updated: September 1, 2017