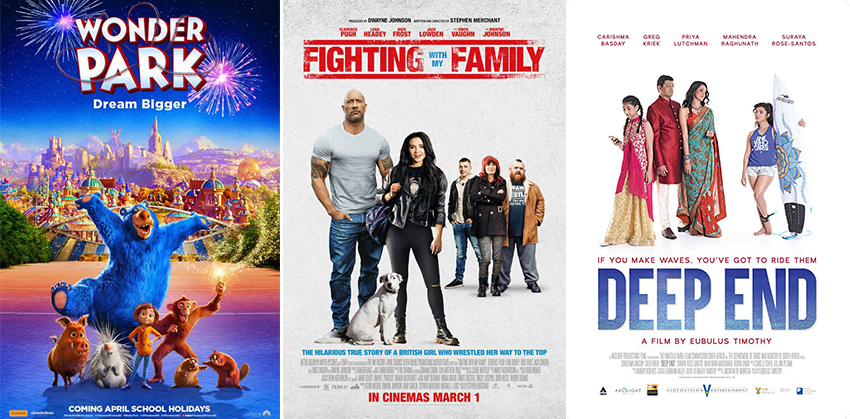 I can tell that school holidays are coming up when the Joburg traffic somehow disappears, and the movies opening on circuit start to look a lot more animated than usual.
---
Fighting With My Family
Age Restriction: 13 D IAT L V
Born into a tight-knit wrestling family, Paige and her brother Zak are ecstatic when they get the once-in-a-lifetime opportunity to try out for WWE. But when only Paige earns a spot in the competitive training program, she must leave her family and face this new, cut-throat world alone. Paige's journey pushes her to dig deep, fight for her family, and ultimately prove to the world that what makes her different is the very thing that can make her a star.
We've seen underdog, rags-to-riches sports stories before, and Fighting With My Family is no different in its overarching plot. Where it stands out is pretty much everywhere else, from the comedy, the drama, the cast and the filmmaking. Fighting With My Family is genuinely heart-warming and sincerely funny, even if you're not a fan of WWE.
Critical Hit: 8/10
Rotten Tomatoes: 92% (Certified Fresh)
Metacritic: 68 (Generally Favourable Reviews)
---
Wonder Park
Age Restriction: PG V
Wonder Park tells the story of a magnificent amusement park where the imagination of a wildly creative girl named June comes alive. One magical day, June is running through the woods to find her way home where she discovers an old rollercoaster car and climbs inside. She suddenly finds herself in Wonderland, an amusement park she had created in her mind and put aside. All of her rides and characters are brought to life but are falling into disarray without her. Now, with the help of her fun and lovable park characters, June will have to put the wonder back in Wonderland before it is lost forever.
Perfect for the first school holidays of the year, Wonder Park is charming enough to keep the little ones entertained and inoffensive enough that the parents won't get too bored. Wonder Park might not be as wonderful as, say, a big-budget Disney film, but it'll tide you over just fine.
Rotten Tomatoes: Tomatometer not yet available
Metacritic: No score yet
---
Deep End
Age Restriction: 13 D L P V
How deep does someone have to go to find themselves? Sunitha is a secret surfer who must defy the odds, her parents and her traditional Indian culture to find where she really belongs and love with a guy who goes against everything she's ever known. Let's catch a wave.
I can't say I was overly impressed by the acting in the trailer for Deep End, and the story admittedly looks incredibly derivative. Also, what is up with that horribly fake American accent from Greg Kriek? As much as I was intrigued by Deep End's synopsis, that trailer quashed any desire I might have had to watch it.
---
Die Stropers
Age Restriction: 16 D L P V
In the Free State, isolated stronghold to the Afrikaans white ethnic minority culture, the conservative farming territory's men are obsessed with toughness and masculinity. Janno is different—secretive and emotionally frail. One day, his mother, a fiercely religious woman, brings a hardened street orphan home and asks Janno to make this stranger his brother. The two boys begin a feud over parental affection, power, and heritage.
Known as The Harvesters on the international art-house circuit, Die Stropers is a modern-ish take on the Cane and Abel story. It starts out strong enough, but unfortunately the messages of toxic masculinity and societal roles get diluted by the increasingly muddy narrative.
Rotten Tomatoes: 83% (Fresh)
---
For more information about the age restrictions, click here.
Last Updated: March 15, 2019