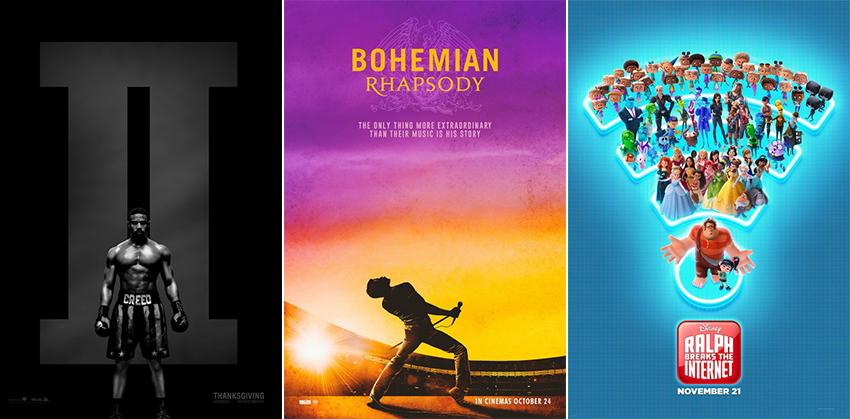 And we're back for our regularly scheduled Movies out Today post! This week's new releases kick off the sprint to the end of the year in style, with the highly anticipated Bohemian Rhapsody, Creed II and Ralph Breaks the Internet all in one weekend.
Bohemian Rhapsody
Age Restriction: 13 D L S
Bohemian Rhapsody is a foot-stomping celebration of Queen, their music and their extraordinary lead singer Freddie Mercury, who defied stereotypes and shattered convention to become one of the most beloved entertainers on the planet. The film traces the meteoric rise of the band through their iconic songs and revolutionary sound, their near-implosion as Mercury's lifestyle spirals out of control, and their triumphant reunion on the eve of Live Aid, where Mercury, facing a life-threatening illness, leads the band in one of the greatest performances in the history of rock music. In the process, cementing the legacy of a band that were always more like a family, and who continue to inspire outsiders, dreamers and music lovers to this day.
Despite emerging as a Freddy Mercury biopic that remains at surface level, and succumbing to cinematic clichés, Bohemian Rhapsody is a celebration of a great band and a great man, heralded in a movie that knows what the audience wants, and will crank the volume up to eleven to give it to them. Not to mention a performance by Rami Malek that demands your attention and respect.
Critical Hit: 7.5/10
Rotten Tomatoes: 62% (Fresh)
Metacritic: 49 (Mixed or Average Reviews)
Creed II
Age Restriction: 13 D L S V
Life has become a balancing act for Adonis Creed. Between personal obligations and training for his next big fight, he is up against the challenge of his life. Facing an opponent with ties to his family's past only intensifies his impending battle in the ring. Rocky Balboa is there by his side through it all and, together, Rocky and Adonis will confront their shared legacy, question what's worth fighting for, and discover that nothing's more important than family. Creed II is about going back to basics to rediscover what made you a champion in the first place, and remembering that, no matter where you go, you can't escape your history.
Despite some self-indulgence in its homages to the past, Creed II maintains the rich, compelling drama between its well-written characters to further forge its own legacy.
Critical Hit: 7/10
Rotten Tomatoes: 82% (Certified Fresh)
Metacritic: 67 (Generally Favourable Reviews)
Ralph Breaks the Internet
Age Restriction: PG H L V
In "Ralph Breaks the Internet," video-game bad guy Ralph (voice of John C. Reilly) and best friend Vanellope von Schweetz (voice of Sarah Silverman) leave the comforts of Litwak's arcade in an attempt to save her game, Sugar Rush. Their quest takes them to the vast, uncharted world of the internet where they rely on the citizens of the internet–the Netizens–to help navigate their way. Lending a virtual hand are Yesss (voice of Taraji P. Henson), the head algorithm and the heart and soul of the trend-making site "BuzzzTube," and Shank (voice of Gal Gadot), a tough-as-nails driver from a gritty online auto-racing game called Slaughter Race, a place Vanellope wholeheartedly embraces–so much so that Ralph worries he may lose the only friend he's ever had.
Ralph Breaks the Internet might lack originality and staying power, but makes up for it with great wit, a fantastic cast and substantial emotion. The perpetually cynical of heart (like myself) may nit-pick, but fans of Wreck-It Ralph will be overjoyed to see these characters again.
Critical Hit: 7.5/10
Rotten Tomatoes: 87% (Certified Fresh)
Metacritic: 71 (Generally Favourable Reviews)
Status Update
Age Restriction: 13 L P V
Ross Lynch (My Friend Dahmer) stars as Kyle Moore, a teenager who, after being uprooted by his parents' separation and unable to fit into his new hometown, stumbles upon a magical app that causes his social media updates to come true. Also stars Olivia Holt, Rob Wriggle, Wendi McLendon-Covey and Instagram celebrity "The Fat Jewish"
A bland teen comedy with a "be yourself" message that is completely artificial, Status Update slogs painfully through extremely well-worn plot mechanics and essentially fails to follow its own message.
Rotten Tomatoes: 0% (Rotten)
Metacritic: To be determined
Puzzle
Age Restriction: 7-9 PG
Agnes (Kelly Macdonald), taken for granted as a suburban mother, discovers a passion for solving jigsaw puzzles, which unexpectedly draws her into a new world – where her life unfolds in ways she could never have imagined.
Puzzle transcends its quirky premise with honest emotion and with the help of Kelly Macdonald, whose nicely understated performance proves she's too often underutilised.
Rotten Tomatoes: 83% (Certified Fresh)
Metacritic: 66 (Generally Favourable Reviews)
For more information about the age restrictions, click here.
Last Updated: November 30, 2018