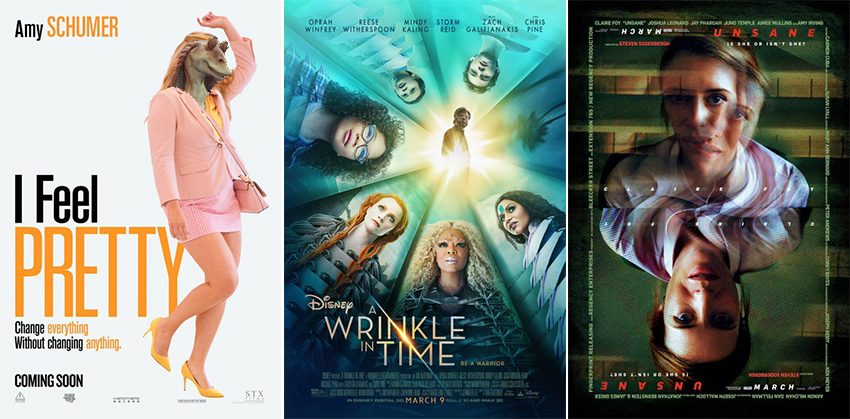 Just a heads up, you don't have to watch Avengers: Infinity War for the fourth time, there are other movies out this week to keep you entertained.
A Wrinkle in Time
Age Restriction: PG V
After the disappearance of her scientist father, three peculiar beings send Meg, her brother, and her friend to space in order to find him.
A Wrinkle in Time looks every bit the blockbuster that you would expect from Disney. Sadly, its story falls apart and its stellar cast just can't quite hold it together, leaving the film extremely underwhelming and unlikely to appeal to either kids or parents.
Critical Hit: 5/10
Rotten Tomatoes: 40% (Rotten)
Metacritic: 53 (Mixed or Average Reviews)
I Feel Pretty
Age Restriction: 13 D L N P S
A woman who struggles with feelings of deep insecurity and low self-esteem, that hold her back everyday, wakes from a brutal fall in an exercise class believing she is suddenly a supermodel. With this newfound confidence she is empowered to live her life fearlessly and flawlessly, but what will happen when she realizes her appearance never changed?
I Feel Pretty has a charming star and the outline of a worthwhile comedy — but unlike its suddenly confident central character, it suffers from a fundamental lack of conviction.
Rotten Tomatoes: 35% (Rotten)
Metacritic: 48 (Mixed or Average Reviews)
Unsane
Age Restriction: 16 D H L S V
A young woman is involuntarily committed to a mental institution where she is confronted by her greatest fear–but is it real or is it a product of her delusion?
Unsane unleashes Steven Soderbergh's inner B-movie maestro, wading into timeless psychological thriller territory and giving it a modern filmmaking spin as the film was shot entirely on an iPhone 7 Plus.
Rotten Tomatoes: 79% (Certified Fresh)
Metacritic: 63 (Generally Favourable Reviews)
Every Day
Age Restriction: 10-12 PG L
16-year old Rhiannon (Angourie Rice) falls in love with a mysterious soul named "A" who inhabits a different body every day. Feeling an unmatched connection, Rhiannon and A work each day to find each other, not knowing what or who the next day will bring. The more the two fall in love, the more the realities of loving someone who is a different person every 24 hours takes a toll, leaving Rhiannon and A to face the hardest decision either has ever had to make.
Every Day wastes its metaphysical premise on shallow storytelling, though its diverse young cast adds flavour to an otherwise bland teen-romance.
Rotten Tomatoes: 63% (Fresh)
Metacritic: 52 (Mixed or Average Reviews)
Maya The Bee 2: The Honey Games
Age Restriction: PG V
When an overenthusiastic Maya accidentally embarrasses the Empress of thriving hive Buzztropolis, she is forced to unite with a team of misfit bugs and compete in the iconic Honey Games. The stakes couldn't be higher; if Maya loses, her hive on Poppy Meadow will be depleted of all its honey. In order to save the fate of her hive, Maya must call on her friendship with a cohort of clumsy, loveable and trustworthy bugs in the face of her biggest ever challenge. As the comrades venture on their epic journey, they realise it takes more than a plucky attitude to be a champion and they must listen to friends and foes alike to guide them to victory.
I don't know whether the fact that the sequel's similarity in name and plot bear more than a passing resemblance to The Hunger Games is intentional or not, but it is kind of disturbing. In any case, expect more of the same from Maya the Bee, this one perhaps a tiny bit better than its predecessor.
Rotten Tomatoes: Tomatometer not available
For more information about the age restrictions, click here.
Last Updated: May 4, 2018