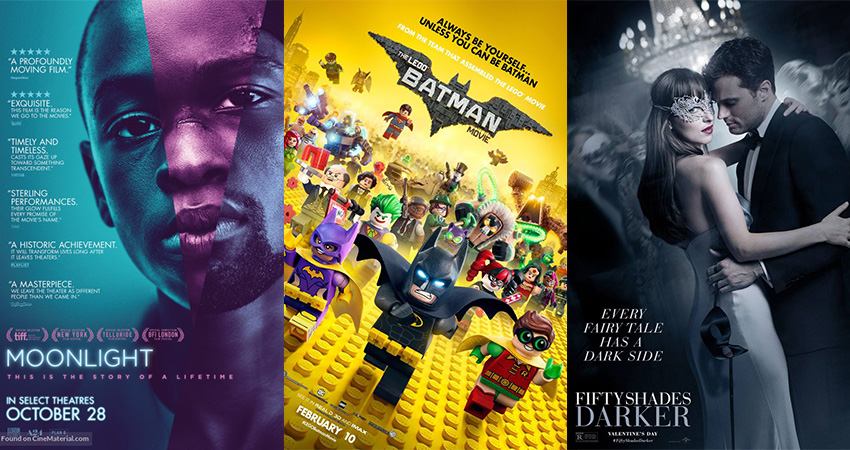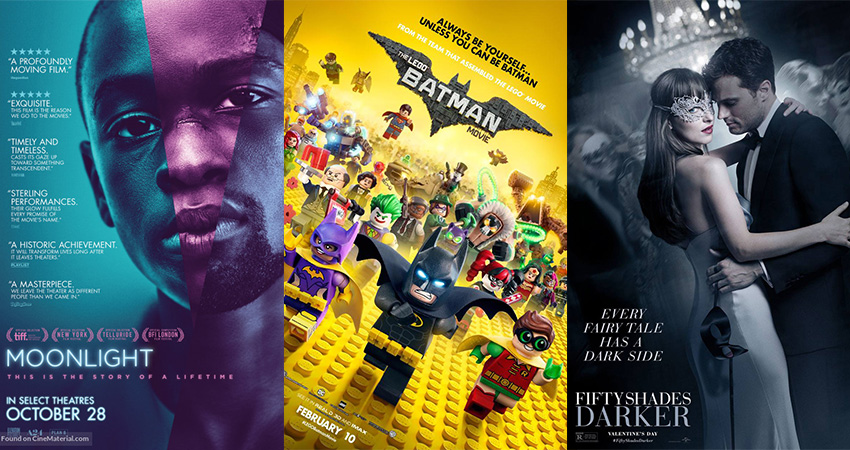 Before we start, I'd like to take a moment's silence for Noelle. The movies out today are mostly excellent, with one notable exception. Out of our reviews, Craig got to see The Lego Batman Movie, I got to see the Academy Award nominated Moonlight, and Noelle got to see… Fifty Shades Darker. We commend your sacrifice Noelle. Salute!
The Lego Batman Movie
Age Restriction: PG
In the irreverent spirit of The LEGO® Movie, the self-described leading man of that ensemble – LEGO Batman – stars in his own big-screen adventure. But there are big changes brewing in Gotham, and if he wants to save the city from The Joker's hostile takeover, Batman may have to drop the lone vigilante thing, try to work with others and maybe, just maybe, learn to lighten up.
I can confidently say that The Lego Batman movie is everything you've ever wanted. You wanted more excellent Lego Movies? You got it. How about tons of cameos and nods to the superhero movie genre? There's plenty. Throw in some serious heart and loads of constant-giggle-worthy jokes and you've got a Batman movie that's impossible not to like.
Critical Hit: 8.5/10
Rotten Tomatoes: 91%
Metacritic: 75
Book at Ster Kinekor (2D)
Book at Nu Metro or Ster Kinekor (3D)
Moonlight
Age Restriction: 13 D P S V
Moonlight is the tender, heartbreaking story of a young man's struggle to find himself, told across three defining chapters in his life as he experiences the ecstasy, pain, and beauty of falling in love, while grappling with his own sexuality.
Moonlight deals with some heavy subject matter, but Oscar-nominated director Barry Jenkins deftly handles this tale with compassion and elegance. Though it may not be an easy movie to watch, it's poignant and hopeful and very worth watching for the beauty and complexity of an extraordinary coming-of-age story.
Critical Hit: 9/10
Rotten Tomatoes: 98%
Metacritic: 99
Book at Nu Metro or Ster Kinekor (2D)
Fifty Shades Darker
Age Restriction: 16 L N S
Anastasia has broken off her relationship with the troubled Christian to pursue a new career in a Seattle publishing house. Now, while Christian wrestles with his inner demons, Anastasia must confront the anger and envy of the women who came before her.
It's not generally good news when the best you can say is that a sequel is slightly less bad than the first one. And that's the case with Fifty Shades Darker. It's based on the "best" book of the trilogy (and that bar is pretty low), and at least has some intrigue to keep it going. That being said, it's boring and drawn out, but you might be able to suffer through it for the sake of your loved one this Valentine's day.
Critical Hit: 4/10
Rotten Tomatoes: 8%
Metacritic: 32
Book at Nu Metro or Ster Kinekor (2D)
Denial
Age Restriction: 7-9 PG
Based on the acclaimed book History on Trial: My Day in Court with a Holocaust Denier, Denial recounts Deborah E. Lipstadt's (Rachel Weisz) legal battle for historical truth against David Irving (Timothy Spall), who accused her of libel when she declared him a Holocaust denier. In the English legal system, the burden of proof is on the accused, therefore it was up to Lipstadt and her legal team to prove the essential truth that the Holocaust occurred.
Fans of meaty courtroom dramas will love Denial. It's a particularly complex case from the annals of history, and director Mick Jackson focuses as much on the legal arguments as he does on the human elements. Though set in the 90's, Denial is an important film for our generation, as "post-truth" and "alternative facts" become more prevalent.
Rotten Tomatoes: 82%
Metacritic: 63
Book at Nu Metro or Ster Kinekor (2D)
For more information about the age restrictions, click here.
Last Updated: February 10, 2017