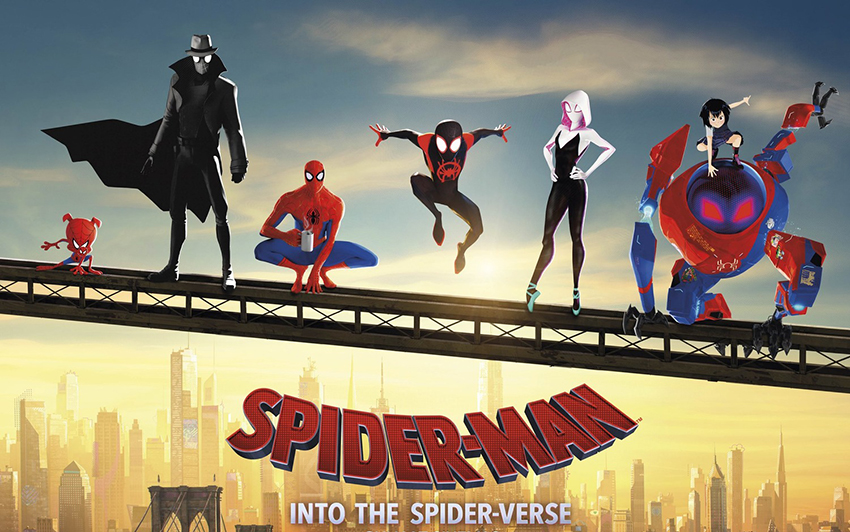 Spider-Man!
Spider-Man!
It's finally time for Spider-Man!
Other films are coming out,
But seriously, without a doubt,
The best of them all is… Spider-Man!
Spider-Man: Into the Spider-Verse
Age Restriction: 10-12 PG PPS V
Phil Lord and Christopher Miller, the creative minds behind The Lego Movie and 21 Jump Street, bring their unique talents to a fresh vision of a different Spider-Man Universe, with a groundbreaking visual style that's the first of its kind. Spider-Man: Into the Spider-Verse introduces Brooklyn teen Miles Morales, and the limitless possibilities of the Spider-Verse, where more than one can wear the mask.
After four different on-screen iterations of Spider-Man over sixteen years, a lot of you might be suffering from some serious Spider-Fatigue. So, it's funny that a film with 7 more Spider-People would not only cure that fatigue, but blow every other superhero movie out the water. I could go on at length about the visual style, the story, the characters and the soundtrack but Kervyn's covered it all already. Just, trust the entire team (even Geoff!) when we say this is the best Spider-Man movie ever made. P.S. you HAVE to stay to the very end of the credits. Trust us.
Critical Hit: 9/10
Rotten Tomatoes: 98% (Certified Fresh)
Metacritic: 87 (Universal Acclaim – Metacritic Must See)
Mortal Engines
Age Restriction: 13 V
Hundreds of years after civilization was destroyed by a cataclysmic event, a mysterious young woman, Hester Shaw (Hera Hilmar), emerges as the only one who can stop London — now a giant, predator city on wheels — from devouring everything in its path. Feral, and fiercely driven by the memory of her mother, Hester joins forces with Tom Natsworthy (Robert Sheehan), an outcast from London, along with Anna Fang (Jihae), a dangerous outlaw with a bounty on her head.
Visually dazzling, Mortal Engines is action-packed and satisfyingly steampunk, an aesthetic that I absolutely love. Unfortunately, there's not much else to love about Mortal Engines. The barely-there plot struggles to make itself heard over all the noise, and the strong acting can't maintain a good enough head of steam to keep the movie going.
Rotten Tomatoes: 33% (Certified Fresh/Fresh/Rotten)
Metacritic: 45 (Mixed or Average Reviews)
Second Act
Age Restriction: 16 D L
Second Act is a comedy in the vein of Working Girl and Maid In Manhattan. Jennifer Lopez stars as Maya, a 40-year-old woman struggling with frustrations from unfulfilled dreams. Until, that is, she gets the chance to prove to Madison Avenue that street smarts are as valuable as book smarts, and that it is never too late for a Second Act.
It's great having someone new on the team who goes to review the things no one else really wants to watch. Thanks, Sam! If you're curious about what he thought, Second Act is kind of middle-of-the-road, serving well in the drama aspects of this dramedy, but forgetting about the comedy parts completely.
Critical Hit: 5/10
Rotten Tomatoes: 57% (Rotten)
Metacritic: To be determined
Elliot: The Littlest Reindeer
Age Restriction: PG
When one of Santa's reindeer suddenly announces his retirement, he needs to find a replacement and fast! Against all odds, Elliot and his best friend Hazel set out to prove that he is the horse for the job. As Elliot and Hazel take on the North Pole reindeer try-outs, Hazel learns that Christmas as we know it may be headed for disaster. Meanwhile, back at the farm a potential new owner has plans that threaten the lives of their friends. Elliot is faced with the biggest decision of his life: save his friends, or follow his dreams and save Christmas. Maybe he doesn't have to choose; after all, big dreamers dream big!
And give it up for Sam, again, who went to a screening of Elliot: The Littlest Reindeer and… walked out before halfway because it just wasn't worth it. If our greenest and most enthusiastic writer couldn't make it through, you probably shouldn't try.
Rotten Tomatoes: 28% (Rotten)
Metacritic: 38 (Generally Unfavourable Reviews)
Roma
Age Restriction: 16 L N
The most personal project to date from Academy Award (R)-winning director and writer Alfonso Cuarón (Gravity, Children of Men, Y Tu Mama Tambien), ROMA follows Cleo (Yalitza Aparicio), a young domestic worker for a family in the middle-class neighborhood of Roma in Mexico City. Delivering an artful love letter to the women who raised him, Cuarón draws on his own childhood to create a vivid and emotional portrait of domestic strife and social hierarchy amidst political turmoil of the 1970s.
Roma is a triumphant return to the big screen for writer/director Alfonso Cuarón and his first film since the Oscar-winning Gravity five years ago. In what is no doubt his most powerful, and personal, project to date, Cuarón takes viewers on a captivating journey heavily inspired by his own tumultuous childhood.
Rotten Tomatoes: 98% (Certified Fresh)
Metacritic: 96 (Universal Acclaim – Metacritic Must See)
For more information about the age restrictions, click here.
Last Updated: December 14, 2018