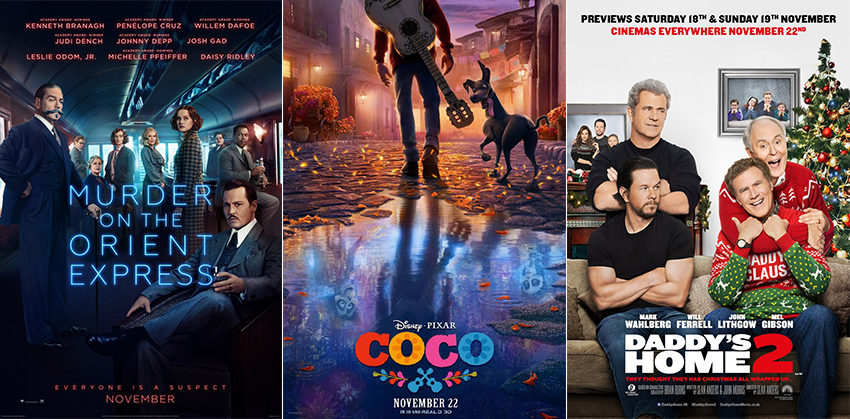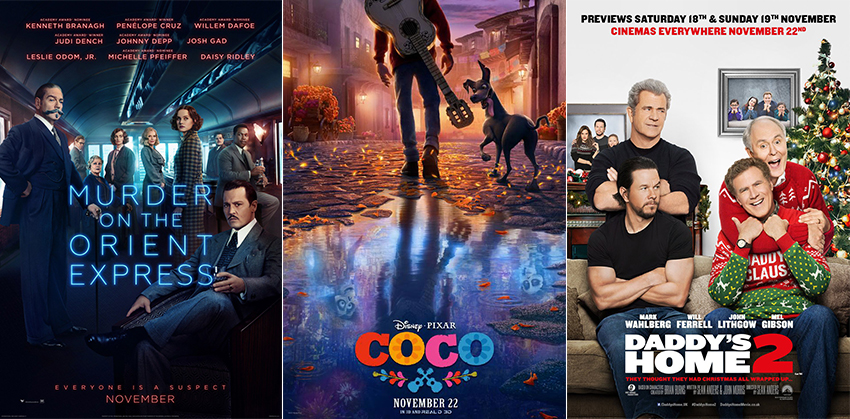 This week in cinemas sees a return to form for Pixar with Coco, and a stylish, old-fashioned whodunit with Murder on the Orient Express. So in amidst the Black Friday madness that's gripped the nation, why not take some time out and head to the movies? If you've got any money left that is!
Coco
Age Restriction: PG
Despite his family's baffling generations-old ban on music, Miguel (voice of newcomer Anthony Gonzalez) dreams of becoming an accomplished musician like his idol, Ernesto de la Cruz (voice of Benjamin Bratt). Desperate to prove his talent, Miguel finds himself in the stunning and colorful Land of the Dead following a mysterious chain of events. Along the way, he meets charming trickster Hector (voice of Gael García Bernal), and together, they set off on an extraordinary journey to unlock the real story behind Miguel's family history
Despite minor drawbacks, Coco is a massive win for the Disney Pixar brand, and a welcome return to form. It's vibrant, colourful, and incredibly ambitious in the themes it covers. Take some tissues, because Coco also packs an emotional punch, the likes of which we probably haven't seen since the opening montage in Up.
Critical Hit: 8.5/10
Rotten Tomatoes: 96%
Metacritic: 80
Book at Ster Kinekor (2D)
Book at Nu Metro or Ster Kinekor (3D)
Murder on the Orient Express
Age Restriction: 13 V
What starts out as a lavish train ride through Europe quickly unfolds into one of the most stylish, suspenseful and thrilling mysteries ever told. From the novel by best-selling author Agatha Christie, "Murder on the Orient Express" tells the tale of thirteen strangers stranded on a train, where everyone's a suspect. One man must race against time to solve the puzzle before the murderer strikes again. Kenneth Branagh directs and leads an all-star cast including Penélope Cruz, Willem Dafoe, Judi Dench, Johnny Depp, Michelle Pfeiffer, Daisy Ridley and Josh Gad.
A remake of the classic 1974 film (which is itself based on an Agatha Christie novel), this stylish update of Murder on the Orient Express has made no attempts to update, deepen or otherwise alter the original formula. Is this a good thing? Well, it leaves the remake feeling rather pointless, but at least the actors (especially Branagh) have fun with their eccentric characters.
Rotten Tomatoes: 59%
Metacritic: 52
Book at Nu Metro or Ster Kinekor (2D)
Daddy's Home 2
Age Restriction: 10–12PG D L V
Dusty (Mark Wahlberg) and Brad (Will Ferrell) have joined forces to provide their kids with the perfect Christmas. Their newfound partnership is put to the test when Dusty's old-school, macho Dad (Mel Gibson) and Brad's ultra-affectionate and emotional Dad (John Lithgow) arrive just in time to throw the holiday into complete chaos.
Full of forced humour and cringe-worthy situations, Daddy's Home 2 is a solid NOPE. The few genuine, laugh-out-loud moments aren't enough to cover up the absurdity of the plot and the strained performances of actors that would have done better if the script allowed it.
Critical Hit: 3.5/10
Rotten Tomatoes: 17%
Metacritic: 30
Book at Nu Metro or Ster Kinekor (2D)
Rebel in the Rye
Age Restriction: 13 L V D
Set amidst the colorful backdrop of mid-20th century New York City, Rebel in the Rye follows a young Salinger (Nicholas Hoult) as he struggles to find his voice, pursues a love affair with famed socialite Oona O'Neill (Zoey Deutch), and fights on the frontlines of World War II. It's these experiences that will inform the creation of his masterpiece, The Catcher in the Rye, bringing him overnight fame (and notoriety) and leading him to withdraw from the public eye for the rest of his life.
Personally, I thought that Catcher in the Rye was a load of codswallop, so I doubt I'll bother with the story behind its creator. Apparently, Rebel in the Rye is just another cliché-ridden story about a tortured male genius anyway, and not worth much of your time.
Rotten Tomatoes: 29%
Metacritic: 46
Book at Nu Metro or Ster Kinekor (2D)
Strike a Rock
Age Restriction: 13
After a massacre shakes the foundations of their poverty stricken mining community, Marikana, two grandmothers rise up out of their homes and lead their community in a historic fight against seemingly insurmountable odds for justice and dignity. In an intimate story where the personal becomes political through fighting on-the-ground to the corridors of power, how will these women take on Goliath enemies and make their voices heard?
Everyone knows about the 2012 Marikana Massacre, an event that shook South Africa and made international waves. Instead of improving, the living conditions that motivated the Marikana strike have only gotten worse. Strike a Rock is a documentary that follows Primrose Sonti and Thumeka Magwangqana as they fight for their family, friends and community against Lonmin PLC.
Book at Ster Kinekor (Cinema Nouveau)
Potato Potahto
Age Restriction: 16 L S
A divorced couple who decide to share equal space in their ex-matrimonial home soon realize that the ingenious idea is easier said than done. Bent on flexing their egos and scoring points, the two implore various hilarious tactics that soon inflames emotions and turns an already complicated situation into a roller coaster ride.
As a comedy about divorce, Potato Potahto is somewhat anomalous, especially in the context of religion and culture that frowns upon it severely. Nevertheless, Potato Pohtato keeps it lighthearted and hopeful, and boasts some heavyweight Nigerian talent, guided by acclaimed Ghanian writer and director Shirley Frimpong-Manso.
Book at Ster Kinekor (2D)
For more information about the age restrictions, click here.
Last Updated: November 24, 2017