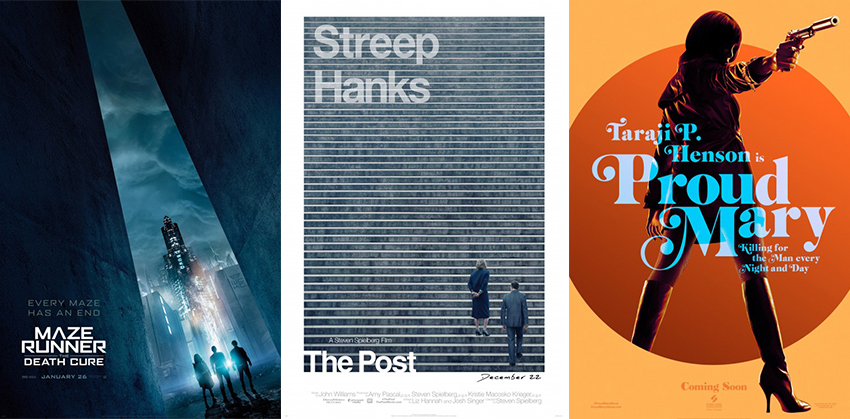 The long-awaited conclusion to the Maze Runner movies opens today, alongside heavy-weight Academy Award contender The Post and some other junk (not to be mean, but yeesh, that Monster Family trailer).
The Post
Age Restriction: 10-12 PG L
Steven Spielberg directs Meryl Streep and Tom Hanks in The Post, a thrilling drama about the unlikely partnership between The Washington Post's Katharine Graham (Streep), the first female publisher of a major American newspaper, and editor Ben Bradlee (Hanks), as they race to catch up with The New York Times to expose a massive cover-up of government secrets that spanned three decades and four U.S. Presidents. The two must overcome their differences as they risk their careers – and their very freedom – to help bring long-buried truths to light.
Who would have thought that a real-life drama that happened forty-odd years ago is still so relevant for today? Steven Spielberg's The Post is packed with a powerhouse cast who bring to life a story that's not only thrilling but also highly pertinent to today's sociopolitical atmosphere. The Post is up for two Academy Awards: Best Picture and Best Actress for Meryl Streep.
Critical Hit: 8.5/10
Rotten Tomatoes: 88% Certified Fresh
Metacritic: 83 (Universal Acclaim)
Maze Runner: The Death Cure
Age Restriction: 16 H L V
In the epic finale to the Maze Runner saga, Thomas leads his group of escaped Gladers on their final and most dangerous mission yet. To save their friends, they must break into the legendary Last City, a WCKD-controlled labyrinth that may turn out to be the deadliest maze of all. Anyone who makes it out alive will get answers to the questions the Gladers have been asking since they first arrived in the maze.
After lead actor Dylan O'Brien's unfortunate onset accident, filming of the final instalment of the Maze Runner franchise was delayed for his recovery. Finally making its way to our screens, The Death Cure offers closure for fans of the series with its impressive action scenes and semi-decent thrills.
Rotten Tomatoes: 43% Rotten
Metacritic: 52 (Mixed or Average Reviews)
Monster Family
Age Restriction: 7-9 PG V
The Wishbone family is far from happy. With a struggling bookshop, an overworked husband, and two misunderstood teenagers, Emma is at her wit's end trying to be the perfect mom. After dragging her family to a costume party on Halloween night, they are cursed by an evil witch and transformed into a Vampire, a Mummy, a Werewolf, and Frankenstein's monster. Now Emma will fight to keep her Monster Family together and uncover the secret of their curse… eventually leading them to the Prince of Darkness himself, Dracula!
Gosh that looks awful. Maybe I'm just incredibly spoiled when it comes to animated movies, but I expect better than whatever is happening with Monster Family.
Rotten Tomatoes: Tomatometer not available
Metacritic: no score yet
Proud Mary
Age Restriction: 16 D L V
Taraji P. Henson is Mary, a hit woman working for an organized crime family in Boston, whose life is completely turned around when she meets a young boy whose path she crosses when a professional hit goes bad.
Taraji P. Henson (of Hidden Figures fame) proves she has the attitude and charisma required to play a world-weary contract killer. Unfortunately, Proud Mary doesn't do her performance justice. Formulaic, dull and badly put together, Proud Mary is a waste of Henson's time and talent.
Rotten Tomatoes: 24% Rotten
Metacritic: 35 (Generally Unfavourable Reviews)
For more information about the age restrictions, click here.
Last Updated: January 26, 2018