Netflix's adaption of Andrzej Sapkowski's The Witcher series of novels is highly anticipated among fantasy fans, and unless you've been living under a rock for the last month you'll know that Henry Cavill has been cast as the Witcher himself, Geralt of Rivia.
However Netflix recently announced via Twitter a host of new castings for the upcoming series, which you can see below: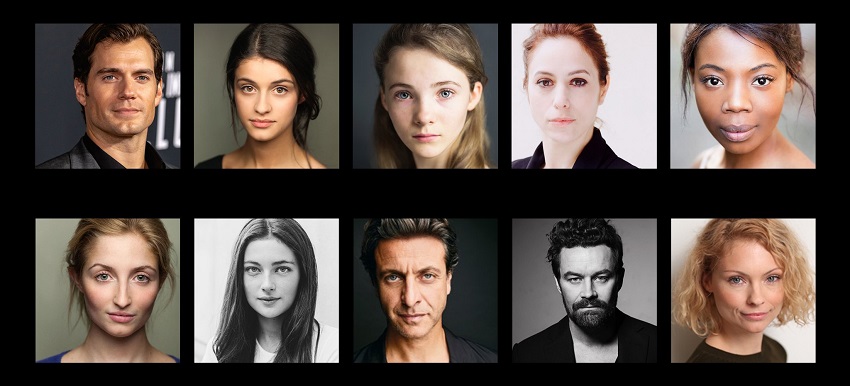 I'm going to assume that, like me, you looked at the image above, frowned slightly, and said "who are those people?" Well I'll tell you in order of left to right and top to bottom, with the first three being the all-important trio of Geralt, Yennefer, and Cirilla Fiona Elen Riannon – or Ciri.
Henry Cavill of course should need no introduction given his roles in Mission: Impossible – Fallout, The Man from U.N.C.L.E., and the DCEU as Superman.
Anya Chalotra is a British stage actress whose sole on-screen role to date was in this year's BBC miniseries Wanderlust, opposite Toni Collette. As the ruthless, stubborn, and proud Yennefer of Vengerberg she's the love of Geralt's life (and not Triss) and Ciri's adopted mother.
Freya Allan is another relatively unknown, with her sole TV role playing the young Minerva (or The Widow if you prefer) in one episode of AMC's Into the Badlands. She's currently filming in the new BBC miniseries adaption of The War of the Worlds.
Jodhi May is yet another British actress, and over the years has appeared in The Last of the Mohicans, Strike Back, and Game of Thrones. She'll portray Queen Calanthe Fiona Riannon of Cintra, and is Ciri's grandmother.
Mimi Ndiweni, who's appeared in Cinderella, The Legend of Tarzan, and the BBC miniseries Rellik, has been cast as the young Nilfgaardian sorceress Fringilla Vigo. Let's just say she and Yennefer do not see eye to eye.
Sorceresses, sorceresses everywhere. Therica Wilson-Read will portray Sabrina Glevissig, a rival to Yennefer and advisor to King Henselt of Kaedwen. She can be seen in Fox Trap and the upcoming thriller Suicide Club.
Millie Brady is up next, and you might have seen her in Pride and Prejudice and Zombies or King Arthur: Legend of the Sword. She will be Princess Renfri of Creyden, who was forced to flee her home after her stepmother attempted to kill her, and subsequently became the violent bandit leader known as the Shrike.
Then we have the unusually named druid Mousesack, who'll be portrayed by Adam Levy, and has appeared in TV series such as Rome and Knightfall. He will, presumably, be Queen Calanthe's advisor.
Finally we come to someone I recognise – Björn Hlynur Haraldsson. He's starred in The Borgias and Fortitude – which I mentioned the other day in our Countdown to Horror. He'll portray Eist Tuirseach of Skellige, and the King of Cintra thanks to his marriage to Calanthe.
Then last but not least we have MyAnna Buring, probably the most well-known actor after Cavill, having appeared in Twilight, Downton Abbey, and Ripper Street. She plays Tissaia de Vries, Yennefer's mentor and the head of the Chapter of Sorcerers.
And there we have it. From the characters above I'm guessing one of the main plot points in the first season of The Witcher will revolve around Ciri's family trying to get her back from Geralt, as following the death of her mother she's the sole heir of the kingdom of Cintra.
For those who don't know, Ciri became Geralt's ward following his invocation of the Law of Surprise after saving her father's life, which "dictates that a man saved by another is expected to offer to his savior a boon whose nature is unknown to one or both parties. In most cases, the boon takes the form of the saved man's firstborn child, conceived or born without the father's knowledge."
Thanks to the thumbnail character breakdowns we gave you the other day we know there are still a lot of characters waiting to be cast, including Jaskier (Dandelion), Triss, Regis, Emhyr var Emreis, and more. As per show runner Lauren Hissrich The Witcher is only expected to air its eight-episode-long first season some time in 2020, which is so far away!
Last Updated: October 11, 2018