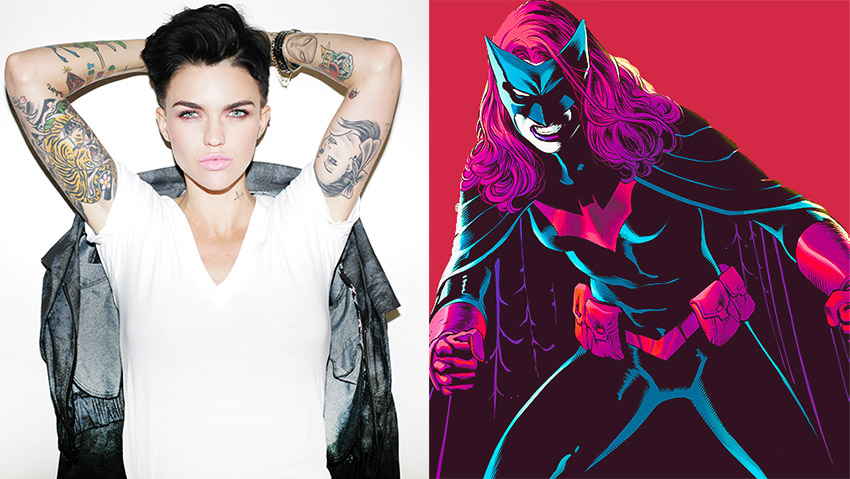 In her multi-hyphenate career as a model, musician, and actress, Ruby Rose has travelled all around the world. And now she's heading for a place very few have ever been: Gotham City. As officially revealed last night, the Australian-born Rose has been cast to play Kate Kane aka Batwoman in The CW's upcoming Arrowverse crossover event before spinning off into her own DC Comics TV series alongside Arrow, The Flash, DC's Legends of Tomorrow, and Supergirl.
The casting of Rose as Batwoman is a big deal as both actress and character are openly lesbian. Since being reintroduced into DC Comics continuity in 2006, Kate Kane has become a gay comic book icon, and The CW made it known last month that they were going to stay true to that in their casting as well. Rose came out as a lesbian at age 12 which led to verbal and physical abuse from her schoolmates and family that drove her to a suicide attempt. Luckily, as she grew older she was able to embrace her sexuality, with her gender fluidity and androgyny becoming a huge selling point in both her modelling career and as an actor in series like Orange Is the New Black and movies like John Wick 2. In an Instagram post made last night, Rose reacted to her casting announcement saying that "this is a childhood dream".
This Batwoman casting isn't the only time The CW has made waves in the LGBTQ communities recently though. Just a few weeks ago it was revealed that transgender activist and actress Nicole Maines would be joining the cast of Supergirl as TV's first openly trans superhero. Maines will play Nia Nal aka Dreamer (whose name sounds far too similar to classic comic book character Nura Nal aka Dream Girl from the Legion of Super-Heroes to be a coincidence), who is described as "a soulful young transgender woman with a fierce drive to protect others."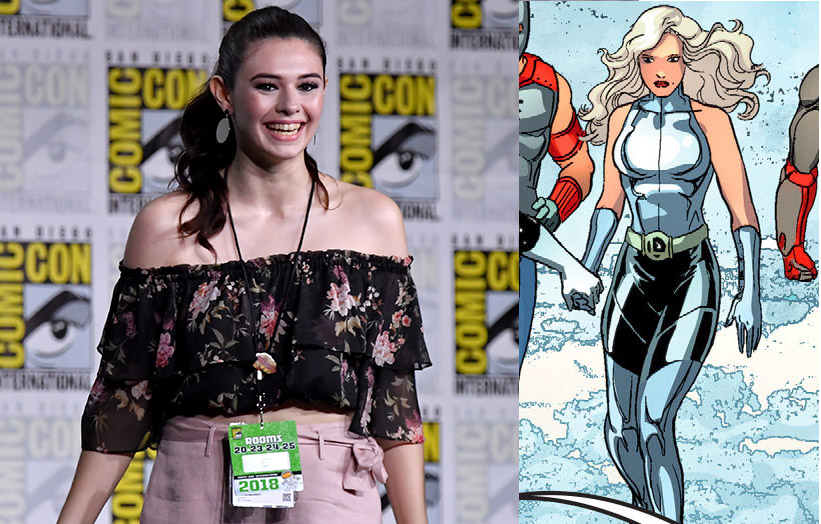 In an interview with Variety released just hours after the Batwoman casting news broke, Maines addressed the importance of her trailblazing role saying that "It feels fitting to say with great power comes great responsibility."
We've had trans representation on television for a while, but it hasn't been the right kind of representation. When I was first coming out to my parents in the late '90s, we had trans people on television portrayed by cis men as sex workers and drug addicts — which painted a very specific image. Having trans women portrayed by cis men contributed to that idea that we are men in dresses, and that was damaging for a long time. Now it's very relieving and hopeful to watch creators and writers and directors and casting offices opening up to put trans people in trans roles so we can portray ourselves and we can start to disprove some of those stereotypes about us. I think we're in a time right now where more than ever representation in the media matters. And what we see on television has a very dramatic effect on our society. I'm just beyond thrilled to be able to do that in a super suit!
Getting back to the more superheroic side of things with Batwoman, while it has been confirmed that the show will be introducing Gotham City to the Arrowverse and that will be the home base of the superheroine, there's still no mention of the city's most famous flying rodent superhero. When Supergirl launched, that series jumped through all kinds of hoops to only allude to Superman but never actually show him (although they eventually did in season 2, and did a pretty good job of it), so it will be interesting to see if Batwoman does the same thing with Batman. Exec producer Greg Berlanti has indicated that the show is still in the "very early" stages of development, so they still have a fair bit of time to work things out as it will more than likely only premiere in the 2019-2020 season.
Last Updated: August 8, 2018