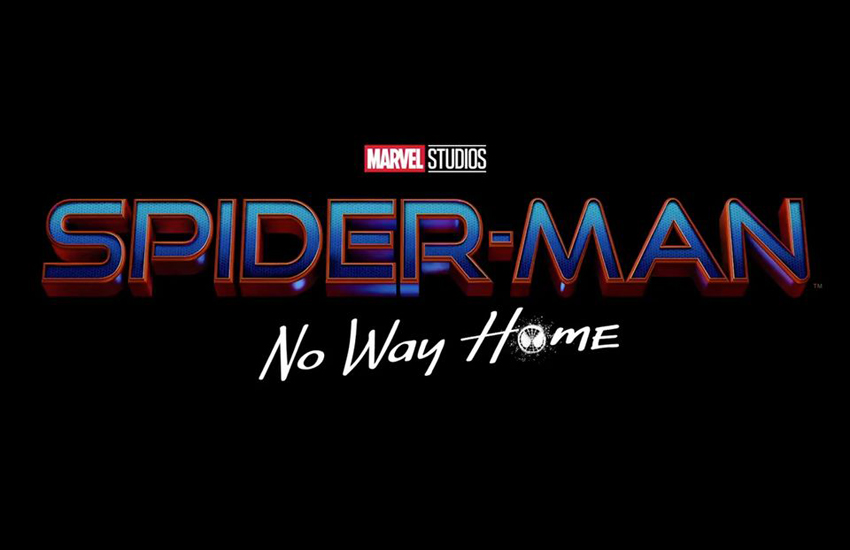 Yesterday, Tom Holland, Zendaya, and Jacob Batalon, the stars of Marvel and Sony's Spider-Man films, took to social media for a bit of hijinx and tomfoolery. In a series of Instagram posts, the three actors each claimed to finally reveal the title of the hotly-anticipated upcoming third Spider-Man film. Except each person gave a different and increasingly silly title in the form of Spider-Man: Phone Home, Spider-Man: Home-Wrecker, and Spider-Man: Home Slice.
Of course, as predicted, it was all just Marvel and Sony poking fun at Holland's infamous habit of accidentally dropping spoilers about the clandestine Marvel Cinematic Universe productions, as revealed in a video posted by the official movie Twitter account. A video which also revealed the actual movie title!
Spider-Man: No Way Home! Yes, finally! We can stop calling it Spider-Man 3 and causing confusion because that movie already exists (although many of us kind of wish that it didn't). And if you're anything like me, you've probably paused that vid on that whiteboard to check if you can spot any clues to the top-secret plot of the film.
While most of the scribbles you can see are just rather funny alternative titles that have been discarded (kind of want to see Spider-Man: Webcamming now), there are a few interesting tidbits. You'll notice Spider-Man design elements, Iron Man's arc reactor designs, and a cube that could be the Tesseract. What has got some fans all abuzz though, is the abundance of hexagonal diagrams everywhere. I'm not going to spoil anything for those of you not up to date, but the hexagonal shape (or "hexes", as we now call them) plays a big role in WandaVision, the current Marvel series on Disney+ that has been blowing our minds for the past few weeks.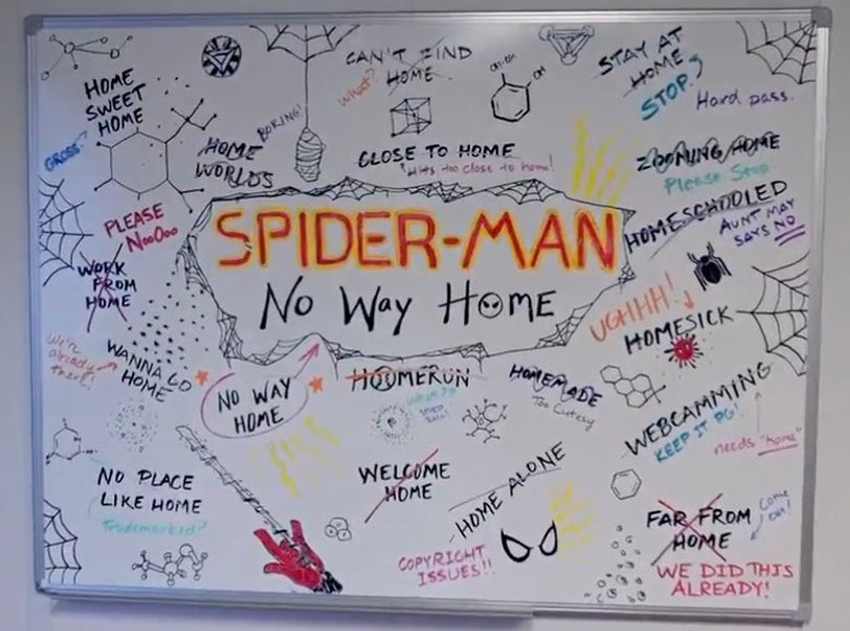 Again, without getting too spoilery, there's some multiversal stuff going down in WandaVision. We also know that Elizabeth Olsen's Wanda Maximoff will be co-starring in Doctor Strange in the Multiverse of Madness alongside Benedict Cumberbatch with the events of WandaVision setting up that film. Yes, the multiverse again.
What does this have to do with Spider-Man? Well, we know that a number of actors such as Jamie Foxx and Alfred Molina who played characters in previous iterations of Sony's Spider-Man franchises are somehow showing up in Spider-Man: No Way Home. And, despite Tom Holland recently claiming to the contrary, rumours persist that he won't the only Spider-Man in the film with previous Spidey actors Tobey Maguire and Andrew Garfield somehow also showing up. How is all of this possible? In the butchered words of Leeloo Dallas: Multiverse!
Spider-Man: Far From Home's cliffhanger post-credits scene had J.K. Simmons' J. Jonah Jameson outing Spidey's real identity of Peter Parker to the public, as well as framing him for the "murder" of Mysterio, whom the public still believe to a multiverse-hopping hero instead of the fake special FX-driven villain he actually was. So what if this forces Spider-Man on the run to somewhere way out of town? Like, waaaaaay out of town. In another universe out of town, I mean, where for some reason he gets stuck? He would then need to find his way back to his home universe, and maybe he swings through some other universes containing all these other Spider-Men and their support characters along the way? It doesn't just make sense in the story, it also fits with the actual title of Spider-Man: No Way Home.
We'll find out if my guess is right when the film swings into cinemas on 17 December 2021. Until then, sound off below if you have any comments about the other details on that whiteboard. What do all the chemical symbols mean? Is that a star chart? Or is that a molecule? AND OMGWTFBBQ THAT IS A BATARANG STUCK IN THE WALL!
Last Updated: February 25, 2021