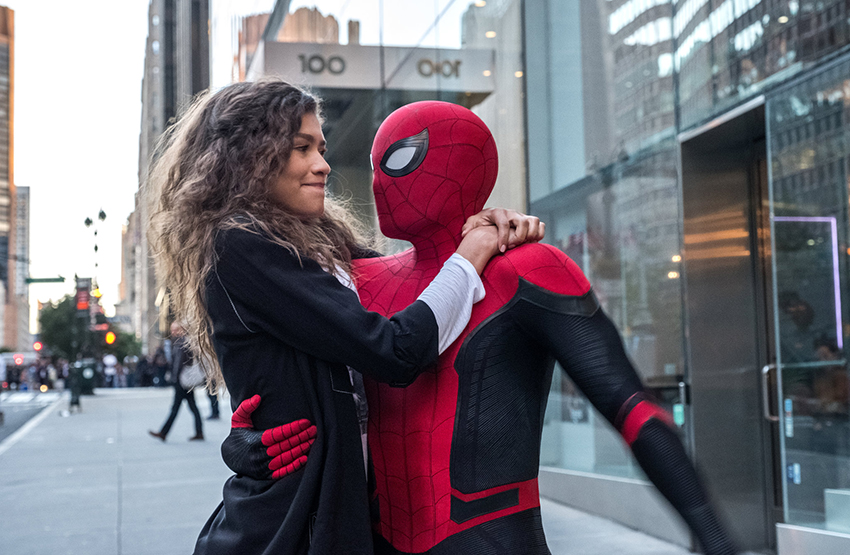 For a long time now, we've been referring to the upcoming third Marvel/Sony co-produced Spider-Man film simply as Spider-Man 3 even though that is actually really confusing. See, there already is a Spider-Man 3, which was the infamous final film in director Sam Raimi and star Toby Maguire's original Spider-Man trilogy for Sony before the wall-crawler got pulled into the Marvel Cinematic Universe. We had no choice but to take this confusing-but-expedient route though as we have no idea what the upcoming film will actually be called.
But now we finally have a name! Actually, sorry. I meant we have names… plural… three of them, to be exact. WAIT, WHAT?!
Titular Spider-Man star Tom Holland was the first to get the ball rolling with an Instagram post showing off the first new pic from the film, featuring himself and co-stars Zendaya, and Jacob Batalon. As the Peter Parker actor also revealed in the post though, the brand new title for the film will be… Spider-Man: Call Home! Yes, Marvel is continuing the "Home" theme in all the titles following Spider-Man: Homecoming and Spider-Man: Far From Home while also referencing another movie classic in E.T.: The Extra-Terrestrial.
But then things took an unexpected turn when minutes later, Batalon made his own Instagram post once again showing off a new pic of the Spidey trio with the title of Spider-Man: Home-Wrecker.
And before you could say "With great power comes Uncle Ben dying all over again", Zendaya joined the fracas with an Instagram post showing off a third pic and a completely different title in Spider-Man: Home Slice.
Now, I'm about 99% sure that all of this is just Marvel and Sony having a bit of fun with the title reveal (especially given Holland's history of accidentally revealing spoilers on social media), and we'll probably get the real official title shortly. Alessandro had a different theory in our Critical Hit Slack chat though. There will be three different titles because the movie will feature three different Spider-Man actors. Boom! Mind blown!
Of course, there's another option as to what these titles are hinting at:
Spider-Man: Whatever The Hell It Will Be Called is scheduled for release on 17 December 2021.
Last Updated: February 24, 2021