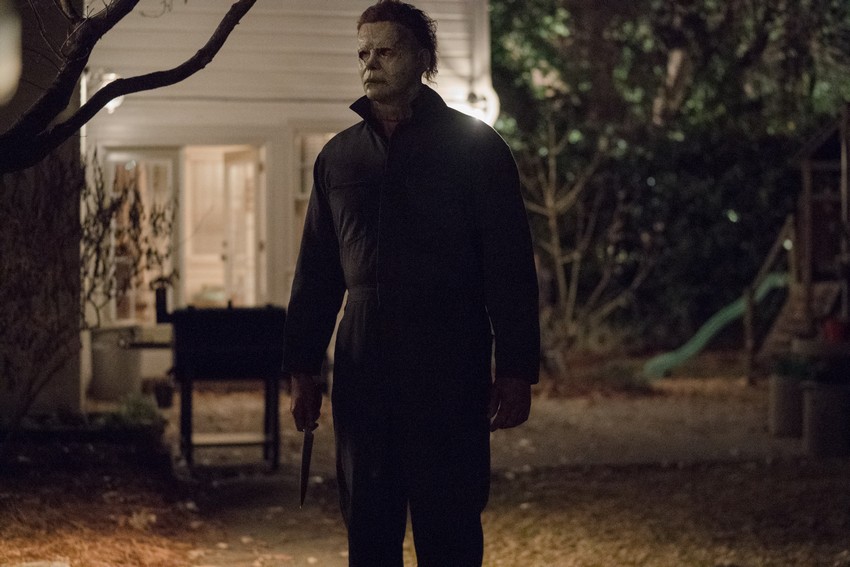 In case you haven't noticed, this has been quite the October. Just a few weeks ago, Venom defied its mixed critical reception to debut to record-setting numbers, posting the highest October opening in box office history with $80.2 million, and then kept that momentum up for an above-expectations second weekend take as well. And for a while there this weekend past, as Halloween posted the largest Friday opening for October ever, it appeared that the symbiote comic book antihero had found his match in a certain knife-wielding killer in a William Shatner mask. In the end though, Halloween fell just slightly short of Venom's overall weekend record but its $77.5 million three-day earnings was still enough to land it in the history books.
Besides for now being the second-largest October opening ever in the US, the Jamie Lee Curtis-led slasher sequel is now also the largest opening for any horror movie with a female lead and the second-largest opening for an R-rated horror behind last year's It ($123.4 million). This is also the largest opening ever in the long-running Halloween franchise's history, blowing away the $26.3 million opening of Rob Zombie's 2007 reboot. With an additional $14.3 million earned from 23 international markets (it still needs to hit the majority of regions around the world), this now puts Halloween at $91.8 million globally off just a $10 million budget.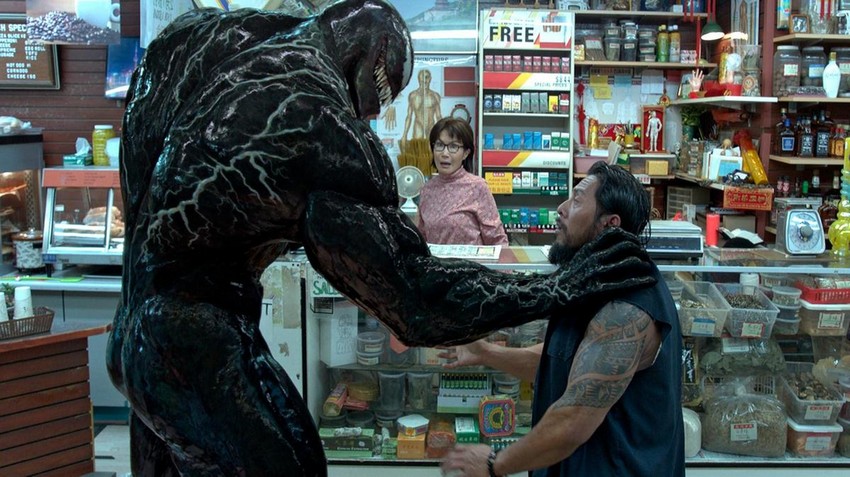 It would appear that nobody else was brave enough to stand against serial killer Michael Meyers, as there were no other new debuts this weekend past. Last week's champion, Venom, dropped two spots though, which meant that A Star Is Born repeated its runner-up status for the 3rd weekend running with $19.3 million domestic and another $22.8 million from international markets, pushing the early Oscar contender past the $200 million mark globally. Venom's 3rd place brought it another $18.1 million from inside the US borders and another $32.3 million from outside. Sony's comic book movie is now sitting on $461.8 million worldwide.
Besides for the abovementioned, the only real point of attention is The Hate U Give getting a huge expansion of over 2000 cinemas, bumping it up to 6th place. Robert Redford's The Old Man & the Gun also bumped up its cinema count considerably, letting it bring up the rear of the top 10. Unfortunately, not all the expansions this weekend past brought good news. Western comedy The Sisters Brothers may have hit over 1000 more cinemas this weekend past, but could not capitalize at all. With a miserable $650 per-theatre average, the lowest in the top 20 films on the charts, it could only get to 13th place.
Let's see what the rest of the US box office chart looks like:
| No. | Movie Name | Weekend gross | Percentage change | US Domestic gross | Worldwide gross | Last Week's Position |
| --- | --- | --- | --- | --- | --- | --- |
| 1 | Halloween | $77.5 million | NE | $77.5 million | $91.8 million | NE |
| 2 | A Star is Born | $19.3 million | -32% | $126.3 million | $201 million | 2nd |
| 3 | Venom | $18.1 million | -48% | $171.1 million | $461.8 million | 1st |
| 4 | Goosebumps 2: Haunted Halloween | $9.7 million | -38% | $28.8 million | $39.9 million | 4th |
| 5 | First Man | $8.5 million | -46% | $29.9 million | $55.4 million | 3rd |
| 6 | The Hate U Give | $7.5 million | +331% | $10.6 million | $10.6 million | 9th |
| 7 | Smallfoot | $6.6 million | -27% | $66.3 million | $137.1 million | 5th |
| 8 | Night School | $5 million | -35% | $66.9 million | $84.4 million | 6th |
| 9 | Bad Times at the El Royale | $3.3 million | -53.7% | $13.3 million | $21.4 million | 7th |
| 10 | The Old Man & the Gun | $2 million | +123% | $4.2 million | $4.2 million | 15th |
Last Updated: October 22, 2018