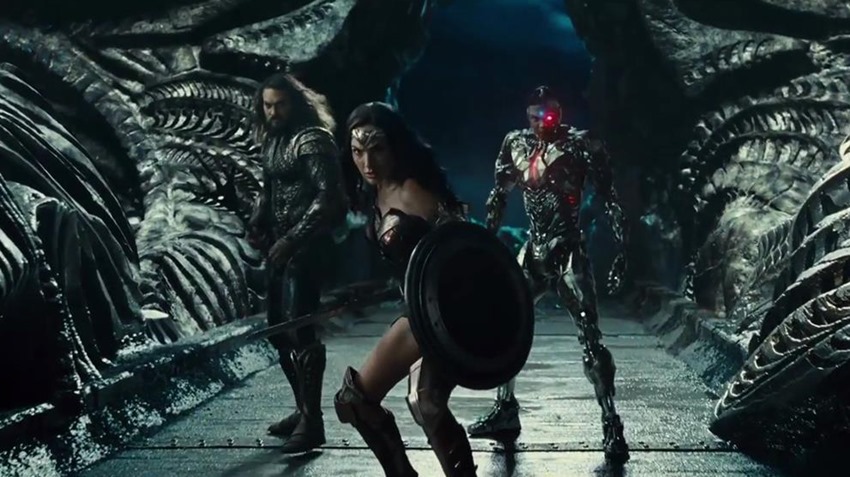 Warner Bros. spent a couple of days last week hyping up Justice League, while I spent an equal amount of time holding on to my "mother boxes" in anticipation of the new trailer. Say what you like about Zack Snyder but when the argument for style over substance pops up, you've got a director on your hands who can string together visuals which are a tour de force on your eyeballs.
We've already had one peek at the DC's biggest attempt to sucker-punch Marvel with their own shared universe of iconic characters, a glimpse of things to come which hinted at a film that wasn't in dire need of a prescription for Prozac and was ready to actually crack a smile between super-powered beatdowns. That's a flavour which continues in the first official full trailer for Justice League. Check it out below, true believers:
TESTOSTERONE! Now that's the Justice League that I want to see. Demigods fighting impossible threats and having the time of their lives. Justice League marks the third appearance of Ben Affleck as the caped crusader in the DC cinematic universe, as this incarnation finds that after two decades of punching crime right in its smelly face that he actually has the potential to be a hero. "He's been a loner for certainly his crime-fighting career, maybe with the exception of Robin.," director Zack Snyder said to USA Today.
When we meet him in BvS, he's definitely at this low point of isolation. That was always our intention, that Justice League would be this continuation for Batman to evolve into a more complete hero.
As for Wonder Woman? We'll see the mighty Amazon in action this June in a film that will "flesh out and realize (her island home) Themyscira and embrace canon with her and get all the elements to mash up that I love from the original stories," Snyder said.
But also we'll see that dovetail into not only the why of BvS, but even now the why of Justice League and who she is finally realized. We know now where she comes from.
Snyder also dropped a few more details on Aquaman, the Flash and Cyborg, League members whose powers match their personalities:
They're each such awesome personalities in the movie. You have Jason stomping around as this inked hairy man, just this mythic figure. And you've got Ezra, who's full of life and hilarious and all over the place and amazing — a really fun and also poignant Flash. And Ray's story is in a lot of the ways the heart of the movie.
The biggest mystery of Justice League however? Why JK Simmons pumped his arm-guns up to ridiculous levels for a character who pops up in clothing that covers those glorious biceps up. The second biggest mystery? Superman's rebirth. "It's hard to have a Justice League without Superman. That's how I feel about it," Snyder explained.
It was always a super-intriguing concept to me to have this opportunity to have him make that sacrifice but also have him be this, in a weird sort of way, the why of Justice League: What do you do now with him? What does the team think? What does the world need? All that comes into play. It's fun for us but it'll be interesting for audiences what we do with him.
Justice League unites my nipples in anticipation on November 10.
Last Updated: March 27, 2017