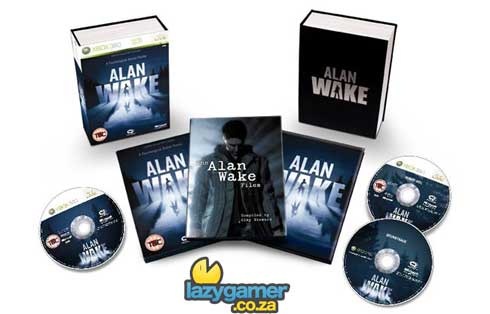 Alan Wake, the Xbox 360 exclusive Psychological thriller from Max Payne progenitors Remedy will finally &%$#&$ get released – 5 years after being announced – on May 21st this year.
By all accounts, it's looking like an incredible game – and if you're keen on the game you may be interested to know that UK retailer GAME have outed the game's collector's edition – and it's looking swanky.
Here's what you'll get should you opt for the CE :
Hardbound in quality linen, the Alan Wake Limited Collector's Edition is designed to resemble a hardcover book and will include:
Game Disc in box with unique art
Exclusive In-Game Audio Commentary and hints by Remedy.
"The Alan Wake Files" a 144 page book that includes a short story written by Alan Wake and compiles the FBI dossiers investigating the events in Bright Falls.
Exclusive Xbox 360 bonus disc with special content:
Exclusive Xbox Theme and Avatar
A token for the first downloadable content available for Alan Wake through Xbox LIVE
Video Documentaries/Behind The Scenes
The Theme of Alan Wake
The World of Bright Falls
The People of Bight Falls
Alan's Missions
Exclusive Audio Disc with Soundtrack and Score
That's pretty damned sexy – but I doubt it'll manage to surpass the hidden awesomeness found in 2K's BioShock 2 CE. Also as a caveat remember that this is a Microsoft published title, which means that as residents of a non-live supported country, we're going to be shafted again – and anything pertaining to DLC will be missing from the box.
Source : GAME
{Thanks to Opium for the tip]
Last Updated: February 26, 2010