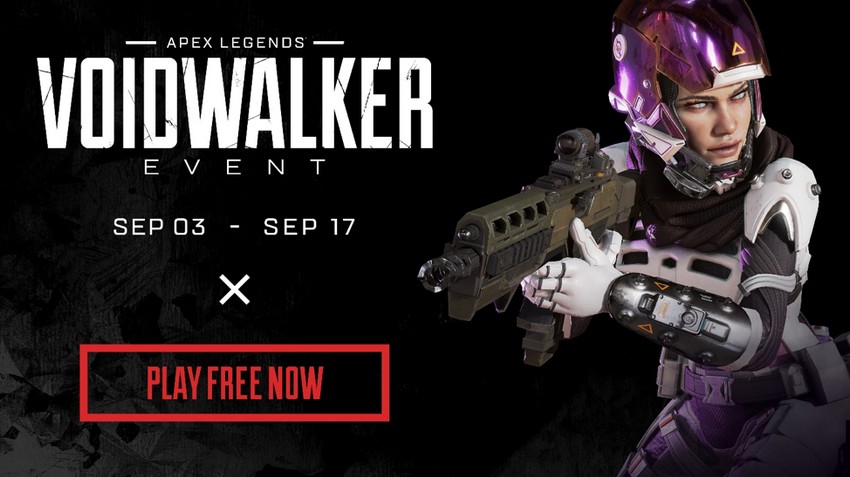 To say that Respawn Entertainment made a mess of Apex Legends' recent Iron Crown Collection event would be insulting to messes. With sentiment to the hit battle royale game souring after the fiasco caused by gouging event item pricing and Respawn's truly bungled response to fans, the developer needs something more than an apology to get players to forget about that particular FUBAR and keep hype levels high. And they may have just found it.
Later tonight (usually around 7pm our time), the next Apex Legends event will kick-off, this time focusing on our favourite teleporting hero, Wraith. According to EA's official announcement, this event will be centering around Wraith's mysterious past, and we got our proper glimpse at this with an incredible cinematic released last night. This is the second of these "Stories from the Outlands" cinematics that Respawn has released following the one focused on new hero Wattson, and again this time around we get a huge chunk of lore surrounding the history of the Apex Legends characters. Check it out below!
Damn, that is awesome. So in case you haven't figured it out yet, when Wraith enters her void portals she's actually entering some form of shared timespace that allows her to see and slightly interact with other versions of herself in alternate timelines. That's the voice Wraith hears in her head warning her of dangers. She's not crazy, she's just talking to herself. Well, an alternate timeline version of herself. That's pretty cool.
We'll probably be uncovering more lore details in the Voidwalker event, which will include a new town takeover, a limited-time mode called Armed and Dangerous (unfortunately, not the rumoured PvE mode), exclusive event challenges, a direct purchase shop for the event-specific cosmetics, a double XP weekend and more. Here are all the details:
Syndicate construction crews have unearthed part of a decayed Project: Wraith facility in Kings Canyon. Jump in to discover for yourself the mysterious remains of the research site, including a functional prototype portal that can be used to get an early jump on the base – or to escape and reinitiate skydive. And be sure to keep an eye out for other hidden lore details.
Limited-Time Mode: Armed and Dangerous
In the same spirit of Wraith's escape, we're introducing a brand new LTM, Armed and Dangerous, where weapons are limited to snipers and shotguns while overall loot is much harder to come by.
As with previous modes, keep on the lookout for in-game surveys and let us know your feedback. We're planning to roll out more of these modes in the future, so your thoughts are much appreciated!
Event Challenges with Free Loot
Complete a variety of challenges to earn exclusive skins and Wraith-themed content. All challenges and rewards will be limited to the two-week event.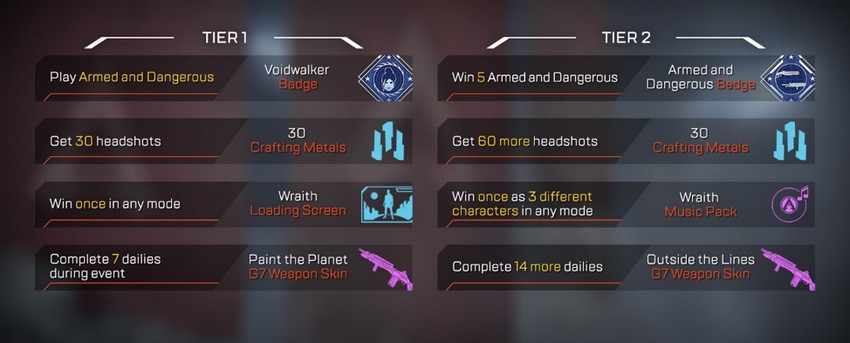 As a tie in to the short, we're adding a set of themed cosmetics such as the Voidwalker Wraith Legendary, which includes a custom character select animation.
New to this event we're introducing lower price point items; outside of the legendary skin and frame, all themed cosmetics are $5. These items are Event Limited, so they will be eligible to return six months after the event ends on September 17. During the Voidwalker themed event they will rotate through the in-game store on the following schedule: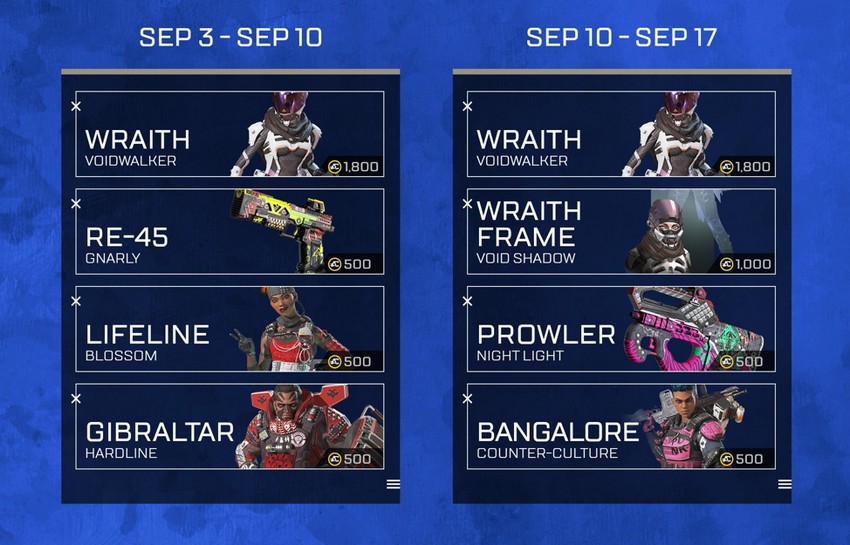 In addition to these cosmetics, we are adding six new legendary items to the core loot pool which can be crafted or obtained through packs. As a limited event promotion, each of these items will also receive a first look offer in the direct purchase store.
Double Top 5 and Wins XP Weekend
From 10:00 a.m. PT on September 6 to 10:00 a.m. PT on September 9, players will earn double XP for Top 5 finishes and wins. This bonus will affect both Account Level and Battle Pass progression.
Last Updated: September 3, 2019