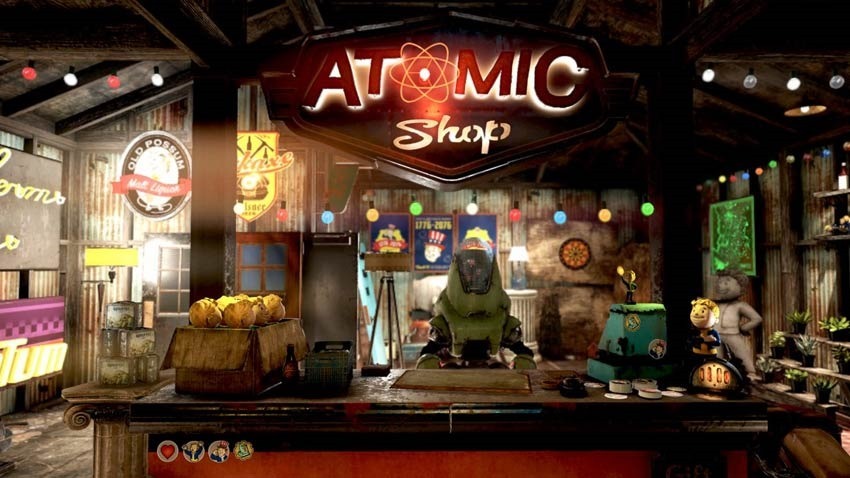 Fallout 76, like most online only games, has a store where players can buy things. It's part of the recurrent spending model that most great big online games use. I'm mostly okay with that, especially when the stuff players can buy is of the cosmetic variety. If people want to spend their real money on things to tailor their in-game avatars to their tastes, all the power to them.
Fallout 76 was meant to be one of those games that did that.
Before Fallout 76 launched, Bethesda's Pete Hines said that the game's in-game shop would only sell cosmetics.
"All the content we ever put out for Fallout 76–all the DLC, all the post-launch stuff–is going to be free. That's important. And to say, the Atomic shop is cosmetic stuff. To make sure folks understand–look there's a line. There are people who have crossed it, but we're going to stay on the right side of it in terms of the things you can spend money on and how this stuff works and what you're getting for your $60. That you know, when they put out new content or features or whatever, I'm getting that stuff for free. That feels right."
They've now, however, added Basic Repair Kits to the Atom Store. While they confer only a slight advantage, they still do give paying customers a leg upon those who're unwilling to pay to fix their breaking equipment. Bethesda says they've added the repair kits based on customer feedback, but it's a slippery slope, as Bethesda itself seems to hint.
"We read tons of feedback and suggestions from the Fallout 76 community, and Repair Kits were a popular request that we wanted to get into players' hands. We also felt we could try out something new with these, both in-game and in the Atomic Shop. As we look to the future, we're exploring ways we can bring other community-driven ideas to the game as well, such as refrigerators for C.A.M.P.s, ammo and food converters, and even the ability to send scrap to your stash without having to head home.
Repair Kits are our first attempt at a utility item like this, and we plan to make adjustments based on your feedback, so we hope you'll share your thoughts with us when they go live later this month."
Last Updated: April 5, 2019