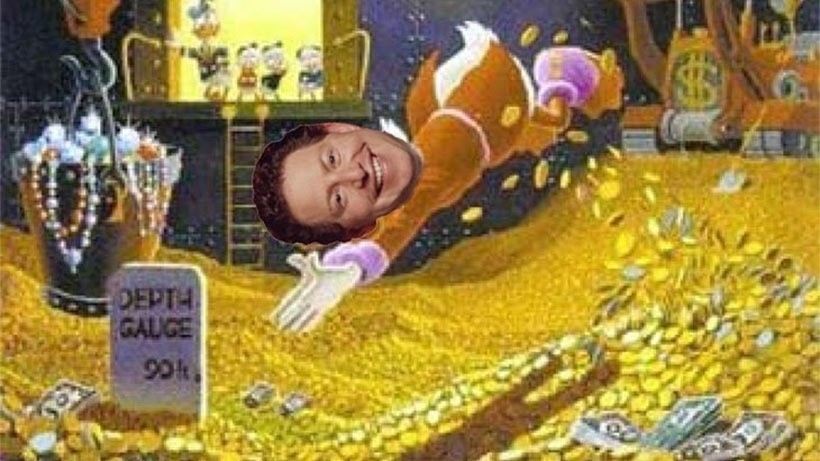 Last weekend, a new Call of Duty was released. By now, everyone is over that franchise, with what seems like eleven and five and twenty and four hundred (I got maths lessons from Jacob Zuma) sequels since it hit the really, really, really big time with Call of Duty: 4: Modern Warfare, right? Well, no.
It's still a juggernaut, and one of the most enduringly popular game franchises on the planet. Over the weekend, Black Ops 3 has sold through $500 million US worth of product. That's sold to customers and not in to retail channels, which makes it doubly impressive for a weekend – and gives Black Ops the honour of being the year's biggest entertainment launch weekend for any medium.
"Call of Duty's millions of passionate fans have shown us, yet again, the strength of their commitment to this enduring franchise," said Bobby Kotick, Activision Blizzard's Chief Executive Officer, presumably rubbing his nipples with $100 dollar notes. "Call of Duty: Black Ops III is the biggest entertainment launch this year in any medium, and bigger than any theatrical opening weekend ever."
But it's not just about sales. It's also about user engagement, which is the now popular metric usually used by people who aren't selling games as well as they used to.
"The Call of Duty: Black Ops III launch is bigger than any game, any movie, or any entertainment launch this year. But more importantly, our fans are engaging more deeply with the franchise than ever before. In fact, so far, people are playing Black Ops III for more hours per player than any Call of Duty game on record," said Eric Hirshberg, CEO of Activision Publishing, mentally thinking about the huge bonus he's likely to receive at the end of the financial year. "Call of Duty is more than a game, it's a year round passion for a growing base of millions of fans and it's only gaining momentum."
Sony's pretty chuffed with its new Call of Duty co-marketing. PlayStation, they say is now the place to play Call of Duty.
"As we've said from the start, PlayStation is the best place to play Call of Duty, and this record-breaking launch shows how true this statement is. Black Ops III is the biggest launch of the year so far, and the PlayStation Nation is ready. We're proud to call PlayStation the home of Call of Duty and look forward to supporting our community with DLC map pack content first," said Adam Boyes, VP of Publisher and Developer Relations, Sony Computer Entertainment America.
And they're probably right. The game has set a record on the PlayStation 4 "as the best-selling digital full game by units sold in its first day of availability in PS4 history." It's also sold pretty well on the Xbox One – but not on PC, because nobody really buys Call of Duty on PC anymore, folowing years of terrible ports.
I have no idea what that means as a figure of units sold, but it seems that Activision can safely assume that the franchise is still a healthy one. Call of Duty games still have long, long sales tails (people are still regularly buying Ghosts and Advanced Warfare), so it's set to earn them stacks of money for the foreseeable future.
Last Updated: November 12, 2015