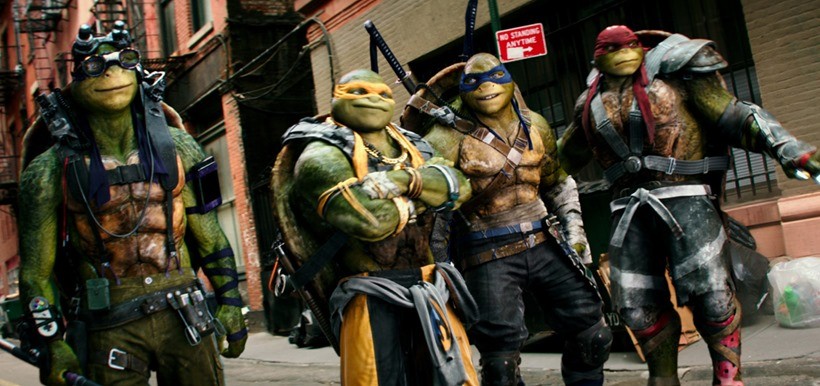 There's a certain charm to being aware of how stupid something may be. Which is maybe why people manage to put up with me. Take the 2014 Teenage Mutant Ninja Turtles movies for instance. My Grodd, was it wonderfully stupid. Michaelangelo looked like he was related to President Zuma, master Splinter was a combination of CGI nightmare fuel and the Shredder was a walking advert for Ginsu knives.
And even though you could see the scar tissue of some painful editing that was put into place to appease the angriest of fans, the film was still fun. Good, stupid fun that made a load of money at the box office.  $493 million worldwide to be exact. That's not exactly pocket change, and when combined with the merchandising around the first film, a sequel was easily greenlit.
Here's what it looks like:
Kinda of cool right? There's a lot that I'm liking there in those few minutes of action. But I'm also loving the fact that the film is clearly diving face-first into the realm of ridiculous. I mean, just look at Bebop and Rocksteady. Look at those sideburns! Look at that mohawk! The turtles themselves look even freakishly better, and I'm hoping to see more of the brothers bonding in this latest film which takes them out of the shadows and into the spotlight.
Also, Stephen Amell being effortlessly charming in a few seconds as sports-obsessed vigilante Casey Jones? Goongalah bro. GOONGALAH. Teenage Mutant Ninja Turtles 2: Out of the Shadows is out next year June.
Last Updated: December 10, 2015