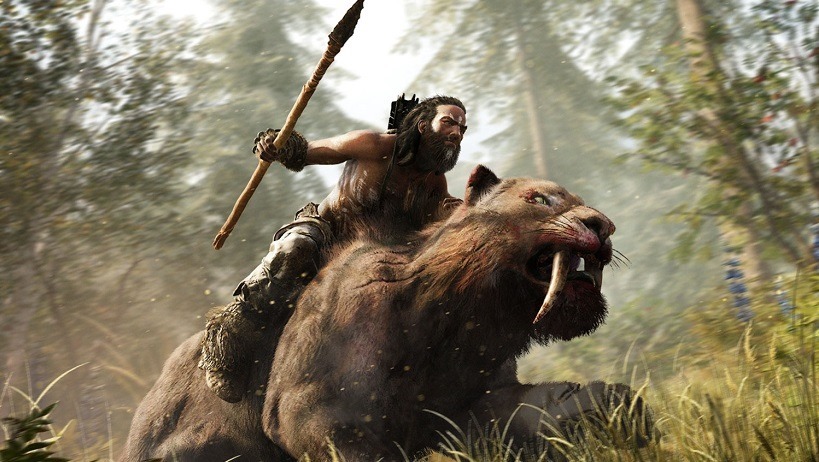 Far Cry Primal isn't a spin-off like Blood Dragon was to Far Cry 3, and Ubisoft is now in full swing trying to convince you even more of that. It's a fully fledged sequel in the expansive series, trading mechanical guns with gun powder for rocks in slings, rock clubs and…well there were always bows and arrows so that's cheating a little. Far Cry Primal is a familiar game, but it's different in some big ways too.
That's now more evident in a new trailer for the soon to be released title, which shows off some of the devastating weaponry you'll have access to as Beastmaster Takkar. Everything from roughly crafted shivs to deadly accurate spears are on show here, with the best parts of Takkar's arsenal coming in the form of the wildlife around him.
Sure you could sneak your way through camps and attempt to slit all your enemies throats in the dead of the night, but where's the fun in that. Why not ride into battle on the back of a ferocious Mammoth, or send in a stealthy puma to deal with pesky patrols. Better yet, set that nearby grizzly bear alight and just watch as it wrecks havoc on the settlement nearby. Wildlife is Far Cry Primal's biggest weapon, and it's what sets it apart from the games you've already played before.
Other than that its still Far Cry through and through. You'll unlock settlements as you wrestle back control of them, using all sorts of resources to craft weapons, camp structures and more. Use a pet owl to scout out camps and mark enemies, and even take on mad cults that are intent on killing anything else with a heartbeat. So standard Far Cry fare.
And that's great too, but the franchise has yet to really falter when it comes to providing high octane fun. Primal looks no different, and it's out at the end of this month on Xbox One and PS4. It's out on PC a few weeks later.
Last Updated: February 10, 2016