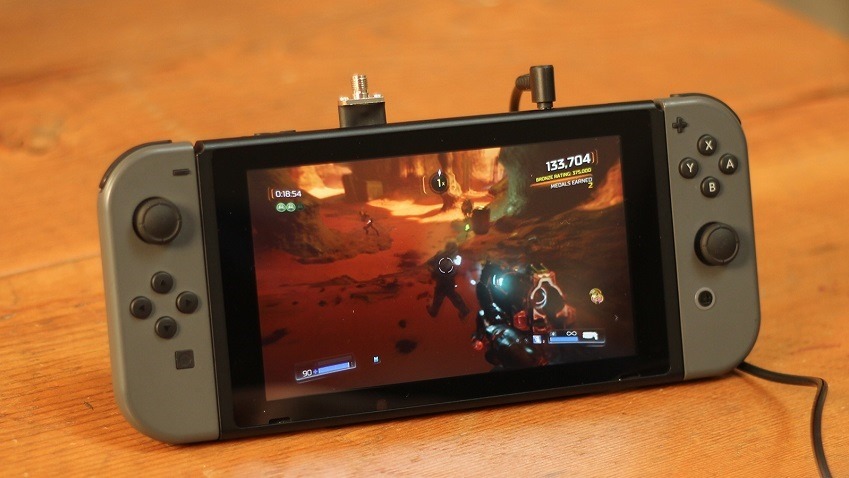 As Nintendo keeps ushering in new games for the Nintendo Switch, larger AAA publishers are starting to really take notice of both the console's power and favourability with consumers. One publisher that has been there from the start, however, is Bethesda. Skyrim was the biggest talking point when the Switch was first revealed, and it's still coming out next month. But this year has brought more Bethesda titles to the Switch, and their biggest one in some time finally has a release date.
DOOM is (surprisingly) making the leap to Nintendo Switch, previously earmarked with a "Holiday 2017" release date when revealed. Since then we've seen footage of the game running in handheld mode, and it looks insanely good for a console that's not only portable, but far less powerful than the consoles the game was previously designed to work on. But in just a few weeks you'll be able to judge that for yourself, when DOOM launches on November 10th.
The timing could've been slightly better though. Mario Odyssey, easily the biggest game coming to Switch still this year, launches next week Friday. November is populated already with non-Switch titles such as Call of Duty and Star Wars Battlefront II, but there's also two other big releases headed to the hybrid. Skyrim for Switch launches just a week after DOOM, and the recently announced L.A Noire port to Switch launches during the same week. All three are at the point of being "nice to play again" purchases for the majority, so hopefully they won't encroach too much on each others sales.
Because the worst outcome of this would be for the heavier hitters to see dwindling sales numbers and attribute it to the Switch itself. There's far more that goes into that decisions (at least we like to think most of the time), but dismal sales for Skyrim and DOOM might start changing Bethesda's perceptions on support for Nintendo's new golden child.
Last Updated: October 16, 2017