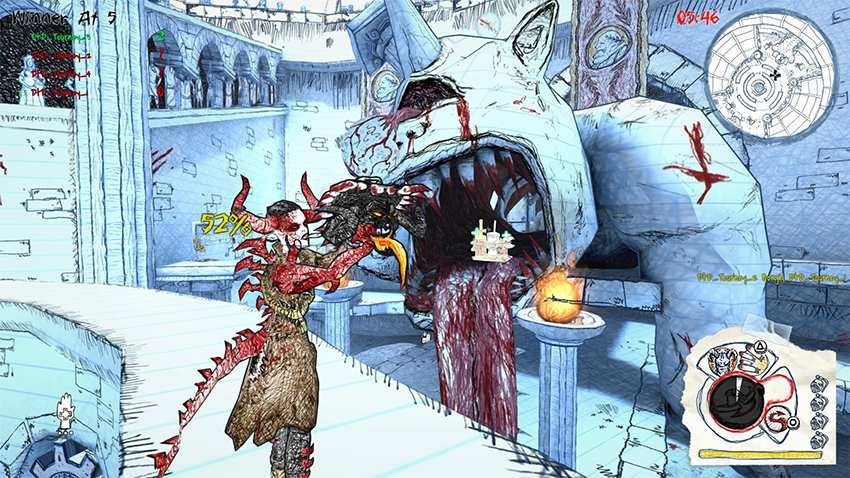 David Jaffe, creator of God of War, was once one of the most outspoken people in the games industry – but he's quietened down quite a bit. I have to suspect that much of that has to do with the fact that he's busy putting the finishing touches on the debut game from his new studio, The Bartlet Jones Supernatural Detective Agency.
That game is Drawn To Death, the highly-stylised arena shooter that looks like an emo kid's sketchbook come to life. Originally intended as a free-to-play game, Jaffe and co changed the pricing model to be a little more traditional. It's coming on April 4, and if you're not subscribed to PlayStation Plus, will set you back your local equivalent of $19.99. If you are? Well, it's gonna be free.
Jaffe confirmed that Drawn to Death will debut as one of the PlayStation Plus games for April.
"I wanted to find a way to invite all of you PS Plus members into this experience and give you a look at what really excites me about games these days," Jaffe said on the PlayStation Blog. "We've been working on Drawn To Death for nearly three years, and over time, it really has become this robust, highly competitive game — and we haven't even talked about a lot of the new features yet. Needless to say, I thought you could all help us build an unbelievable community for the game."
As a refresher, here's what the game's all about:
"Drawn To Death, as you may know, is a third-person shooter/brawler that takes place entirely inside the pages of a high school kid's notebook. All of the kid's creative drawings come to life and battle it out in this highly competitive, fast paced, online action game."
Drawn To Death will feature a wealth of modes, and should be good for a break from Overwatch. As it'll be free, it should also have a large enough playerbase.
Here's an overview of those modes:
Organ Donor: In this objective based mode, Players must shoot the heart out of an enemy's chest. Then take the heart to a stationary base for 1 point. Take the heart to a moving base for 2X points! First Player to 20 points wins!
Classic Deathmatch: First to 10 kills wins.
Classic Team Deathmatch: First team with 20 kills wins.
Core Deathmatch: First Player to 5 points wins. 1 kill = 1 point, but every time you die you lose a point. (Defense matters!)
Core Team Deathmatch: Same as Core Deathmatch, but for teams. First team to 10 points wins.
Brawl: In this mode, levels get smaller on the fly to create a more intense one-on-one battle/fighting game experience!
Last Updated: March 16, 2017