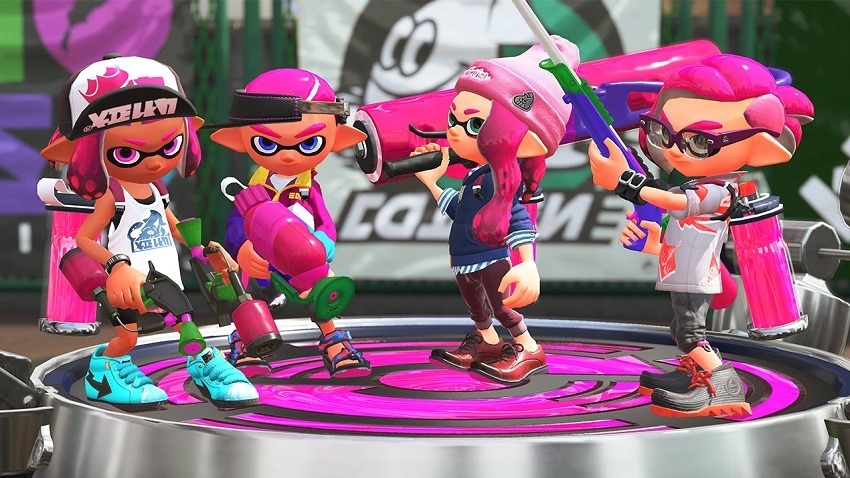 Splatoon was one of those late in the game swan song titles for the Nintendo Wii U, released just over a year before the well of titles truly dried up. As a result of its release on a waning console, the game flew under the radar for most player. Which is a right shame, given the incredibly addictive nature of the turf-based shooting and charming aesthetic. If you have a new Nintendo Switch though, you can rectify that mistake this weekend.
Splatoon 2 gets its own limited beta this weekend, or "Testfire" as Nintendo likes to call it. The distinction is important I guess, considering just how differently the company runs their online tests. Like the first game's own Testfire, Splatoon 2 will only be online during limited times over the weekend, totalling only six hours of potential playtime between now and Sunday. And just like last time, the times are rather obscure (local times included).
March 24: 12-12:59 p.m. PT (March 24th, 9-9:59 p.m.)
March 24: 8-8:59 p.m. PT (March 25th, 5-5:59 a.m.)
March 25: 4-4:59 a.m. PT (March 25th, 1-1:59 p.m.)
March 25: 12-12:59 p.m. PT (March 25th, 9-9:59 p.m.)
March 25: 8-8:59 p.m. PT (March 26th, 5-5:59 a.m.)
March 26: 4-4:59 a.m. PT (March 26th, 1-1:59 p.m.)
If you're getting up at arb hours just to get in a few hours in, you're going to want some new weapons to mess around with. The Tesfire will include some of the new primary weapons (such as the dual sub-machine guns) as well as four new special abilities. You can check all four out below (I'm quite excited to get my hands on those Tenta Missiles).
I got my hands on Splatoon 2 a little while back before the Switch launched and really struggled to tell a difference between it and the one I played on the Wii U. That's not immediately a bad thing, but I hope to experience something a little new during this weekend.
Last Updated: March 24, 2017