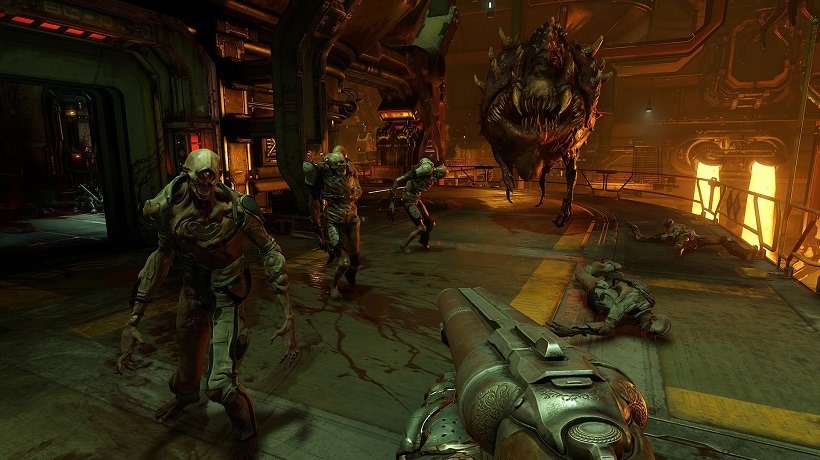 The new DOOM is surprisingly not far away at all after being being properly revealed (in all its guts and glory) at E3 this year. At the event Bethesda announced that they would be holding many tests before the launch of the game, one of which is a Closed Alpha that every Wolfenstein: New Order owner can try and get into. It's kicking off soon too, and here's what you'll be able to play if you manage to secure a spot.
The closed alpha is small, and so it's only going to feature a single map, a single game mode and one grotesque Demon for players to struggle for control over. There's a handful of weapons to which will tickle your nostalgic nerves, but that's really about it.
ONE MAP: HEATWAVE
The Alpha will feature 1 multiplayer map: Heatwave. This industrial-themed map will place players in an arena setting featuring plenty of armor, ammo, and health pickups. Narrow corridors, walkways and small chambers all link to a central, open area of the map, providing players with a variety of environments that suit varying playstyles, as well as the focus point for fighting over key power-ups.
ONE MODE: 6V6 TEAM DEATHMATCH
Welcome to the core of DOOM's arena-style multiplayer combat. In this mode, two teams of 6 players will try to dominate each other by fighting over the Revenant and Gauss Rifle power-ups, which provide devastating firepower that can turn the tide or ensure victory.
ONE DEMON: REVENANT
Being the first player to the Demon Rune will transform you into the powerful Revenant. Use your jetpack and dual rocket launchers to hunt down the other team for a limited time to either secure your team's lead or mount a comeback.
ONE POWER WEAPON: GAUSS CANNON
Available as a counter to the Revenant, this high-powered weapon destroys opponents in one blast. Use the alternate fire to see your targets through walls, but be warned, there is a limited number of shots, so use it to take down the demon rather than enemy players. Once you're out of ammo, you have to wait for it to appear on the map again.
6 WEAPONS, 2 EQUIPMENT ITEMS
The Closed Alpha will feature a limited arsenal of weapons and items featured in the complete game. They can be used both in standard and customizable loadouts.
WEAPONS
Vortex Rifle
Super Shotgun
Repeater
Rocket Launcher
Static Cannon
Plasma Rifle
EQUIPMENT ITEMS
Personal Teleporter
Frag Grenade
This closed alpha shouldn't be confused with the beta that will kick off next year. Everyone who purchased Wolfenstein: The New Order and entered their beta access code right here is guaranteed a spot when that starts. That same key will also throw your name into a hat (or something a bit more fancy) for a chance to participate in this closed alpha. So if you've already redeemed your key, there's nothing else for you to do.
I did enjoy what I saw of DOOM at E3 this year, but I really think the meat on its bones will be the multiplayer. Fast, frantic and bloody, I'm hoping Bethesda are able to recapture the twitch feeling of old-age shooters. That, and I can't wait to create some deviously tricky custom maps too.
Last Updated: October 15, 2015