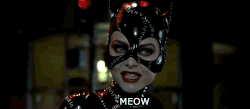 NetherRealm Studios certainly do love to trot out new characters on what seems like a daily basis for any fighting game that they're working on, and the latest trailer isn't exception to this rule. Hot off the heels of a brutally satisfying reveal video that featured Swamp Thing beating the vegetables out of the most annoying Robin around (Damien Wayne! Worra bastard, I wish Superboy Prime would punch him out of continuity or something), comes this latest trailer featuring a trio of sirens from DC Comics:
Poison Ivy was already glimpsed in the cinematic trailer for Injustice 2, but the big new reveal here is obviously Cheetah. What's her story? Well Cheetah happens to be one Barbara Minerva in her current New 52 continuity. A regular foe of Wonder Woman, Cheetah is an avatar of the goddess of the hunt and possesses keen animal sense, instincts and enough raw power to actually give her Amazonian rival a run for her money. Heh.
That speed will most likely be a big factor in Injustice 2, and I'm expecting her to play like a more savage version of the Flash essentially. With that announcement of familiar and new faces, that brings the Injustice 2 roster up to 20 confirmed fighters so far. Here they are, because I like typing out comic book names:
Catwoman
Swamp Thing
Batman
Superman
Supergirl
Cheetah
Poison Ivy
Robin
Black Canary
Brainiac
Bane
Blue Beetle
The Flash
Harley Quinn
Wonder Woman
Deadshot
Gorilla Grodd
Aquaman
Atrocitus
Darkseid
Not yet revealed, but probably will be soon? Scarecrow, Doctor Fate, John Stewart as another Green Lantern, Green Arrow, Black Adam, Doctor Fate, Power Girl, Mr. Freeze, Cyborg, and the Joker. But still no sign of Bueno Excellente. Dammit.
Last Updated: February 15, 2017