Last week we published the first part of our interview with the new MSSA President Morizane Boyes where we heard some very uplifting idealogy from Marizane, and for the first time in recent memory, walked away with the idea that the MSSA isn't completely farcical. Now we get to take a look at the most controversial stories from the last few years of the MSSA's history and how the new President sees and addresses them.
The SASCOC Suspension

We broke the news back in July 2014 that the MSSA had been suspended from SASCOC with immediate effect. At the time we were being told by numerous insiders that the MSSA had been suspended due to a problem with their financials. Other people were saying it was due to Colin Webster being caught up in a political debacle inside SASCOC, while even further reports said that they were booted due to a new eSports group being formed who were about to take over from the MSSA.
The MSSA's official response was that SASCOC had just made a knee jerk reaction to MSSA's numerous complaints against SASCOC. Needless to say we never received any real information out of SASCOC or the MSSA despite numerous phone calls and even going as far as to personally hire a lawyer to try to force SASCOC to release the information, something which was unsuccessful.
So I put the question to Morizane directly who confirmed that the MSSA is currently suspended. However when pressed regarding the fact that they are still awarding national colours, Marizanne confirmed that they are actually still allowed to do so until the suspension is resolved one way or another.
When pressed to clear the air and reveal why they are suspended Morizane stated:
Hmm Gavin if it's not off-the-record, I really don't want to go into that because if I say what I need to say to you, I'm probably going to end up in court and Government is going to drag me there and I don't have the funding to fight a court battle like that
When pushed for more information to show that the MSSA is now different, the final on-the-record comments regarding the SASCOC suspension was:
Ja, because you know at the end of the day there is an issue but it's literally – it's a political issue and it's going to piss the gamers off far more, far more than what anything we've done so far
So we are still in the dark on what the real problem is. However I did discuss the issue with her off the record and while not revealing anything that isn't on the record I think it's fair to point out that the suspension is not related to finances at all. In fact I advised her to reveal the problem to the public but others have advised against doing that. How Morizane will resolve this is anyone's guess.
Lottery Funding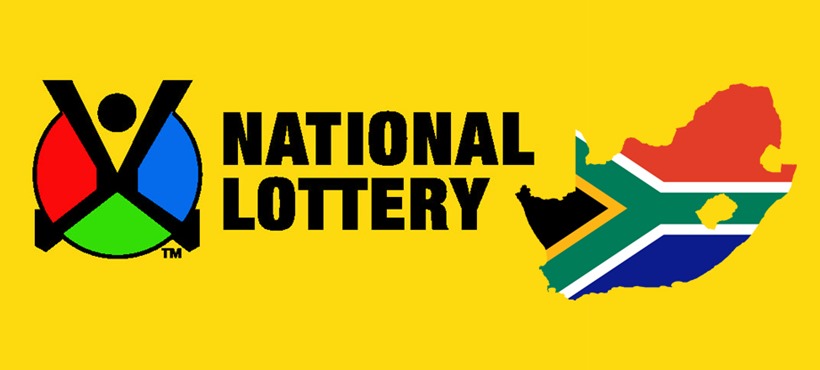 One of the previous president's favourite things to push was that affiliating with the MSSA enabled clubs to apply for Lottery Funding. The idea that we could get lottery funding for our local eSports clans was obviously a great thing, however there have been questions about whether this is actually true or not.
According to Morizane this is in fact true. Once you are affiliated to the national body you can then apply to the lottery board, 100% under your own steam, for up to R750 000 in funding.
That's great! So I asked how much funding MSSA has received themselves from the Lottery Board as the board does not only offer funds to clubs but also to the affiliating authority. For instance the rugby authority is reported to have received well over R100 million from the lottery over the years. However the MSSA currently does not get any funding from the lottery:
We get nothing out of it, not a cent. So basically what happens is your club has to go through an audit, obviously to make sure that everything is kosher and on profit what, what and then they ask you what you need, you know, why you need the funding. There is a whole rigmarole that goes around lottery funding, for anybody who has ever applied would know this obviously. But we don't accept, we don't get lottery funding and we do not get any Government funding either – nothing for the federation, nothing goes …
When pressed as to why not, Morizane responded:
Yes we could but it comes with a lot of issues
Which makes me think that if it is such a problem why would an eSports organisation apply? I'm not aware of any eSports organisation which has even applied for lottery funding locally, never mind received lottery funding – so while the lottery money is an option it doesn't seem to really be a viable thing.
The Southern Barbarians

Next up on our list of disasters are the Southern Barbarians. The entirely local Battlefield 4 clan that were forced to remove the South African flag from their entry into the ESL after Colin Webster contacted the ESL and allegedly threatened them.
I asked Morizane about this and how it turned out.
It could have easily been fixed – absolutely – had that team come to us a tiny bit earlier, we could have arranged it. The problem is the flag belongs to Government.  Okay, let me paint it in a scenario for you now – we've got our National Springbok team – right – the Springboks – right.  Now some guys in the location decided alright we're starting a rugby team and were going to play as Team South Africa – okay.

If the federation allows it, say for instance, so Colin could easily have said 'Absolutely go do it', we're safe, because like I say Government obviously don't take to things kindly like that. So if they had found out regardless of the fact that the Southern Barbarians won and I watched those games – when the South Africans are playing overseas tournaments I watch the games, I watched WESG, you know I do like to keep tabs on how the guys are doing – but if Government found out that an unregistered team was playing under Team South Africa, it's court battles for years.
I then asked if we couldn't have just registered them quickly and just bypass a lot of the paperwork.
At that time there was literally a few days, if I'm not mistaken it was done within a week or so – we tried to organize, we tried our best to help.

But Government, the IP is something you don't mess with, you don't use anybody's IP without their permission and it's needed for the tournament, it's needed for selection and if it is used inappropriately [there are consequences]. We were just trying to save these guys from a lot of trouble and unfortunately it came across like Colin is now – he is now threatening everybody with court and whatever, you know which he does and then it looks bad but in actual fact it was literally just to save these guys from lengthy court battles and a lot of money.
Honestly, I don't buy this at all. Okay that's not entirely true. I get the Team South Africa thing. You can't call yourself Team South Africa if you aren't affiliated etc but the refusal to let them use the flag to me just smells of bad blood. I've literally embroidered our South African flag on my shirts before attending overseas conferences in all manner of industries. The idea that I can't show off my national pride is nonsensical in my opinion. As far as I'm concerned, no rational person would think that just because someone has their country's flag next to their name that they are officially representing the country.
However to give credit where it's due Morizane has stated that she would love to sort out the issue with the Southern Barbarians and any other local team that would like to compete internationally with our flag.
But! (and there's always a but)
But we have, as the National Federation, you need to understand, we have strict, strict procedure to follow to select a National team. If we have enough time, we can literally, we can take these guys who have qualified as the best of the best and we can do that. We just can't pick and say you need to play. That's fine because then at the end of the day we're making the Protea a little cheap
Matatheni Mosotho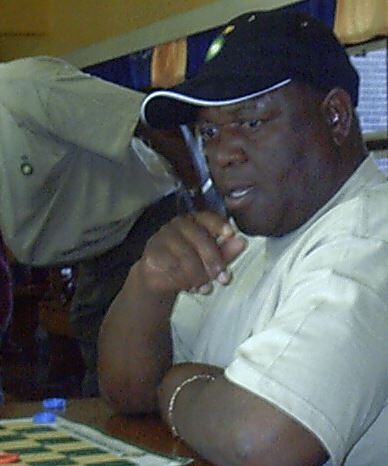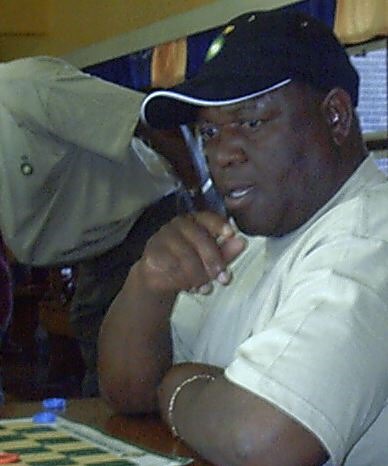 What better way to end off on other than the man himself. The reason I was dragged into court in the first place and the most controversial figure in Sou
th African Gaming by a country mile.
Matatheni Mosotho (FB profile picture above). Now to avoid more legal issues the following are the direct quotes from the transcription I received from our audio interview.
GM: Your eSport commentator blog which presents itself as like a semi-official MSSA blog

MB: Ja

GM There is an author there Matatheni Mosotho, who is that?

MB: Do I really have to answer that because we all know?

GM: Yes – yes because I do know the answer as well

MB: Ja

GM: It's Colin Webster, is it not?

MB: Yes it is – everybody writes under a pseudonym, he hasn't used it in ages

GM: That's not true he used it in December

MB :  must be honest, I haven't even noticed
At this point I'd like to point out that he has since posted again under the pseudonym on the 7th of February, which is after this interview took place. It's a generic innocent post but the fact that he still continues this baffles me.
GM: The question is, what is the MSSA going to do about Mr Webster going around acting like an African male on the official MSSA blog, do you find that acceptable, do you think that's nothing wrong with it?

MB: You know what, I think it's obviously just something that he uses to protect himself on certain topics – I do agree, it's in bad taste to a 3rd party or Government or I don't know

GM: I think it's more than bad taste to be honest because in September last year he wrote that, the headline is – MSSA Elections, Colin Webster enters the race for the Presidency and he writes about himself in that 3rd person as an African male in a country that has such a problem with racism. We don't need to go over our history

MB: You know what I think it is, look I think it comes down to, how do I say this in a nice way, um you know, I'm actually really trying to think how I'm going to phrase this properly because I don't want to be misquoted and come across like I'm Colin bashing at this point in time, I think it obviously comes across as fairly bombastic to be writing about yourself, so it's better having it under a different name – quite old-school

GM: Does that make it better?

MB: I don't know Gavin …

GM: But you now as the President I mean surely this is your baby now for the next 3 years

MB: I wasn't President (laughter) I will discuss this with him – I will discuss this with him
For more information on Colin Webster's imaginary friend you can view their Google+ page here and their Facebook profile here
And that ladies and gentleman is that.
In all honesty I do believe an organisation that looks after eSports in a formal manner can be a great asset to our country and industry. Morizane has come across as a great person with the best of intentions for the MSSA. Yes, she does believe in a lot of the paperwork and rules but she is also doing her utmost to make it easier and better to be part of the MSSA.
She has a mammoth task ahead of her fixing the public impression of the MSSA and I truly wish her all the best. But, as many commentators pointed out in the previous article, the MSSA is unlikely to really be able to make headway until Mr Webster is removed from a position of power on the board. He's simply burnt too many bridges in the local industry.
Like esports?
Check out esports central
Last Updated: February 14, 2017